Who should fill the surprise vacancy on the SCA Board?
Bob Burch abruptly resigned last week,
…for reasons which will not be revealed, Rex Weddle announced to owners, or at least, to the 850 owners who have opted-in to receive SCA eblasts.
Rex also said that the Board would be appointing someone to fill Bob's seat until the next election (May 2019).
Surprisingly, Rex then invited owners to submit their names for consideration by next Friday, July 13 @ 5 PM to the GM at [email protected].
If you are interested in being considered by the Board of Directors for appointment to a position on the Board, please be sure to place your written request to General Manager, Sandy Seddon, no later than end of business on Friday, July 13, 2018.  Click Sandy Seddon to submit via email.  This correspondence should include your name, phone number and a brief statement as to why you feel you should be considered to serve on the Sun City Anthem Board of Directors.

Once the Board votes on this appointment, they will also vote on the re-organization of the Board and select its officers.
Please consider volunteering to serve on the Board
SCA Board needs a better balance of perspectives
It should come as no surprise that, although the SCA governance and Board elections are structured to be completely non-partisan, there is a clear demarcation between factions in our community that might be identified as:
Berman Believers

Followers of Other Bloggers

Everybody Else
If there is any hope in healing this community's divide, there needs to be a shift in the representation on the Board to include voices from all three groups.
Otherwise, the currently-entrenched group-think  will continue to dominate our public discourse and distort governance so all residents are not equally well served.
I, for one, do not think this dynamic is healthy for the community. At a minimum, it has reduced my own joie de vivre, and I don't think it is a stretch to say that I speak for others.
If you feel that you have a perspective that would assist the Board to be more effective at representing the entire community rather than just the segment whose voices are now heard, please step up.
Why was the request for owners to self nominate a surprise?
Because that's not the way they did it last time. Jim Coleman was appointed last September by a secret process that
did not include notifying owners that the Board intended to fill my seat without an owner election (which was required at that time)
did not allow owners to submit their names for consideration
did not include any public deliberations by the Board of the selection criteria
The Board kept secret how Jim Coleman had been recruited and what competitive process, if any, had been employed. They were also silent as to where the Board got the authority to fill the seat of a director who had been removed when the NRS and the bylaws required a membership vote.
What's wrong with the Board meeting in secret?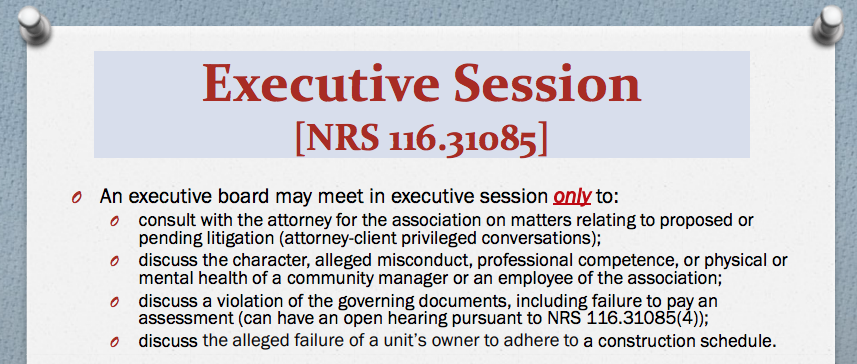 And, what's happening now?
One has to wonder what motivated this 180-degree turn to a more open, competitive process to fill a vacated Board seat.
And, I'm sure, the more cynical among us, will question how open this current process really will be.
One might ask
Will the names and qualifications of the people who self-nominate be kept a secret?
Will the GM deem anyone"disqualified"  and not turn those names over to the Board?
Will they use the required candidate disclosure form from the NRED website or use the Clarkson  "I-make-up-my-own-laws" version, or will they not require disclosures from Board appointees?
Will the attorney usurp the authority of the Board and, at owner expense, issue an order, rather than an opinion, to block any applicant?
Let's hope not.
I, for one, will give them one more chance.