Steven Scow filed the interpleader action knowing it was meritless
Link to previous blogs (ScaStrong.com/tag/interpleader) on how this interpleader action was filed in bad faith because the law required ALL proceeds be distributed AFTER THE SALE, no one but me had standing to make a claim after June 3, 2019 and Scow got my 6/3/20 civil claim for the proceeds dismissed with prejudice before he sued me and four other defendants without standing on February 16, 2021 to interplead the excess proceeds he should have distributed in 2014.
Interpleader requires single fund, neutral stakeholder, and adverse claimants
This case: wrongfully withheld funds, misidentified, implicated holder joined by disinterested opponents to attack single claimant with standing
Pruco Life Ins. Co. v. Martin, Case No.: 2:11-cv-00186-GMN-GWF, at *2 (D. Nev. Aug. 16, 2011) ("Procedurally, an interpleader action encompasses two stages: First the district court decides whether the requirements for rule or statutory interpleader action have been met by determining if there is a single fund at issue and whether there are adverse claims to the fund. In the second stage the court makes a determination of the respective rights of the claimants. Mack v. Kuckenmeister, 619 F.3d 1010, 1023-24 (9th Cir. 2010). (citing Rhoades v. Casey, 196 F.3d 593 (5th Cir. 1999)). 28 U.S.C. § 1335 allows a stakeholder, "to file an interpleader action to protect itself against the problems posed by multiple claimants to a single fund." Minnesota Mutual Life Ins. Co. v. Ensley, 174 F.3d 977, 980 (9th Cir. 1999). ")
Nevada case law supports sanctions for filing a meritless interpleader action knowing there is only one claimant and the other have no standing
Filing a meritless interpleader action could be sanctionable if the filer attorney has knowingly unlawfully held one person's money and the other defendants have no standing to make a claim. Sanctions may be appropriate if the filer acted in bad faith, recklessly, or vexatiously, or if the action is frivolous, unreasonable, or groundless.
Michelman v. Lincoln Nat'l Life Ins. Co., 685 F.3d 887, 889 (9th Cir. 2012) ("Interpleader is proper when a stakeholder has at least a good faith belief that there are conflicting colorable claims.")
"See Tise, 234 F.3d at 426-27; Wells Fargo Bank v. PACCAR Fin. Corp., No. 1:08-CV-00904 AWI SMS, 2009 WL 211386, at *2 (E.D.Cal. Jan. 28, 2009). Further, "[b]ecause the interpleader plaintiff is supposed to be disinterested in the ultimate disposition of the fund, attorneys' fee awards are properly limited to those fees that are incurred in filing the action and pursuing the plan's release from liability, not in litigating the merits of the adverse claimants' positions.""
Several of the cases cited here suggest that filing a meritless interpleader action could be sanctionable. For example, in Lee v. W. Coast Life Ins. Co., the Ninth Circuit discussed the principle that interpleader is not available to a party who has knowingly accepted funds subject to competing claims. This suggests that if an attorney files an interpleader action knowing that one of the defendants has no standing to make a claim, the attorney could be subject to sanctions. Additionally, in Mayorga v. Ronaldo, the court discussed its authority to sanction an attorney for bad faith conduct, including under 28 U.S.C. § 1927, which authorizes an award of fees and costs against an attorney whose reckless conduct causes a litigant to incur them. This authority could be used to argue that filing a meritless interpleader action could be sanctionable if the filer acted in bad faith, recklessly, or vexatiously. Several other cases, such as Crawford v. Smith's Food & Drug Store, Inc. and Pac. Gas & Elec. Co. v. Seiu Local 24/7, discuss the circumstances under which attorneys' fees may be awarded as a sanction for bad faith conduct. These cases suggest that sanctions may be appropriate if the interpleader action is frivolous, unreasonable, or groundless.
Equitable doctrine of 'clean hands' applies to interpleader actions
Lee v. W. Coast Life Ins. Co., 688 F.3d 1004, 1012 (9th Cir. 2012) (""It is generally recognized that interpleader 'developed in equity and is governed by equitable principles.' " Aetna Life Ins. Co. v. Bayona,223 F.3d 1030, 1033–34 (9th Cir.2000) (quoting Lummis v. White,629 F.2d 397, 399 (5th Cir.1980), rev'd on other grounds by Cory v. White,457 U.S. 85, 102 S.Ct. 2325, 72 L.Ed.2d 694 (1982); Metro. Life Ins. Co. v. Marsh,119 F.3d 415, 418 (6th Cir.1997) ("[I]nterpleader is fundamentally equitable in nature.")). Accordingly, many courts have held that those who have acted in bad faith to create a controversy over the stake may not claim the protection of interpleader. See, e.g., Kent v. N. Cal. Reg'l Office of Am. Friends Serv. Comm.,497 F.2d 1325, 1328 (9th Cir.1974) ("Interpleader, which is an equitable remedy, is not available to one who has voluntarily accepted funds knowing they are subject to competing claims.") (citations omitted); Farmers Irrigating Ditch & Reservoir Co. v. Kane,845 F.2d 229, 232 (10th Cir.1988) ("It is the general rule that a party seeking interpleader must be free from blame in causing the controversy, and where he stands as a wrongdoer with respect to the subject matter of the suit or any of the claimants, he cannot have relief by interpleader.") (collecting cases); see also44B Am. Jur. 2d Interpleader § 7 ("The equitable doctrine of 'clean hands' applies to interpleader actions. The party seeking interpleader must do equity, not have caused the conflicting claims, and be free from blame in causing the controversy.") (footnotes omitted).")
Scow used interpleader to cover up his wrongdoing
On 2/16/21 Scow, concealed that he personally had unlawfully withheld the excess proceeds that Red Rock had instructed him to remit to the court on 8/28/14.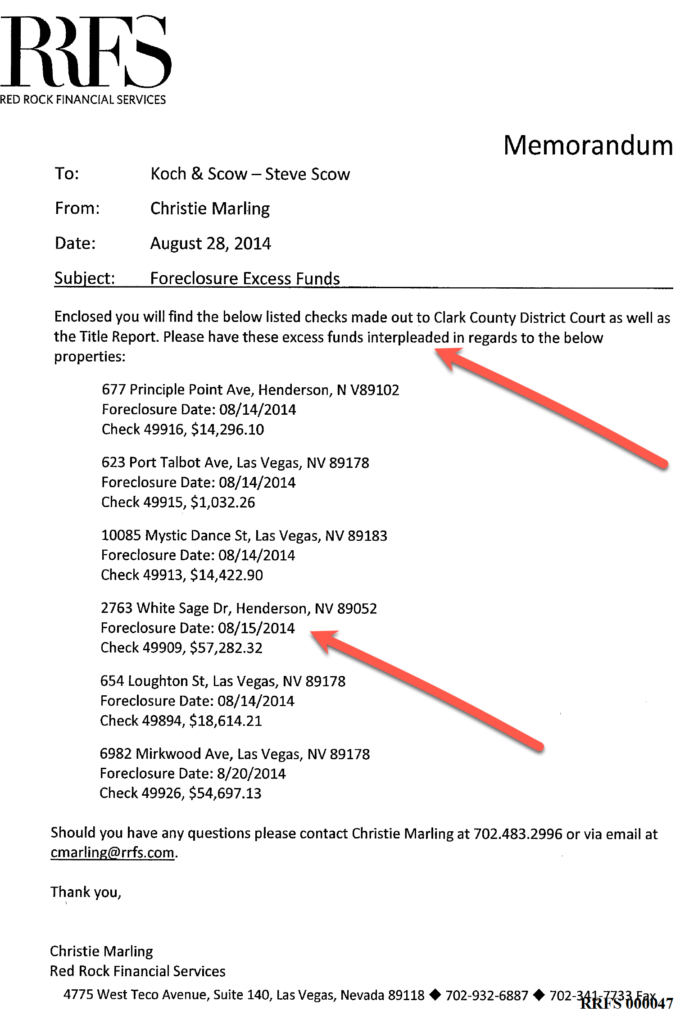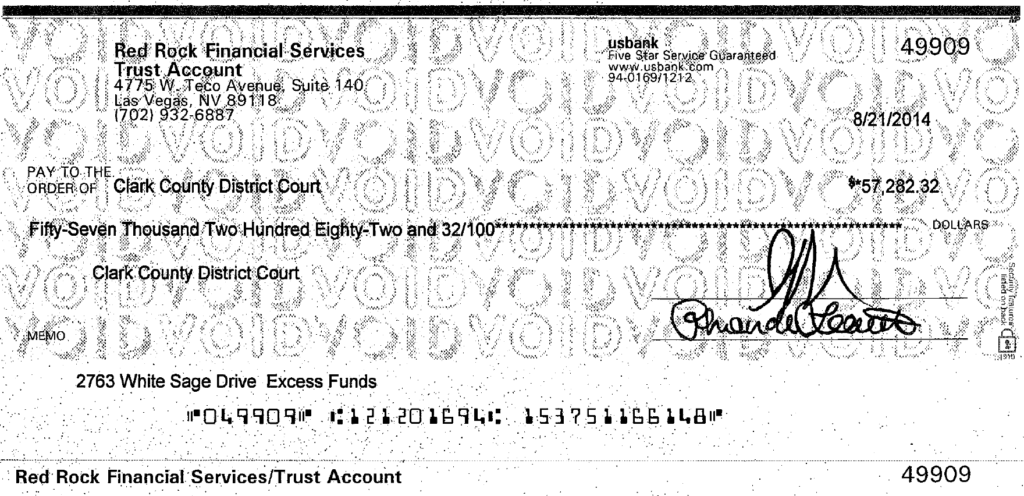 This is conversion, not interpleader
Scow caused summons to be served in the name of his client, Plaintiff FirstService Residential Nevada LLC (EIN 88-0358132) dba Red Rock Financial Services, a partnership ("Red Rock")(whose partners he refused to disclose in discovery in the 1st action) when he knew Red Rock had no standing to file an interpleader complaint as it didn't have the money and it didn't face adverse competing interests. Scow served five defendants knowing that four of the five defendants had no standing to claim the interpleaded funds.
I know of no legal way for Scow to take a check made out to the court and transfer it under his own personal proprietary control, particularly since Red rock ceased to be a fiduciary agent for Sun City Anthem in 2015. Under the bylaws of that HOA, Red Rock had to surrender all of the funds that it had on account collected under the statutory authority of SCA to the SCA Board in April 2015.
Nevertheless, Judge Peterson insisted that this was an ordinary interpleader action and I was not allowed to have any other claims against Steven Scow.
Scow unlawfully withheld $3,500 from the $57,282.32 that Red Rock had designated as "excess funds" knowing that the statute specifically does not authorize any attorney fees to be deducted from the amount designated as "excess" to file an interpleader complaint.
Judge Peterson, by granting a non-party's motion, dismissed my 3/8/21 AACC, all counter- and cross-claims and affirmative defenses, including unclean hands, with prejudice, without requiring Red Rock to respond
On 3/8/21 I, Nona Tobin, as an individual, filed the only timely answer, affirmative defenses, and compulsory counterclaims, including a claim for the proceeds. My 19 affirmative defenses listed unclean hands at number 11.
Failure to state a claim
Estoppel
Fraud NRS 207.360 (9)(30)(35), NRS 205.395, NRS 205.377, NRS 205.330, NRS 205.405, NRS 111.175,
Illegality NRS 207.230
Waiver
Failure to join a necessary party
General and equitable defenses
Priority
False claims to title (NRS 205.395, NRS 205.377)
Violation of Covenant of good faith (NRS 116.1113)
Equitable doctrines (unclean hands, NRS 207.360 (9)(30)(35)
Acceptance (distribution of proceeds)
Waiver and Estoppel (Red Rock & Nationstar)
Fraudulent Misrepresentation and fraudulent concealment NRS 205.405, NRCP 11.pdf
Failure to mitigate damages
Unconstitutional (Due process clauses)
Statutory violations (NRS 116.31031, NRS 116.31162 – NRS 116.31168 (2013), NRS 116.3102, NRS 116.31083, NRS 116.31085, NRS 38.310
Judge Peterson did not dismiss Nationstar and Wells Fargo when they failed to make any compulsory counter-claims and did not answer my cross-claims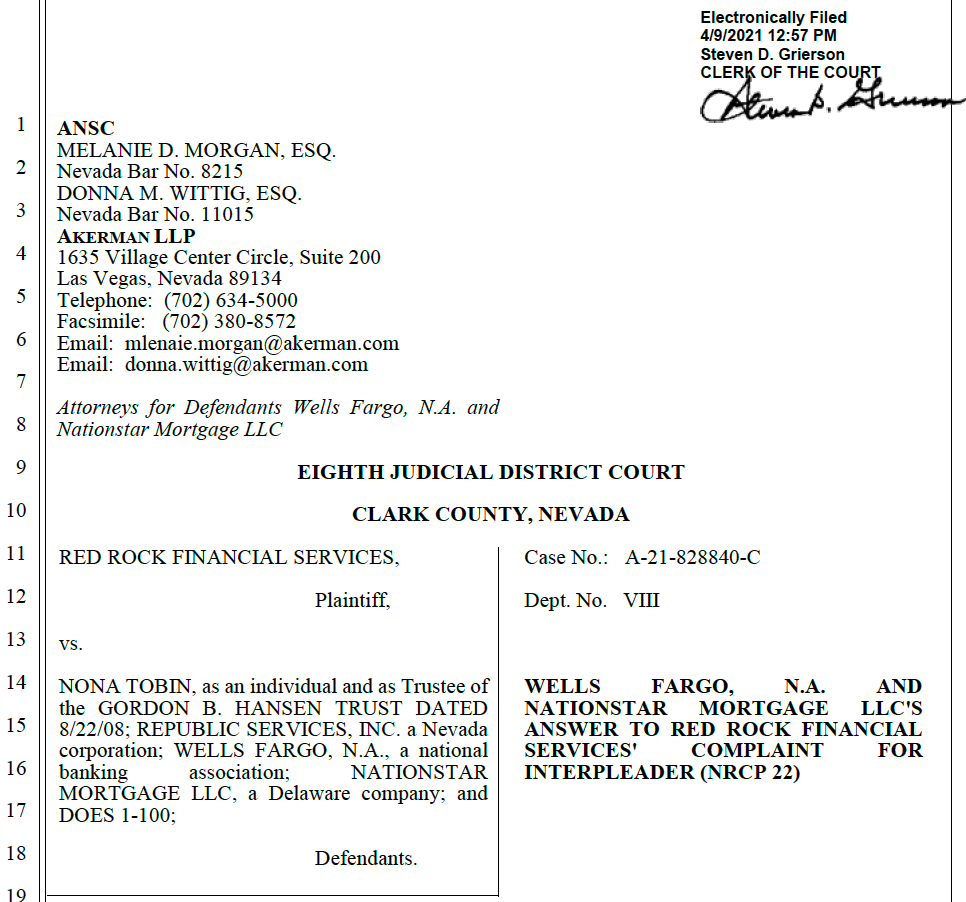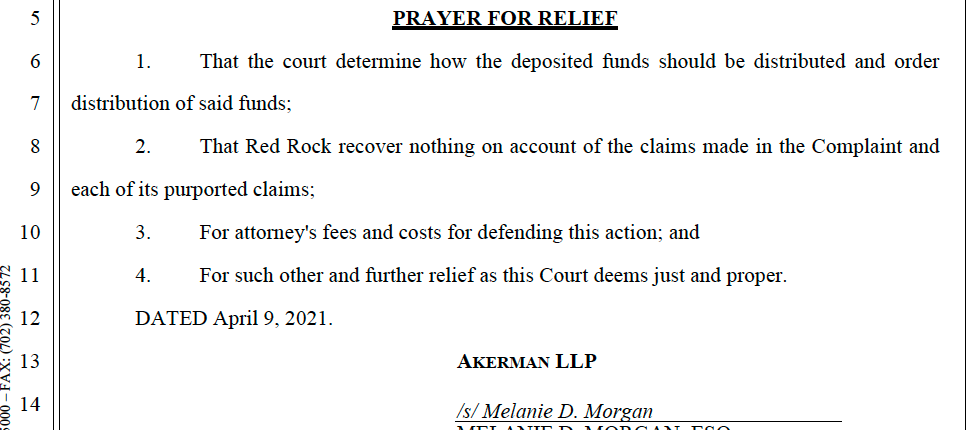 On 4/12/21, I filed a motion for an order to distribute the proceeds with interest to me as the sole claimant but Judge Peterson disregarded the law and let disinterested entities oppose me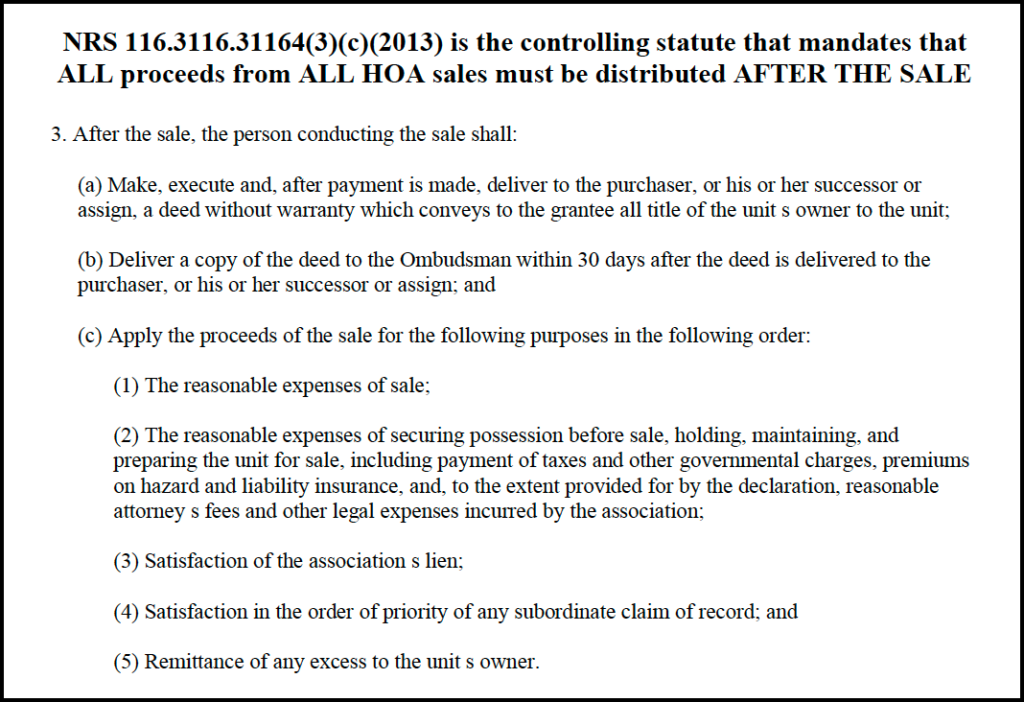 On 4/26/21/ Judge Peterson let non-claimants Nationstar and Wells Fargo oppose the funds going to the sole claimant as long as I had other claims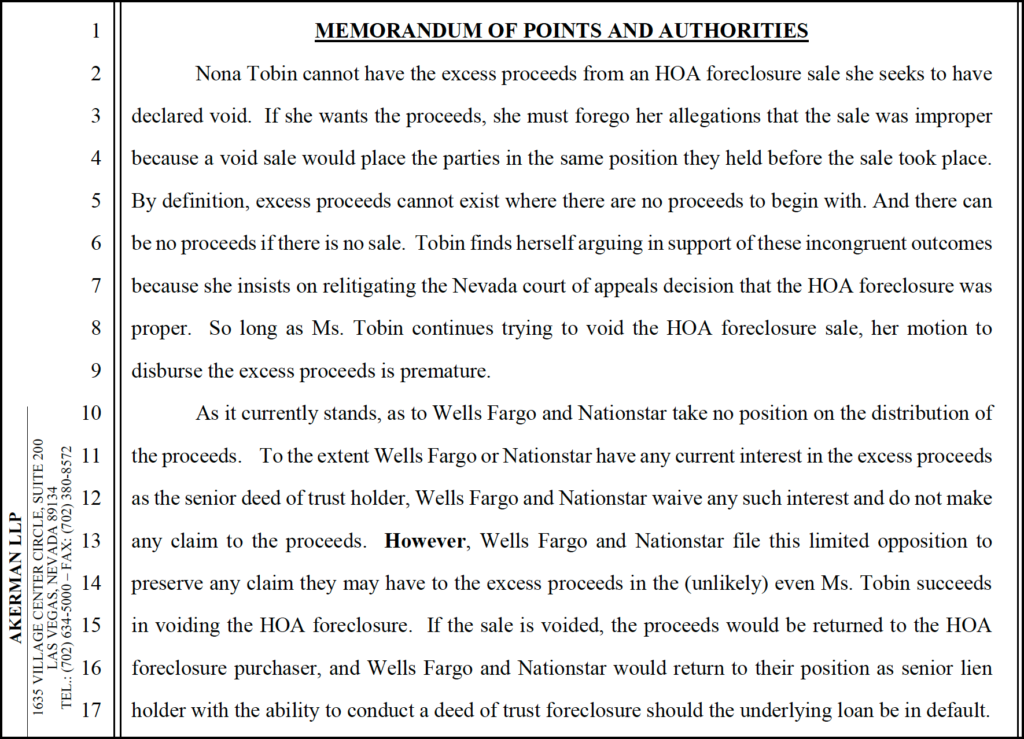 Judge Peterson let Red Rock join the disinterested banks' opposition even though Red Rock was supposed to be neutral
Red Rock's/Scow's true motives, and the banks' collusion, for not distributing the proceeds after the sale, should now be apparent, but in case it's not I'll do a separate blog on that.
Scow knows that the banks are not going to make a claim for the proceeds and that if he can keep the owner from making a claim, then he can keep them, and the money trail will be virtually impossible to follow.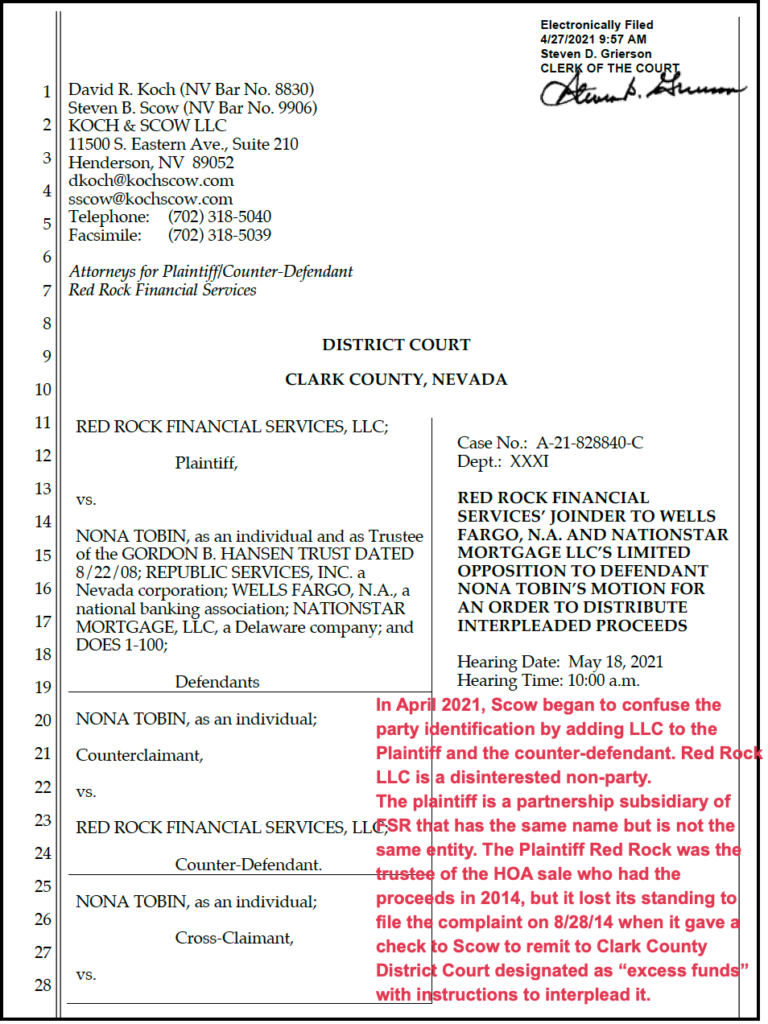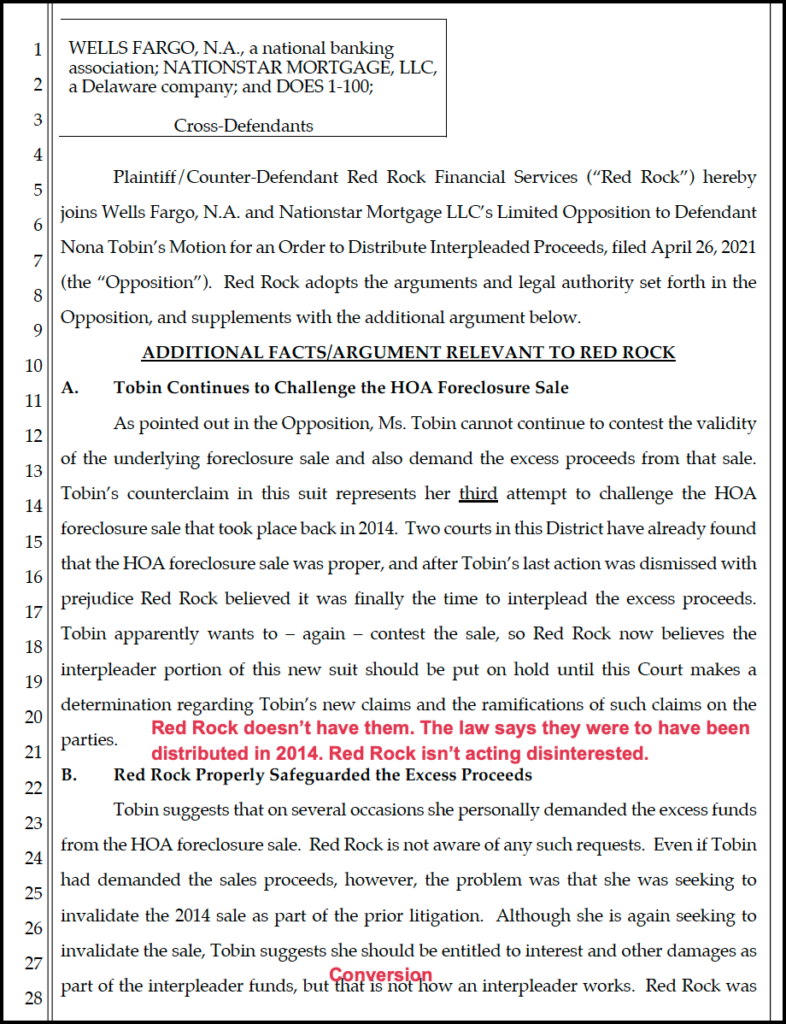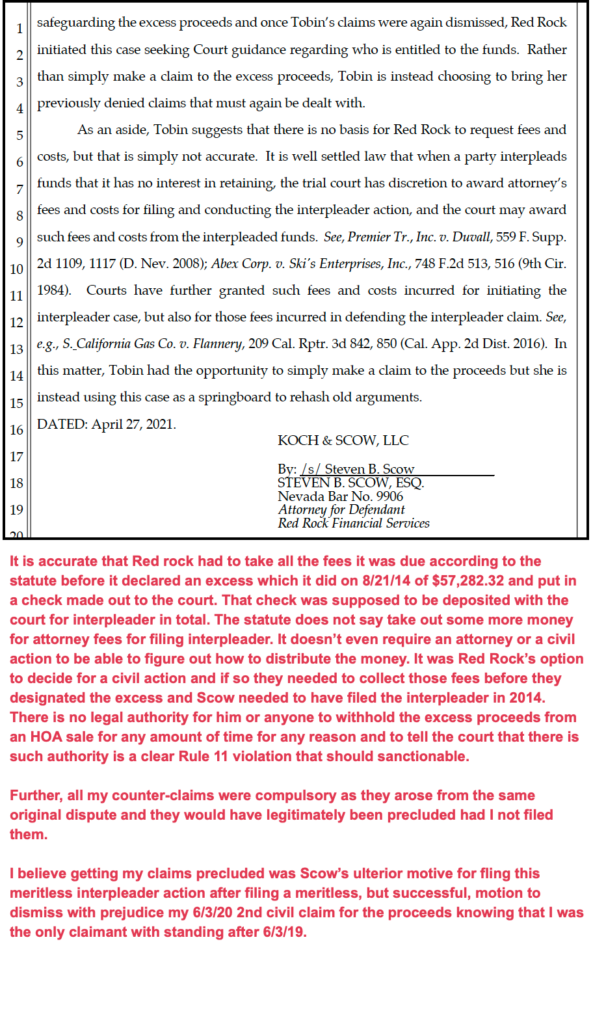 Being forced to pay attorney fees to Scow given his bad faith conduct is just plain wrong. He should be audited to account for the excess proceeds that were not distributed after the red Rock sales.
Mayorga v. Ronaldo, 2:19-cv-00168-JAD-DJA, at *2 (D. Nev. Feb. 14, 2023) ("The American Rule recognizes that each party in litigation must bear its own attorney's fees in the absence of a rule, statute, or contract authorizing an award of fees.")
"Courts usually award attorneys' fees to the plaintiff in interpleader actions absent a showing of bad faith. Schirmer Stevedoring Co. v. Seaboard Stevedoring Corp., 306 F.2d 188, 194-95 (9th Cir. 1962)." Here, however, bad faith abounds, and attorney fees are definitely not appropriate.