Link to the PDF of the State of Michigan Attorney Discipline Board Formal Complaint vs. Sidney Powell et al. for filing a complaint that alleged widespread voter fraud and sought to decertify the results of the 2020 presidential election.
Michigan Attorney Discipline Board correctly made 9 attorneys pay the victim $153,285 attorney fees incurred for defending against a baseless complaint
The City of Detroit filed a complaint to sanction attorneys whose unethical conduct damaged the City by their knowingly filing meritless claims to attempt to reverse the ceritified results of the 2020 election not supported by law or evidence.
The Michigan Attorney Discipline Board, according to its legal duty to assist its State Supreme Court to govern the legal profession in Michigan, accepted the complaint, conducted an investigation, issued findings of fact and conclusions of law, to support an order for the attorneys to pay the City of Detroit $153,285 that the City of Detroit had been forced to incur defending against this frivolous lawsuit.
Nevada allowed pro se victim to be declared vexatious litigant for objecting to accruing $36,210 in attorney fees to collect $57,282 wrongfully withheld from her for 8+ years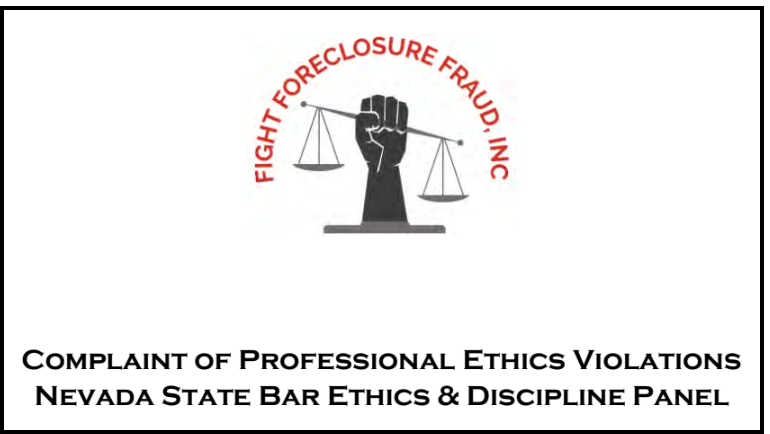 Nevada State Bar just refused all complaints at intake without investigation.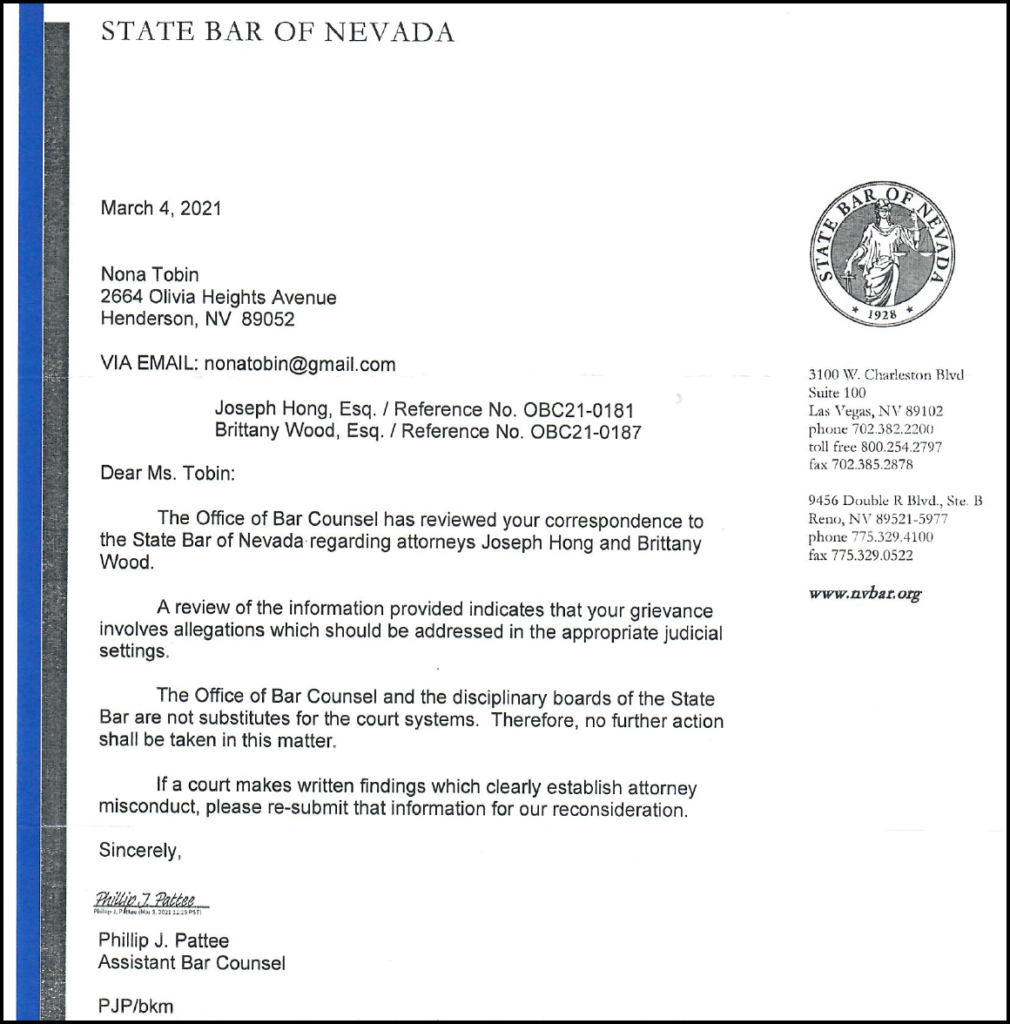 Victim Nona Tobin, President of Fight Foreclosure Fraud, Inc., filed verified complaints to the State Bar of Nevada that were all fully supported by verified forensically audited documentary evidence. All cited specific provisions of the Nevada Rules of Professional Conduct that had been violated by specific actions taken by the named attorneys on specific dates. Many of the allegations specifically charged that the attorneys of concealing evidence of criminal conduct and recording false claims to title which would be felonies if convicted.
Assistant Bar Counsel Philip Pattee rejected all her complaints at intake without Nevada law: 1) the victim's complaint must provide evidence that meets the clear and convincing standard and 2) the victim must provide the Bar Counsel with a court order that includes written findings of attorney misconduct before the Bar Counsel will open an investigation file or even send the matter to the attorney to require the attorney to refute the allegations in the complaint
---
Findings of Fact, Conclusions of Law and Order in Michigan Case should be emulated here