On 12/19/22, I filed a motion for an order to show cause why written findings of attorney misconduct should not be forwarded to the State Bar against David Ochoa and Adam Clarkson that was accompanied by a Request for Judicial Notice of a complaint filed with the State Bar.
The complaint had not been investigated by the State Bar as shown below. I had to get a court order with written findings before they would investigate these allegations.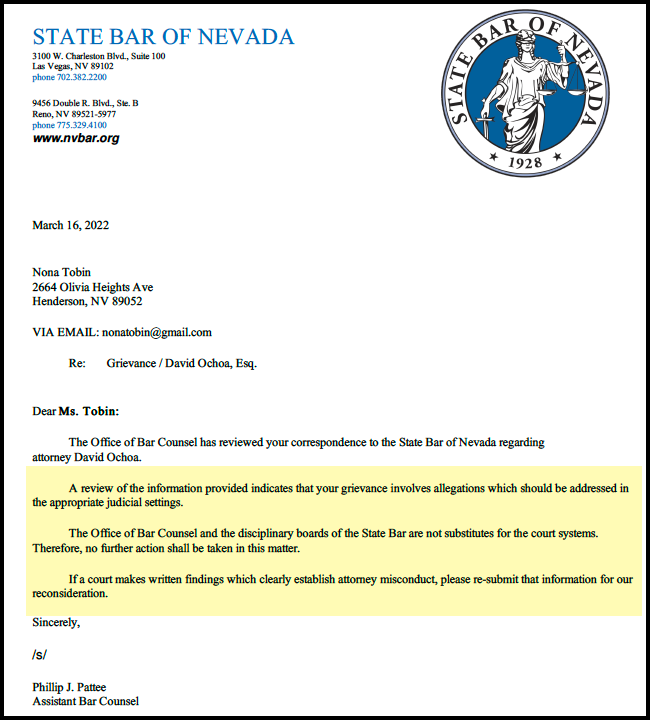 Their actions prevented my quiet title case from being resolved fairly in 2017-2019.
They covered up the fraud of the HOA's former agents by lying to the court and framing me.
David Ochoa, Lipson Neilson P. C., under direction from Adam Clarkson, The Clarkson Law Group, were the lawyers for Sun City Anthem Community Association, Inc., party in the first action who presented the falsified Red Rock foreclosure files to the court and misrepresented them as if they were the HOA's concealed official records SCA's attorneys filed a meritless motion for summary judgment to quiet a title in which the HOA held no interest and supported it with the falsified Red Rock records. SCA's attorneys defamed Tobin and unlawfully removed her from her elected position on the HOA Board for being a party to the quiet title litigation of a house she inherited and have pursued a relentless campaign of harassment and retaliation against her over the past five years both for being a litigant herein and for being a whistleblower about other unrelated HOA matters.
SCA attorneys usurped the statutory authority of the HOA Board to enforce, and to impose fines and sanctions for alleged violations of, the HOA's governing documents according to the terms of the Act (NRS 116). SCA attorneys obstructed Tobin's access to Alternate Dispute Resolution (CC&Rs XVI, NRS 38.310) and then used abusive, potentially criminal (NRS 199.480(2)(c), NRS 199.210, NRS 193.130(d), NRS 199.145) litigation tactics to obstruct her ability to fully and fairly litigate her civil claims.
SCA attorneys acted in bad faith and did not serve the interests of the HOA or the common good of the HOA membership at large. The attorneys acted for their own self-interest (Clarkson) or in the interest of other parties (Clarkson and Ochoa), e.g., Sandy Seddon, Red Rock or the HOA's insurance carrier
Defendant Ochoa made false statements to the court on at least these dates 3/28/17 RTRAN, 4/27/17 RTRAN, 5/23/17 RTRAN, 5/25/17 RTRAN, 3/26/19 RTRAN, 5/29/19 RTRAN, 9/3/19 RTRAN, 9/10/19 video, 9/10/19 minutes, submitted a false document to the court on these dates: 3/22/17, 3/27/17, 3/31/17, 4/18/17, 9/20/17. 4/20/18, 2/5/19, 3/6/19, 4/18/19, 5/2/19, 5/24/19, 5/31/19, 8/8/19, 8/9/19, 8/22/19, 11/22/19, 3/30/20, 7/1/20, or improperly withheld material information from the court on at least these dates: 5/31/18, 2/11/19, 2/26/19, 2/26/19, and caused serious injury to Tobin as an individual, and caused a significant adverse effect on the legal proceeding.
Ochoa knew that this phrase that he wrote into the 4/18/19 order was false,
"The totality of the facts evidence that the HOA properly followed the processes and procedures in foreclosing upon the Property".
All documentary evidence, including declarations under penalty of perjury and sworn affidavits, put before the court on, inter alia, these dates: 9/23/16, 1/31/17, 3/3/17, 2/9/18, 5/31/18, 7/13/18, 12/5/18, 2/7/19, 2/12/19, 2/20/19, 2/26/19, 2/26/9, 2/27/19, 2/28/19. 2/28/19, 4/10/19, 4/12/19, 4/17/19, 4/24/19, 4/29/19, 5/23/19, 8/20/19, 8/26/19 – support the Tobin/Hansen Trust claims. However, the court relied solely on misrepresentations and false evidence by Ochoa and other opposing counsels, to adopt the erroneous orders entered on 4/18/19, 5/31/19 and 6/24/19.
Despite knowing the order was based on the false evidence Ochoa himself produced or the true evidence that he himself concealed and withheld, Ochoa and/or other attorneys under his direction, repeatedly relied on it in meritless filings and court hearings that succeeded in obstructing a fair adjudication of Tobin's claims based solely on verified evidence on at least these dates: 4/27/17 RTRAN, 5/23/17 RTRAN, 5/25/17 RTRAN, 3/26/19 RTRAN, 5/29/19 RTRAN, 9/3/19 RTRAN, 9/10/19 video, 9/10/19 minutes, 3/22/17, 3/27/17, 3/31/17, 4/18/17, 9/20/17. 4/20/18, 2/5/19, 5/31/18, 2/11/19, 2/26/19, 2/26/19,
The order, authored by Ochoa, entered on 5/31/19, contains the false statements, completely unsupported by any verified evidence, (See EXHIBIT C of 3/6/22 Bar complaint.) that:
"The substantial exhibits that have been submitted in this case demonstrate that Nona Tobin as Trustee of the Trust was aware of the foreclosure and did nothing to stop the foreclosure. The May 2, 2019 (sic) Order, without addressing superpriority, establishes the HOA had a valid lien and properly noticed the foreclosure sale."
Pages 48 to 55 of the draft complaint against Ochoa and Clarkson delineate the false evidence they entered into the court record primarily via records obtained from Steven Scow.
Exhibit E: Disclosed false & falsified evidence
Exhibit E-1 Disputed facts in Red Rock foreclosure file in SCA 176 – 643
Exhibit E-2 Examples of false evidence
Exhibit E-3 Red Rock Foreclosure file is false, falsified and disclosed as SCA 176-643
Exhibit F: Filed non-meritorious claims
Exhibit G: Concealed there were no Valid Board Actions
Exhibit G-1 Limits on closed HOA Board meetings
EXHIBIT G-2: SCA Board did not comply with HOA meeting laws
EXHIBIT G-3: SCA Board secretly sold a dozen houses in 2014
EXHIBIT G-4 SCA Board did not properly authorize any foreclosures conducted by Red Rock Financial Services in SCA 2012-2014 agendas and minutes excerpted for items related to foreclosure or debt
Exhibit G-5 is 5/23/19 Exhibit 5 "No valid board authorization for the sale" was misrepresented by David Ochoa and ignored by the court
Exhibit H – More disputed facts in the order (NEO 4/18/19) that granted the HOA MSJ and Nationstar joinder
Clarkson unlawfully removed me from my elected seat on the SCA Board in 2017 and has obstructed my running every year since