Back story of this David vs. Goliath fight
"How did Nona Tobin lose the $500,000 house she inherited from Bruce Hansen? "
"What happened after Sun City Anthem refused Nona's 2017 offer to settle?"
"The house that took over a life"
Case Detail A-21-828840-C as of 4/10/21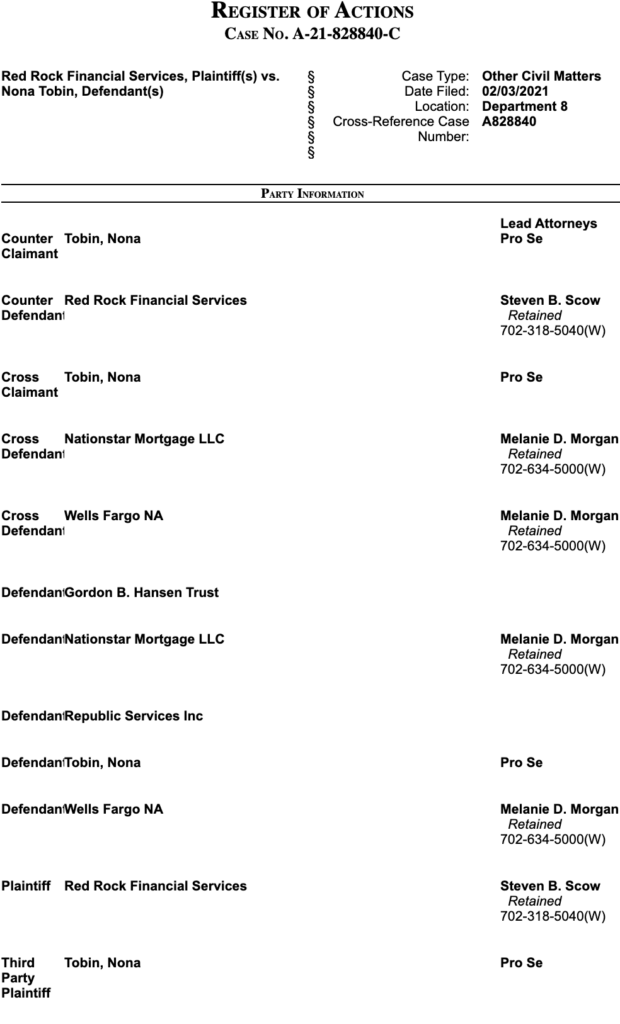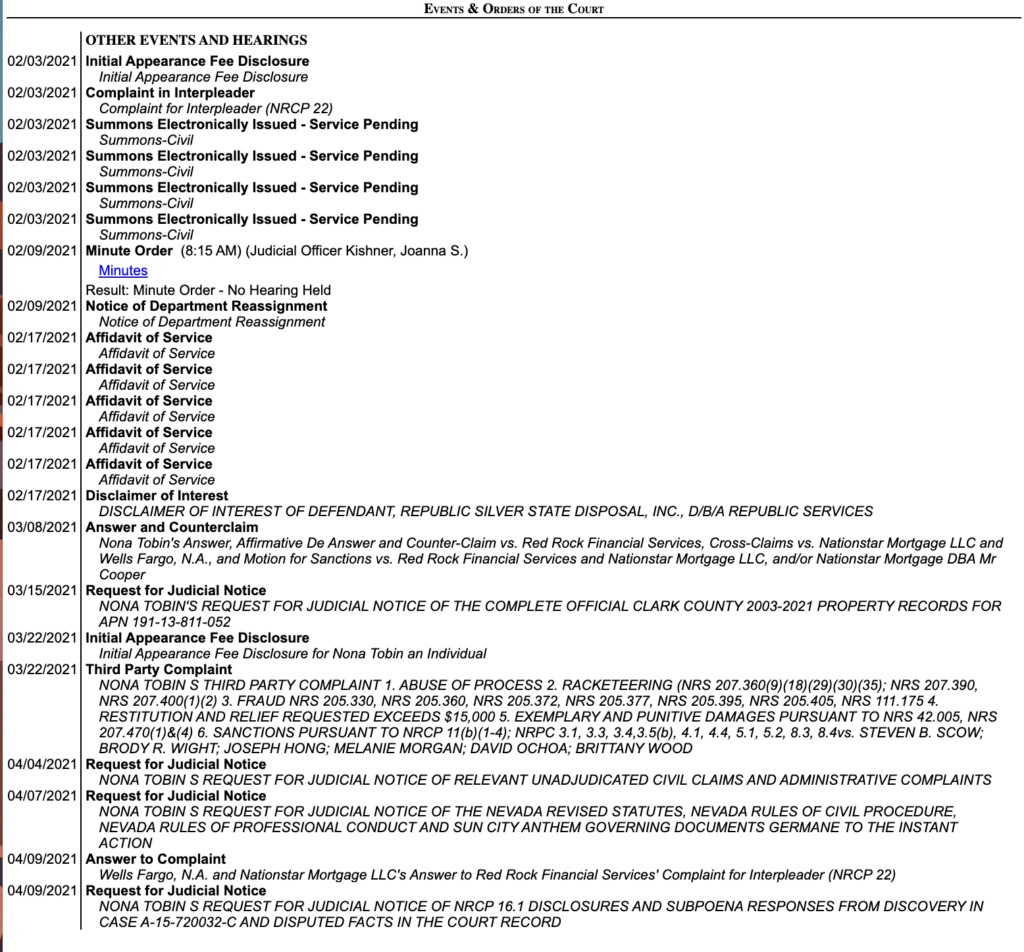 The instant case: Red Rock Financial Services filed an unwarranted interpleader complaint after unlawfully retaining the proceeds of the disputed HOA sale for over six years.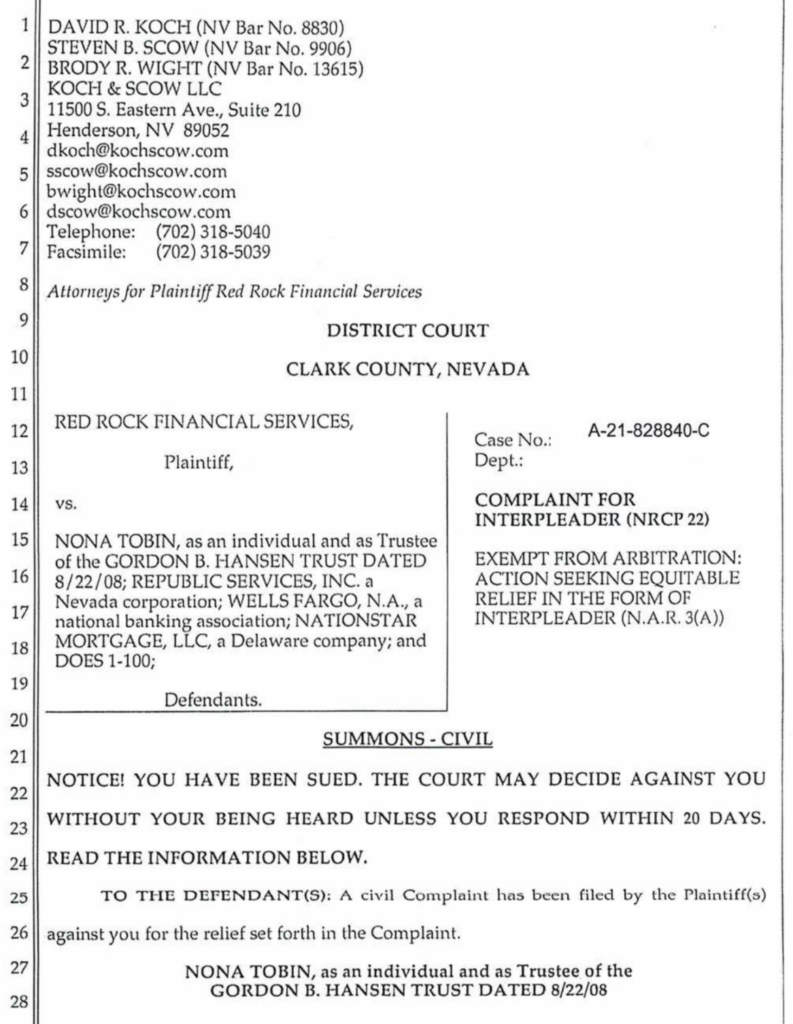 2013 Nevada law governing the distribution of proceeds after an HOA foreclosure sale was NRS 116.31164(3)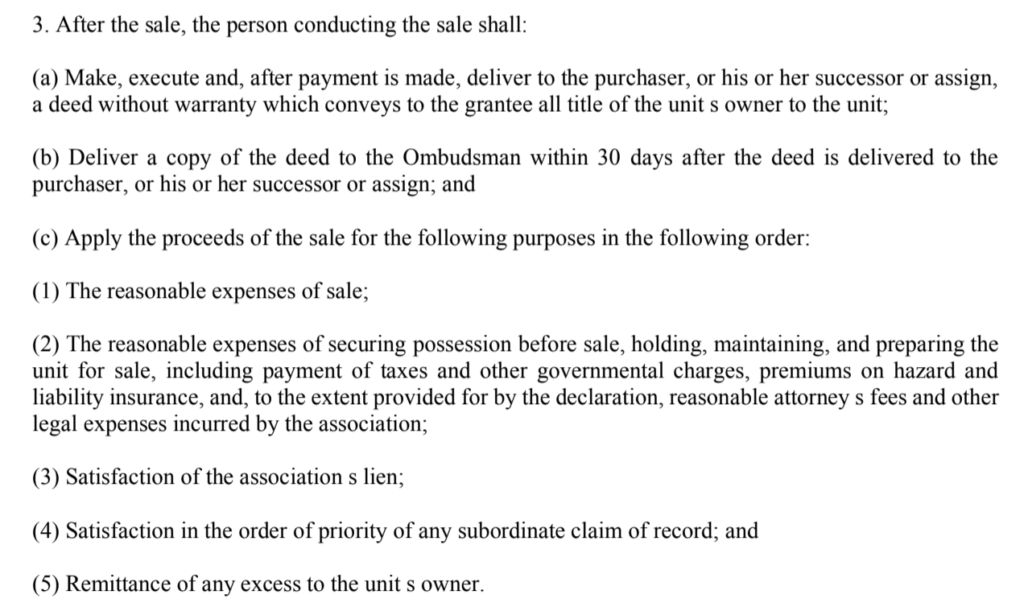 Red Rock's interpleader prayer for relief is duplicitous as Red Rock conducted a fraudulent sale, and with no legal authority, kept virtually all the money for years.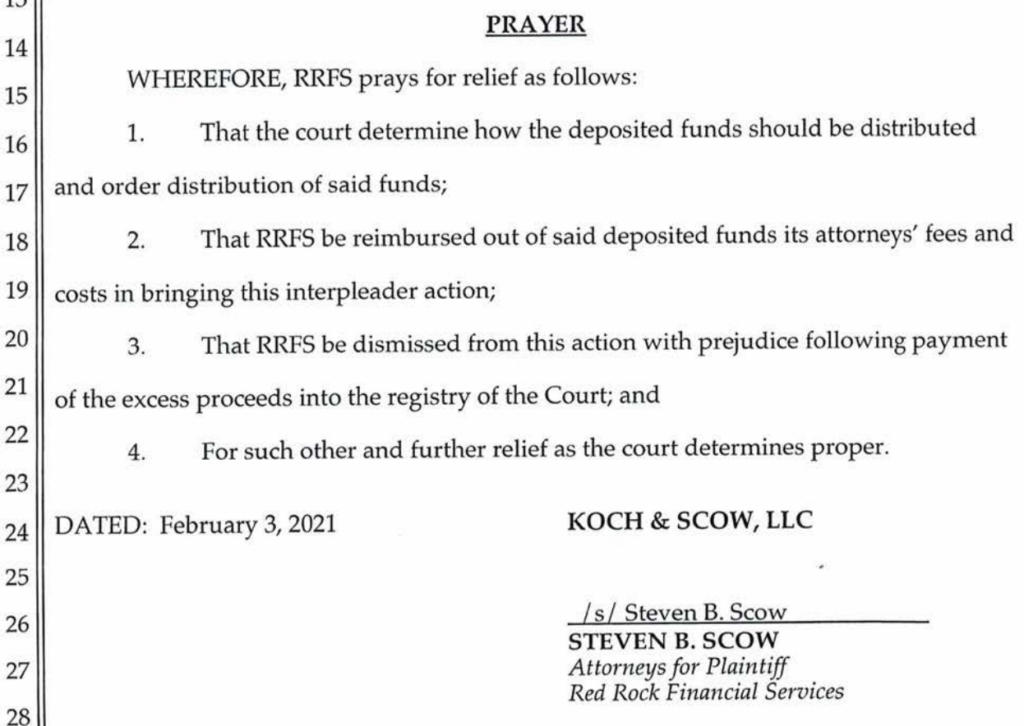 2/3/21 Red Rock's Complaint for 1 cause of action: interpleader
2/16/21 Red Rock Complaint was served on 5 defendants
2/17/21 Republic Services filed a disclaimer of interest within 24 hours of service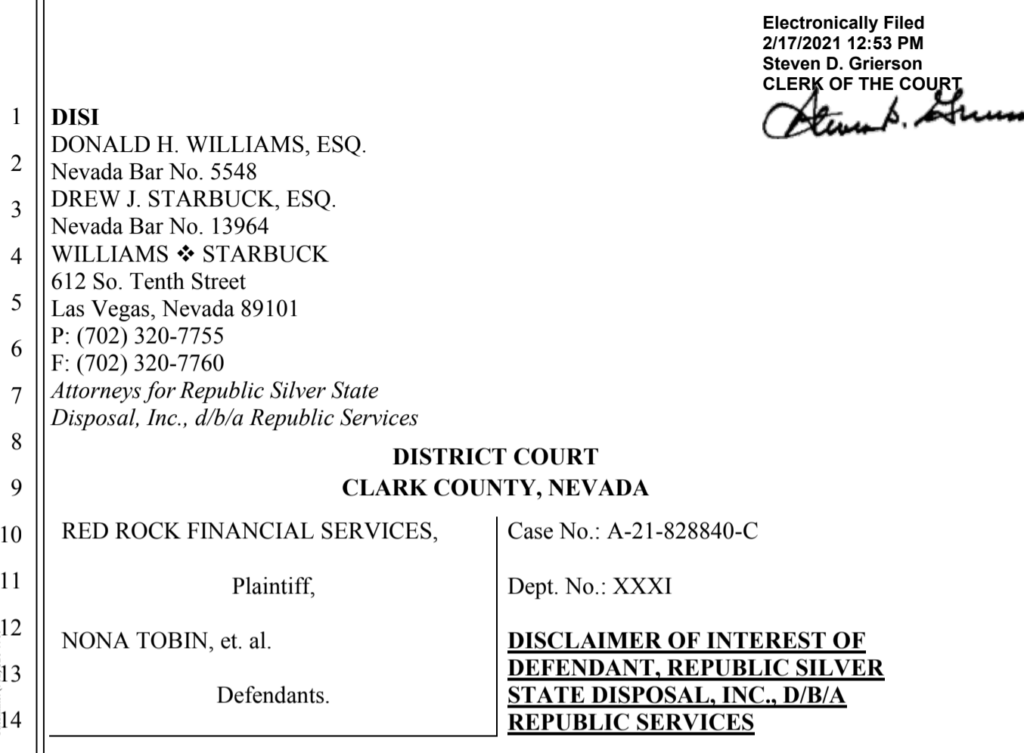 No defendant timely answered Red Rock or filed any counter-claims or cross-claims except Nona Tobin as an individual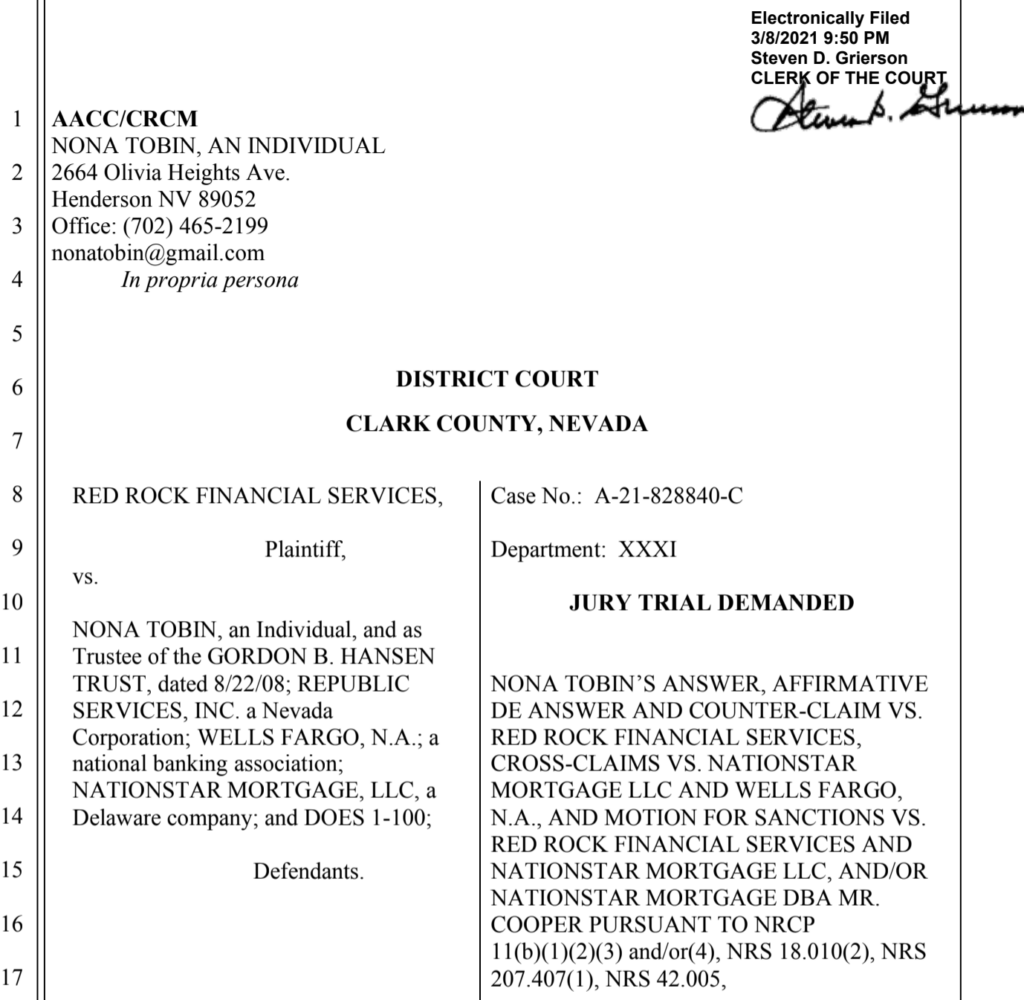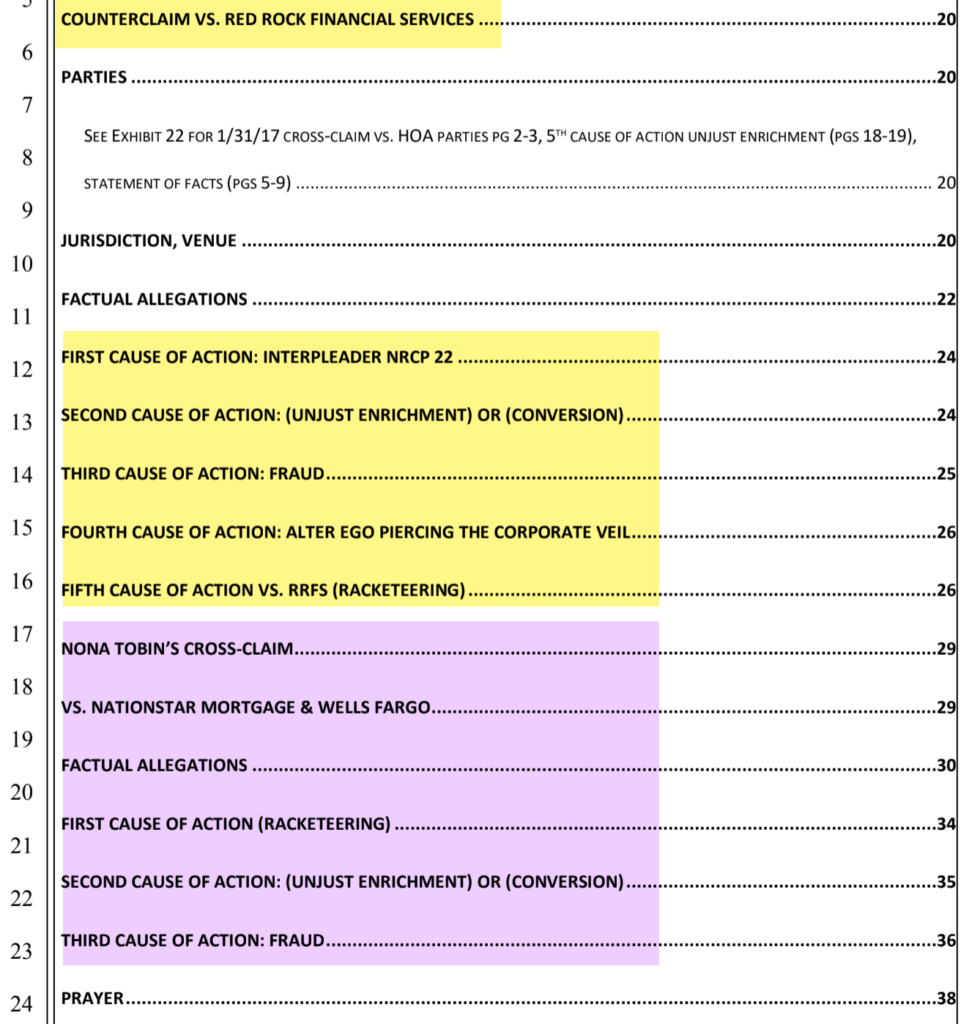 Exhibits to Nona Tobin's 3/8/21 counter-claims and cross-claims
Nona Tobin's 3rd party complaint against six attorneys was filed on 3/22/21 but has not yet been served.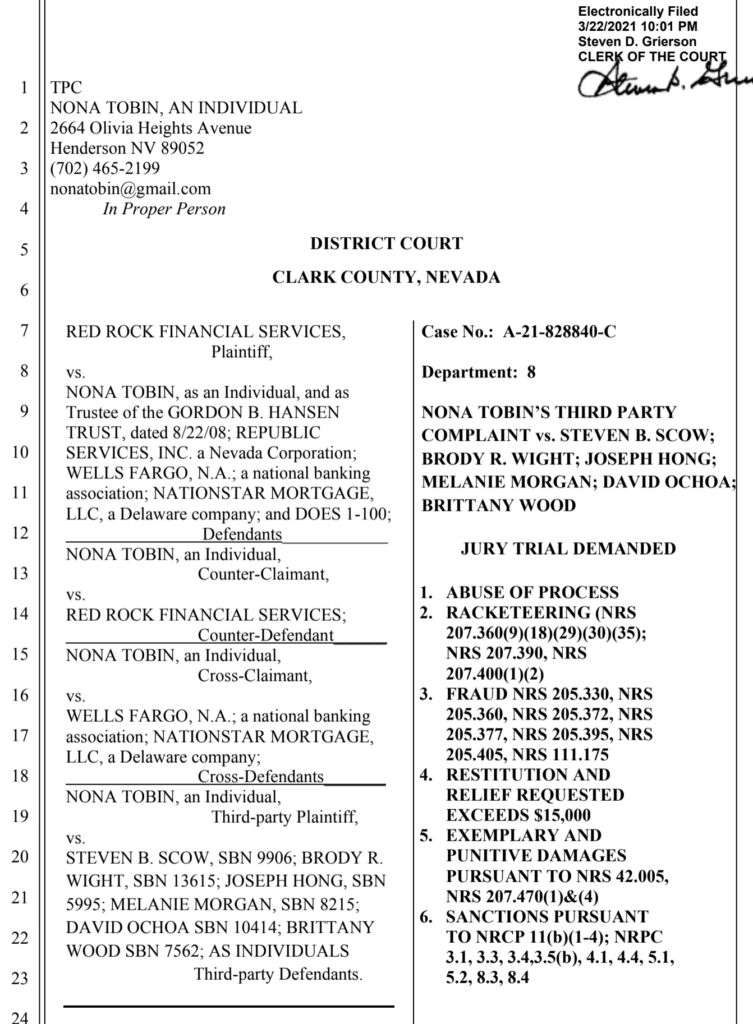 Nona Tobin's Requests for judicial notice
Nona Tobin's administrative complaints
Nationstar's and Nona Tobin's unadjudicated civil claims in prior proceedings. No other party filed any claims.
Nationstar's dismissed its claims without adjudication
Nona Tobin's unadjudicated pleadings in prior proceedings
Summary of Nona Tobin's unadjudicated pleadings
Nona Tobin's unadjudicated district court motions
Orders that disposed Nona Tobin's claims without any evidentiary hearings
Nona Tobin's pending appeals before the Nevada Supreme Court or the Court of Appeals
Exhibit 1: ENTERED BY JOSEPH HONG (NV BAR #5995) FOR JIMIJACK IRREVOCABLE TRUST
Exhibit 2: ENTERED BY MELANIE MORGAN (NV BAR #8215) NATIONSTAR MORTGAGE
EXHIBIT 3: DAVID OCHOA PROFFERED FOR SUN CITY ANTHEM
EXHIBIT 4: NONA TOBIN & THE HANSEN TRUST PROFFERED EVIDENCE
EXHIBIT 5: RED ROCK FINANCIAL SERVICES RESPONSE TO TOBIN SUBPOENA
EXHIBIT 6: BERKSHIRE HATHAWAY RESPONSE TO TOBIN SUBPOENA
EXHIBIT 7: NEVADA LEGAL NEWS RESPONSE TO TOBIN SUBPOENA
EXHIBIT 8: DISPUTED MATERIAL FACTS ENTERED BY RED ROCK & SUN CITY ANTHEM
EXHIBIT 9: DISPUTED MATERIAL FACTS PROFFERED BY NATIONSTAR MORTGAGE
4/9/21 Nationstar & Wells Fargo filed an answer to Red Rock's 2/16/21 complaint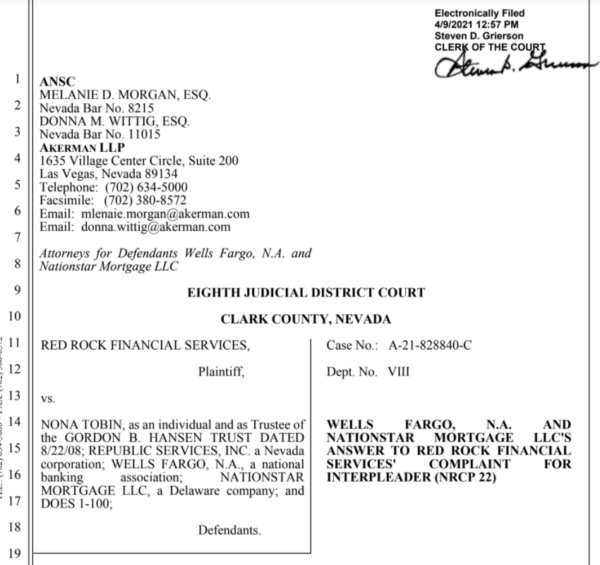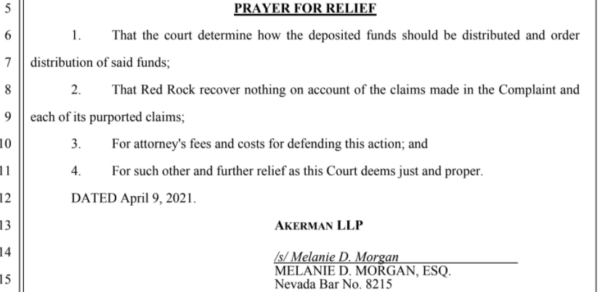 Nona Tobin's Pending Appeals of cases A-15-720032-C and A-19-799890-C
Prior 8th Judicial District Court actions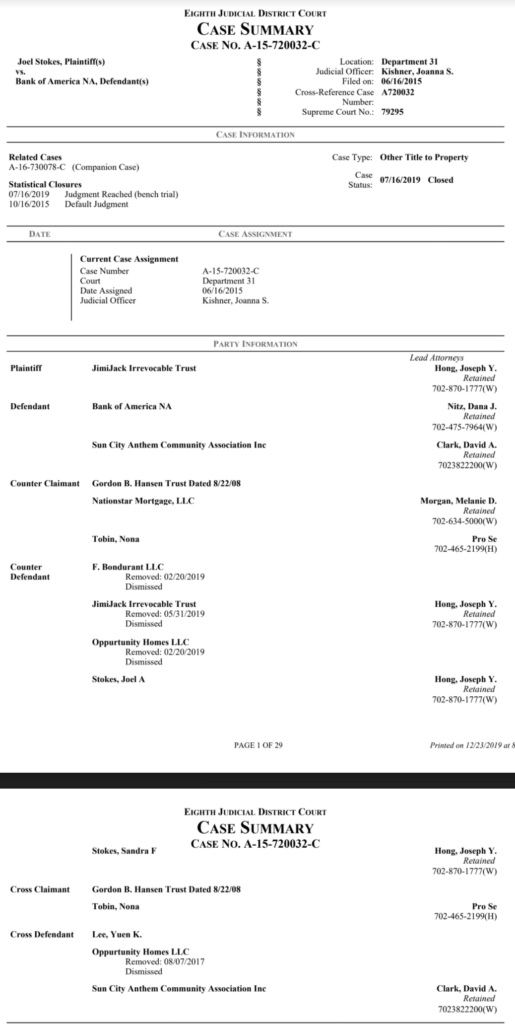 Register of Actions A-16-730078-C (consolidated in 2016 when Nona Tobin filed a motion to intervene)