On January 25, 2017, I sent an email to HOA General Manager Sandy Seddon and to the Sun City Anthem Board of Directors warning them about the serious financial risks the association was facing due to the misconduct of its debt collectors. The GM and the Board ignored this warning.
Then they did everything wrong.
They added debt collection to the duties of the new Association Legal Counsel, The Clarkson Law Group without an RFP and without addressing the inherent conflict of interest this created.
The GM withheld debt collection records from me as an elected member of the Board
The Clarkson Law Group got the 6 other Board members to vote to order me to recuse myself from al HOA collection matters.
They made no investigation of the charges i alleged regarding the HOA agents stealing from the association.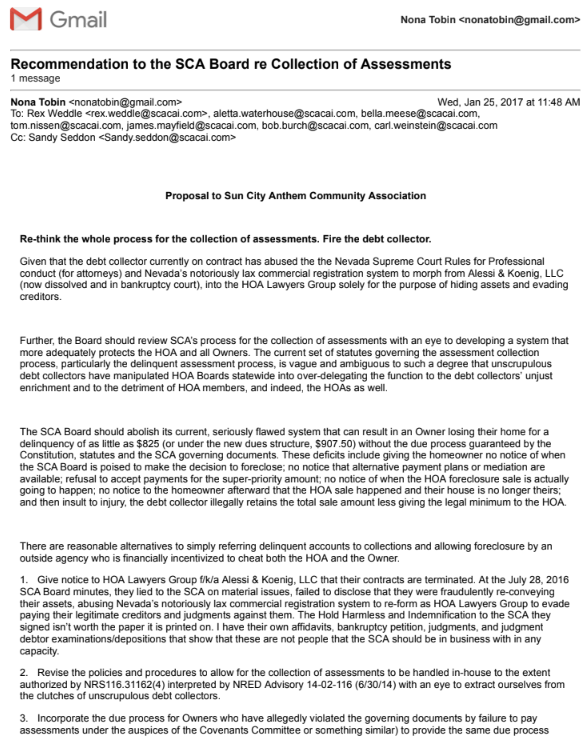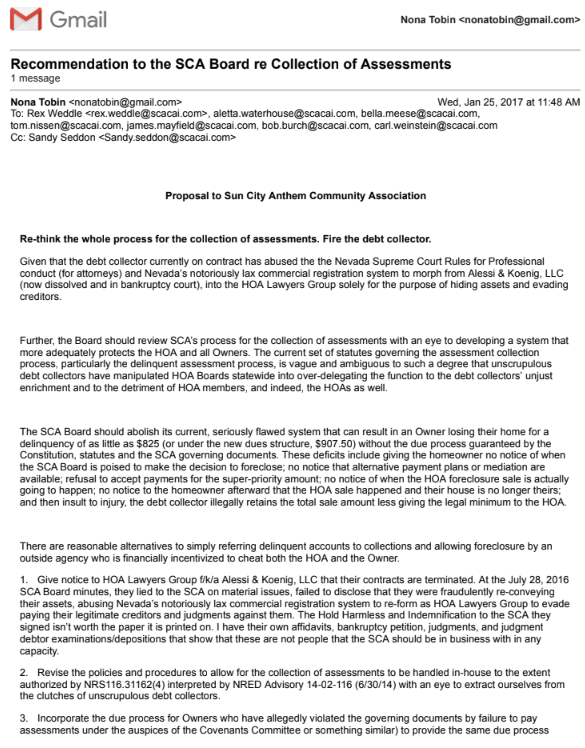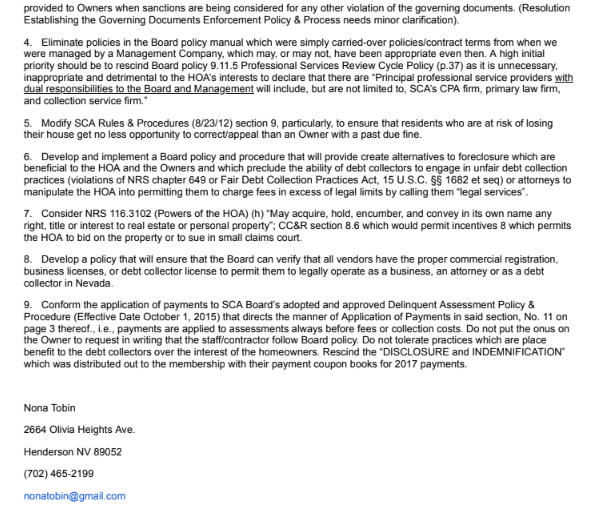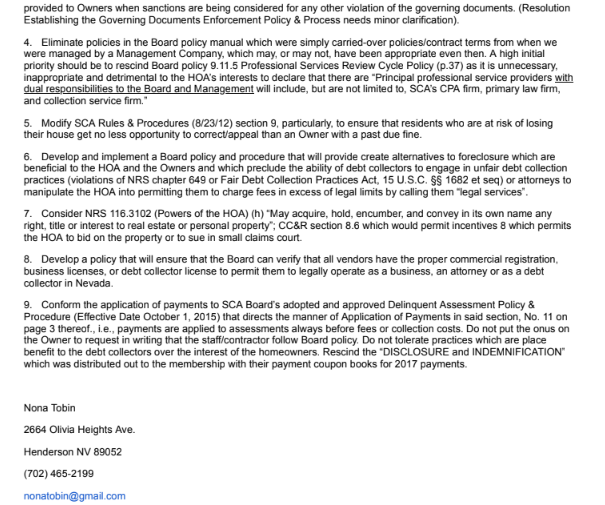 2007-2017 Debt Collection Contracts were all flawed
Nevada Debt Collection licenses note that attorneys have an exception from the requirement to have a NRS 649 debt collector license
3/19/07 SCA contract with Red Rock Financial Services
4/27/12 SCA contract with Red Rock Financial Services
5/1/17 Clarkson
Contracts with Red Rock
4/27/12 SCA contract with Red Rock Financial Services contains an Indemnification clause that is favorable to the HOA but this contract provision has never been enforced by Sun City Anthem managers and attorneys. This has resulted in at least $100,000 in litigation costs being shifted from Red Rock Financial Services to Sun City Anthem homeowners. HOA attorneys concealed this contract in discovery in my case. HOA attorneys (Clarkson) and Rex Weddle, Board President who aided and abetted the HOA agents' unjust enrichment, prevented my bringing this issue to the HOA board as was my right under NRS 116.31087.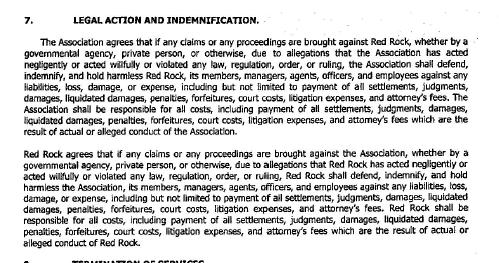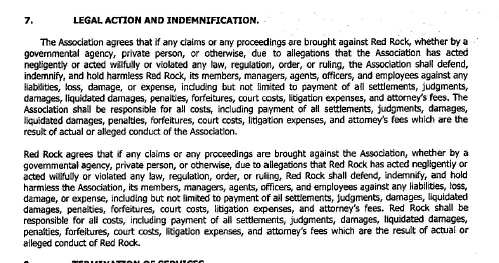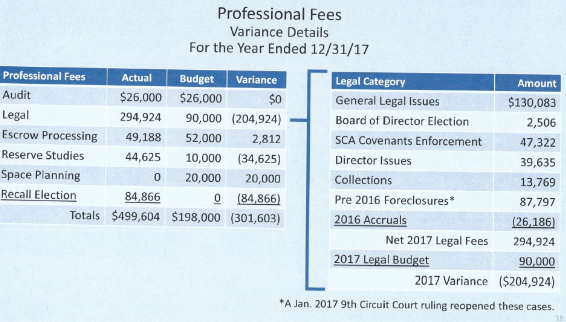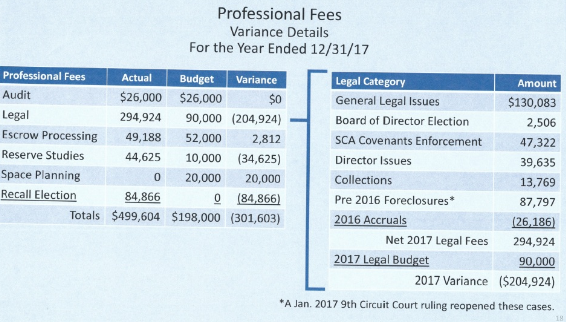 3/19/07 SCA contract with Red Rock Financial Services disclosed as SCA 164-167 instead of the applicable 4/12/27 contract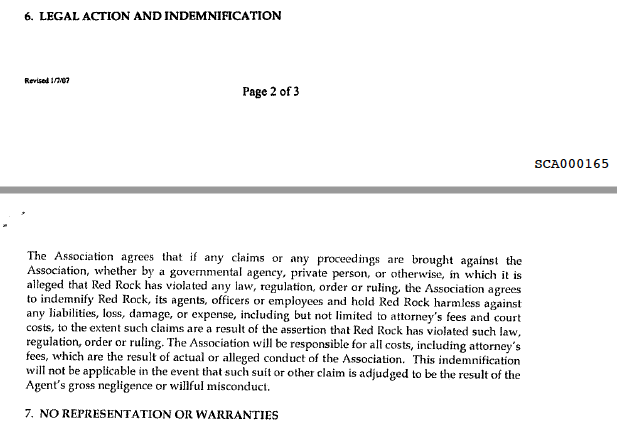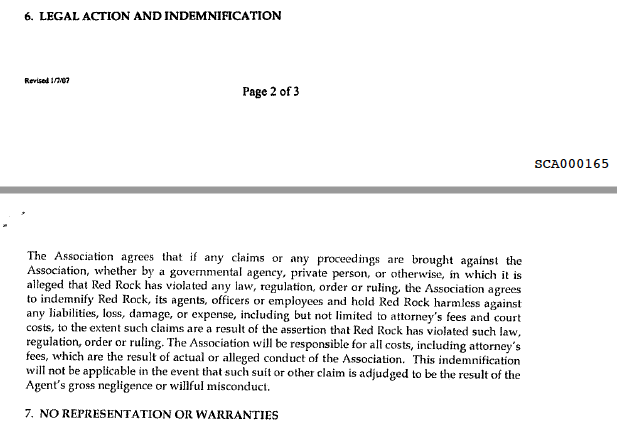 4/20/15 Alessi & Koenig contract with Sun City Anthem – Alessi & Koenig held foreclosure sales out of their 9500 W. Flamingo office with no notice the SCA homeowners. All were sold to investors for a small fraction of their value. David Alessi was not licensed to practice law in Nevada and so should not have been exempt from NRS 649 licensing and oversight. A&K hid their assets, went Chapter 7, and morphed into HOA Lawyers Group.
8/15/16 HOA Lawyers Group contract with Sun City Anthem should not have gotten a no-bid contract expecially since they were A&K's alter ego to evade creditors.
5/1/17 SCA contract with The Clarkson Law Group was not based on a debt collector RFP (Sandy Seddon put out an RFP for Legal Counsel on 1/9/17.)
Clarkson's flawed hiring and his unscrupulous handling of the inherent conflict
1/9/17 legal Counsel RFP did not include debt collection
4/27/17 Board item 15A did not include debt collection

4/27/17 Board minutes #15A approved no-bid (without RFP) debt collection in the Clarkson contract. The Board's giving "management" discretion over which matters remained with Leach should be noted.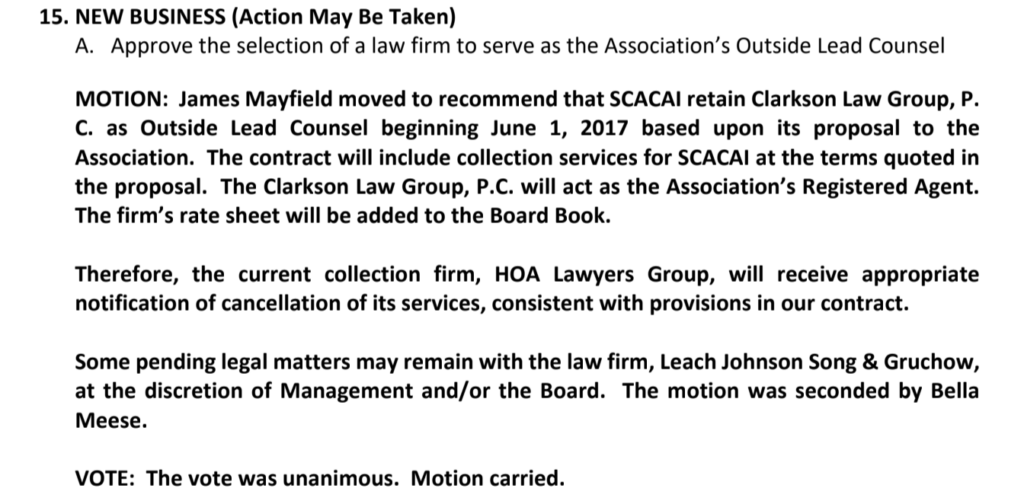 5/23/17 Clarkson's first quarterly litigation report
5/23/17 Lipson quarterly litigation report Lipson handled the litigation related to many of the foreclosures. Upon information and belief (UIAB), Lipson worked for the insurance company ("carrier" ) that may have had financial reasons for supporting the interests of Red Rock. Further, UIAB, Lipson attorney Ochoa did not get direction from the HOA Board and acted according to direction from GM Sandy Seddon and/or CAM Lori Martin and HOA Legal Counsel/debt collector Adam Clarkson. All of them defamed me, damaged me and worked to obstruct my access to HOA records and to obstruct a fir adjudication of my quiet title case.
5/25/17 Executive session minutes contained an order for me to recuse myself from all HOA collection matters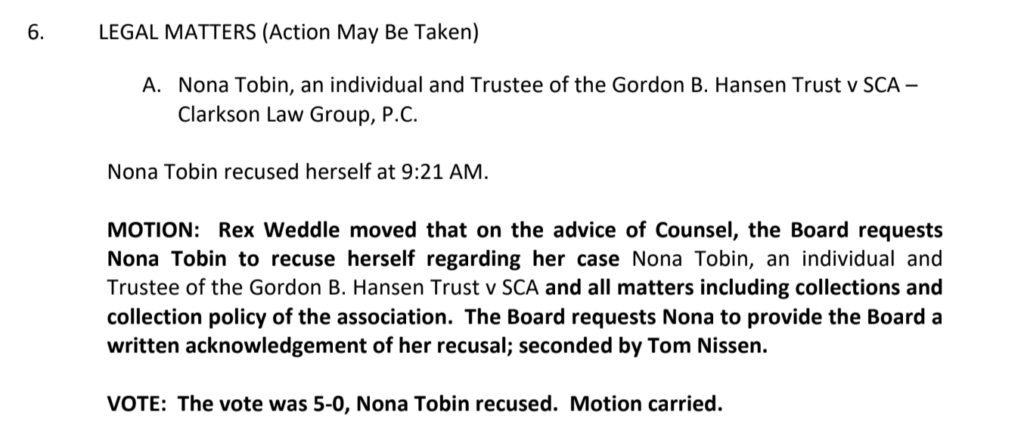 Note that there are three other items on that executive session agenda that, in my strongly stated opinion, the Board was prohibited from discussing, or acting on, in closed session, and which contributed to the unjust enrichment of HOA managers and/or agents and which were detrimental to the HOA per se. I will give those items to the police rather than publish them n the internet to spare myself the grief of more abusive threats and harassment from the lying, self-serving attorneys.
12/3/16 Tobin email re SCA's flawed contracting/hiring practices
July 28, 2016 HOABoard minutes
July 28, 2016 Board action item #07-28-2016-05
6/5/17 Clarkson's unbelievably broad, self-serving recusal acknowledgment I signed without consulting an attorney, which I never violated, and which Clarkson used as a ruse to remove me unlawfully from my elected seat on the HOA Board on 8/24/17 so he and Seddon could take over the recall election and keep compliant Board members safe from recall.
12/1/16 Board Book collection report by Alessi & Koenig in the HOA office hard copy is incompatible with the report in the online version of the Board book which was done by HOA Lawyers Group at Alessi & Koenig's address.
A bunch of stuff about what's wrong with Alessi & Koenig & HOA Lawyers Group
Thomas Baynard CA bar discipline
10/1/17 Thomas Baynard disbarred in California (I don't know if he was ever licensed in Nevada. David Alessi was never a licensed attorney in Nevada.)
Melinda Ellis vs. Alessi & Koenig 20955 Pathfinder Rd #100 Diamond Bar CA 91765
Levi Jones case A-14-695093-c Register of Actions in Exhibit 3
A & K skipped on $500K racketeering judgment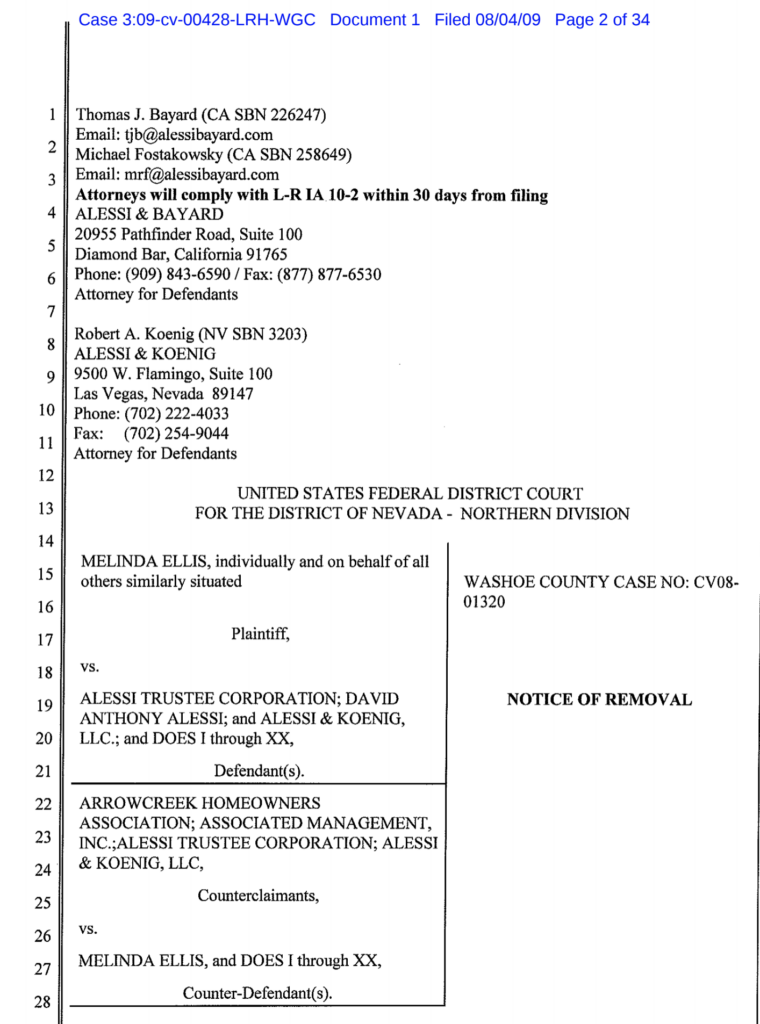 NV Secretary of State entity Info HOA Lawyers Group
NV Secretary of State Entity Info Alessi & Koenig LLC dissolved
Alessi & Koenig filed for Chapter 7 bankruptcy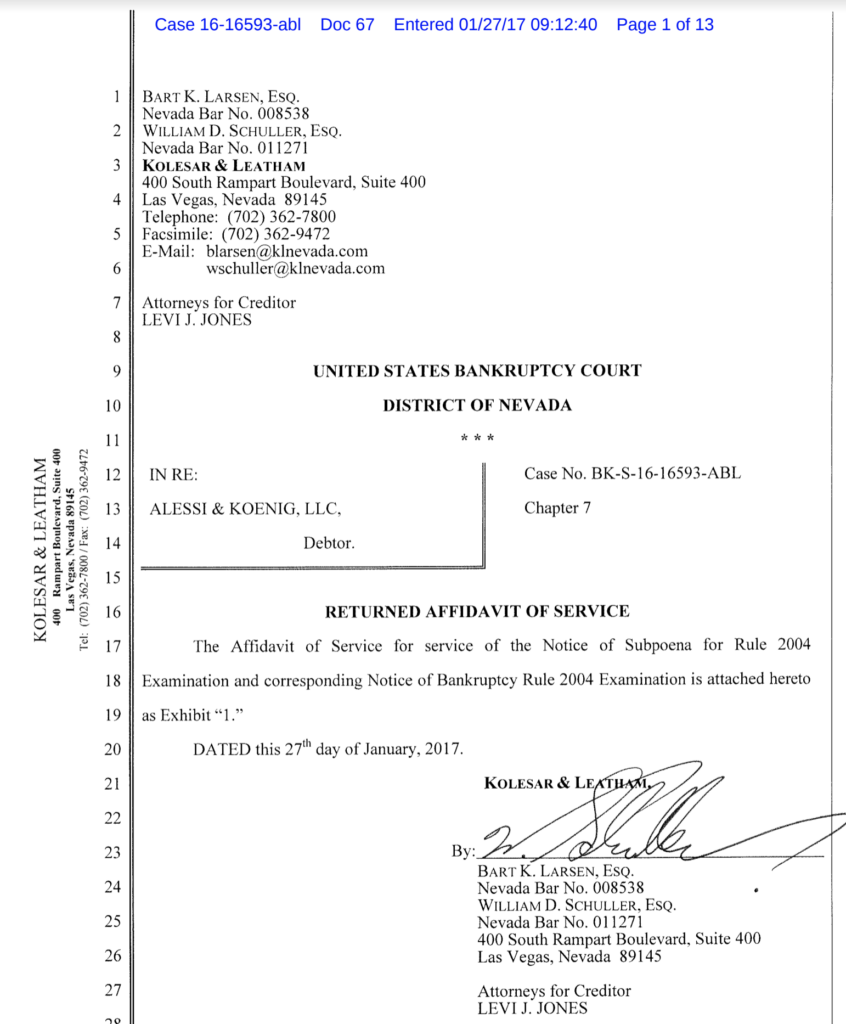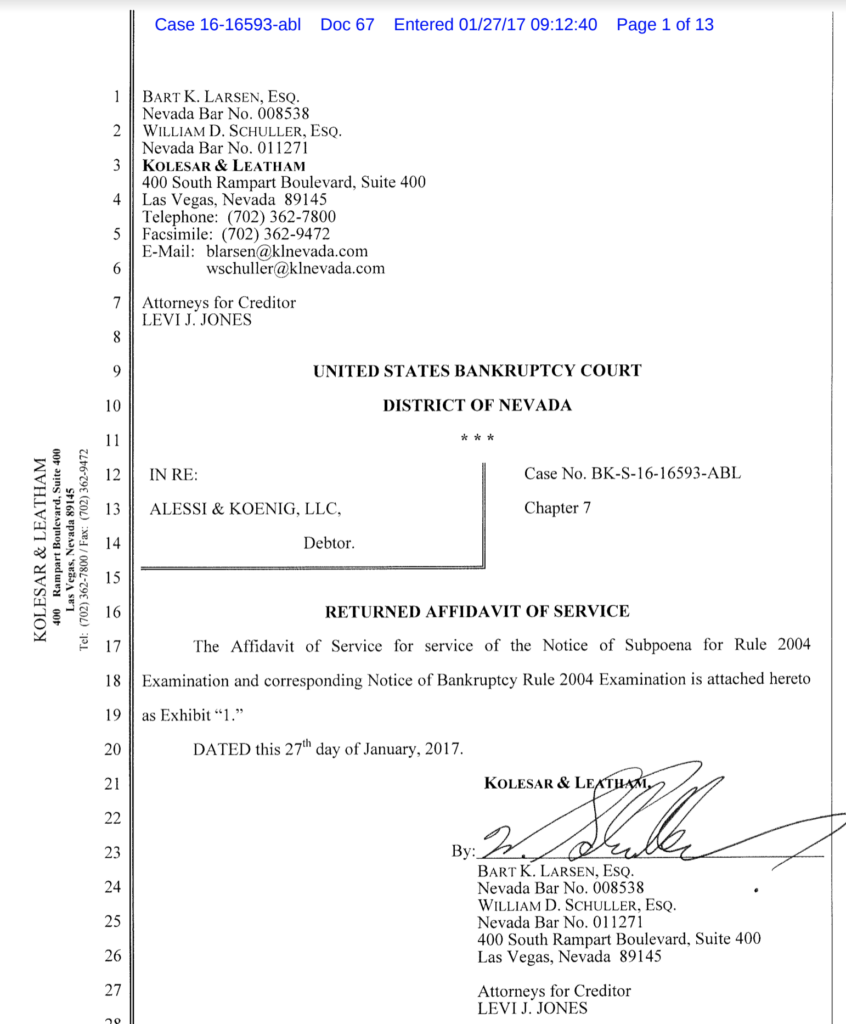 David Alessi's sworn declaration doesn't explain what happened to the money in his attorney trust fund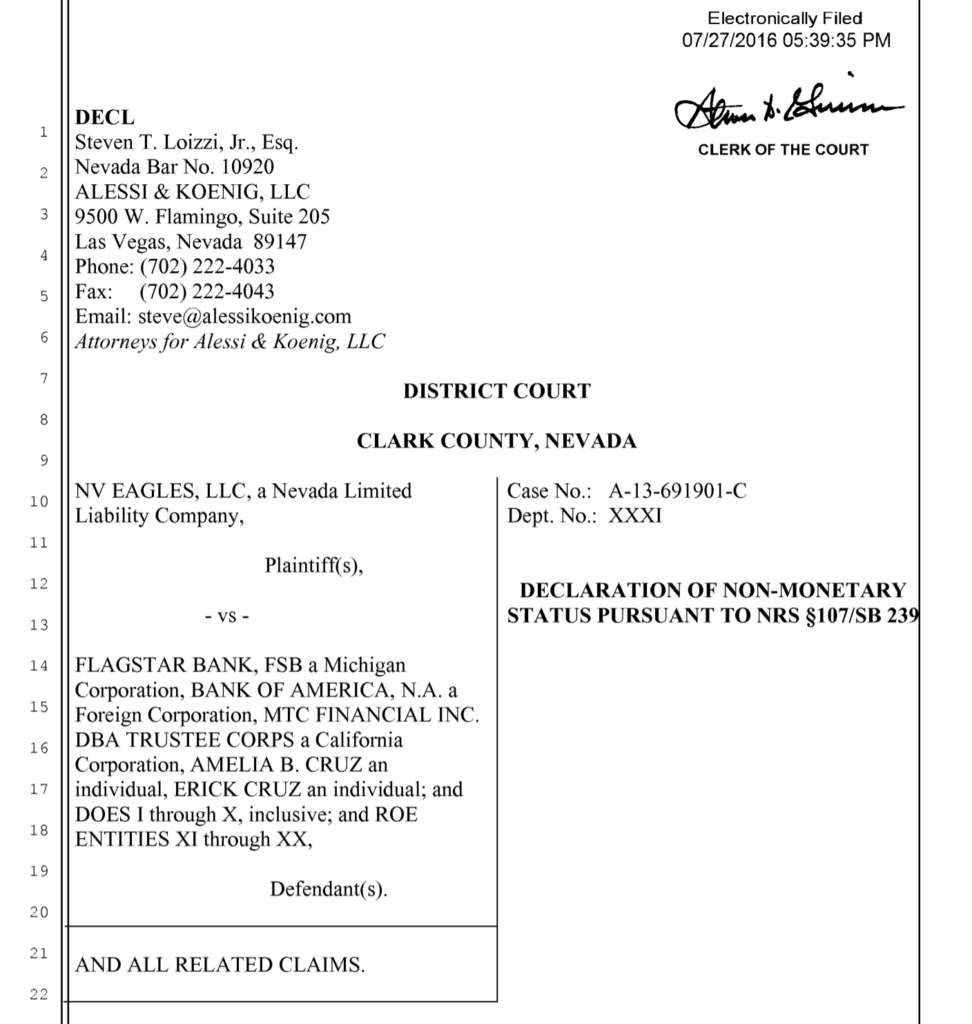 Bank of America didn't buy David Alessi's sworn declaration any more than I did
https://drive.google.com/file/d/1SdzP-QMQqibc46iOF4bR6_2DEbX7GBjF/view?usp=sharing