The court can't render judgment for or against a non-party
Moore v. Univ. Med. Ctr. of S. Nev., No. 69367, at *2 (Nev. App. Jan. 13, 2017) ("the district court entered judgment on this un-asserted claim without conducting a trial (and without employing any recognized trial substitute such as NRCP 12(c) or 56). Instead, the court simply resolved all pending factual and legal disputes on its own, in chambers, without hearing the sworn testimony of any witnesses, without applying any rules of evidence or any recognized procedures for admitting evidence, without permitting the parties to assert any objections to any evidence, without permitting any cross-examination of any witness by any party, and without identifying the legal standards used to resolve any factual or legal disputes, and without entering findings of fact and conclusions of law.")
Moore v. Univ. Med. Ctr. of S. Nev., No. 69367, at *2 (Nev. App. Jan. 13, 2017) ("The district court clearly erred by failing to apply the Nevada Revised Statutes, the Nevada Rules of Civil Procedure, and applicable precedent from our supreme court, and by entering judgment without a trial in favor of a party that never even pled a claim for relief")
Moore v. Univ. Med. Ctr. of S. Nev., No. 69367, at *3 n.2 (Nev. App. Jan. 13, 2017) ("Booke was not a party to the case, and the court therefore lacked jurisdiction to enter any judgment against him. See NRCP 4(d); Schwob v. Hemsath, 98 Nev. 293, 294, 646 P.2d 1212, 1212 (1982) ("Without proper service of process the district court acquires no. jurisdiction over a party.") (citing Brockbank v. District Court, 65 Nev. 781, 201 P.2d 299 (1948); State v. District Court, 51 Nev. 206, 273 P. 659 (1929)). ")
"A district court may render judgment for or against a person only where the court has jurisdiction over the parties. C.H.A. Venture v. G. C. Wallace Consulting Eng'rs, Inc., 106 Nev. 381, 383, 794 P.2d 707, 708 (1990). Thus, a court may not enter a judgment for or against a nonparty."
NRCP 10(a)(1) The complaint must name all the parties
10(a) Caption; Names of Parties. Every pleading must have a caption with the court's name, the county, a title, a case number, and a Rule 7(a) designation. The caption of the complaint must name all the parties; the caption of other pleadings, after naming the first party on each side, may refer generally to other parties.

NRCP Rule 10. Form of Pleadings
Pacific States Sec. Co. v. District Court, 48 Nev. 53 (Nev. 1924)
"Parties are those who are named as such in the record, and who are properly served with process, or enter their appearance. 20 R.C.L. p. 662; Womach v. City of St. Joseph, 201 Mo. 467, 100 S.W. 443, 10 L.R.A. (N.S.) 140."
A party must file an appearance, and no attorney ever appeared for Red Rock LLC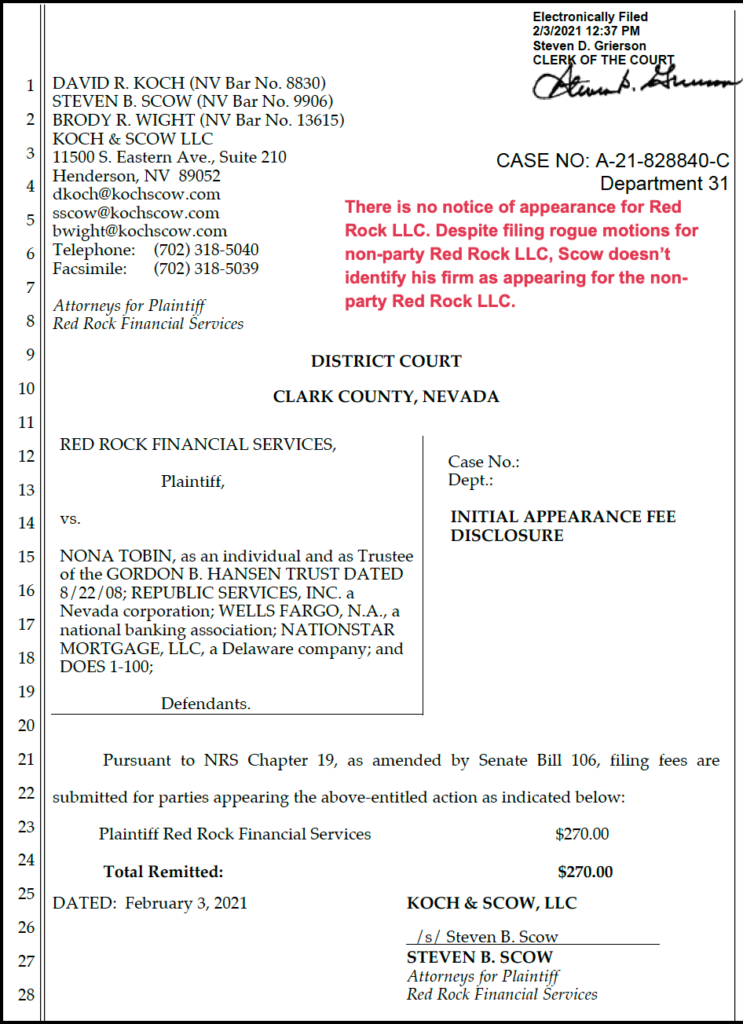 A court does not have jurisdiction over non-parties
I.C.A.N. Foods, Inc. v. Sheppard (In re Aboud Inter Vivos Trust), 314 P.3d 941, 946 (Nev. 2013) ("Young v. Nev. Title Co., 103 Nev. 436, 442, 744 P.2d 902, 905 (1987) ("A court does not have jurisdiction to enter judgment for or against one who is not a party to the action."")
Red Rock LLC did not intervene as a timely motion and an interest in the proceedings would have been required.
Non-party Red Rock LLC never timely filed the required NRCP 24(a)(2) motion to intervene. It could not assert it had an interest it did not have relating to the property or transaction that is the subject of the action, i.e., it never had any relationship to the HOA, the interpleaded proceeds, or this dispute, other than sharing an attorney and a similar name with the Plaintiff.
The 2/3/21 complaint must identify ALL the parties per NRCP 10a1 and Red Rock LLC is NOT named as the Plaintiff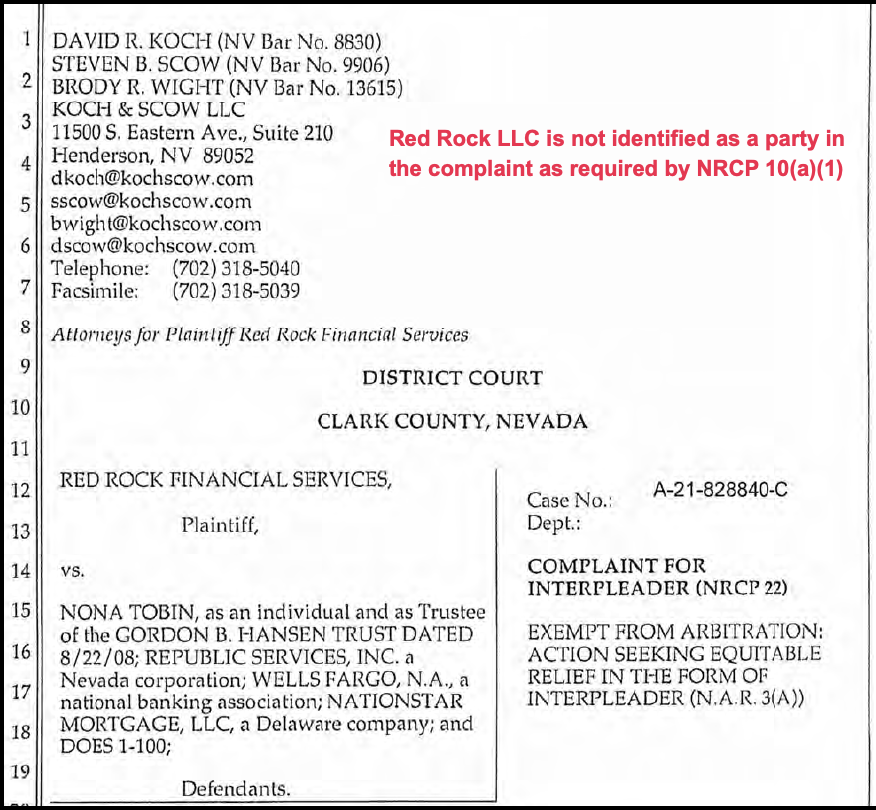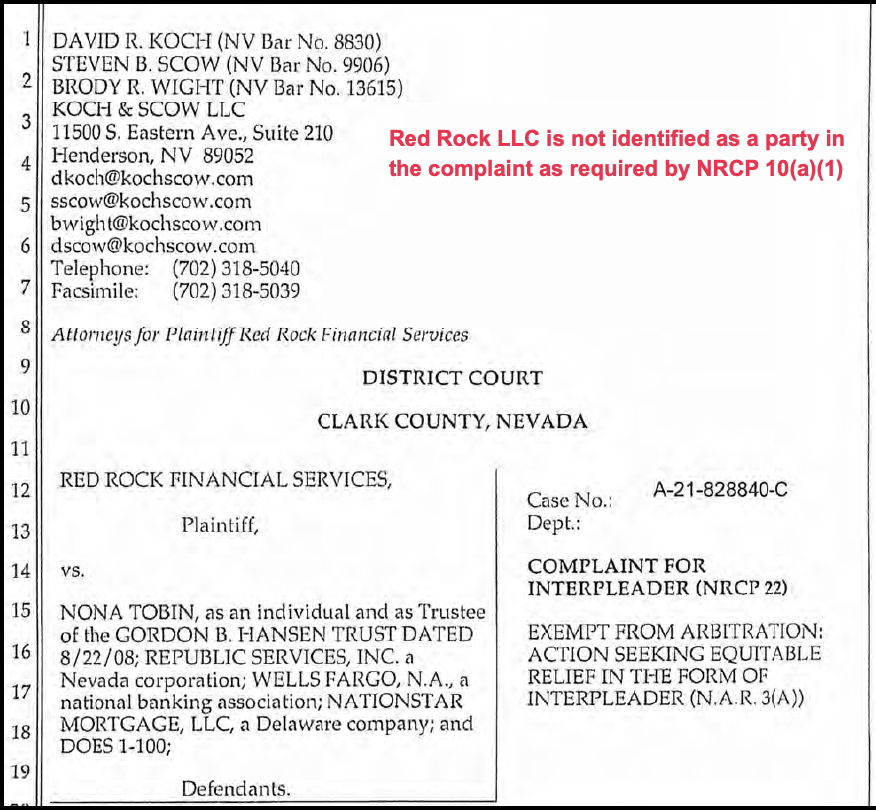 Red Rock LLC did not serve any summons to claim relief as the plaintiff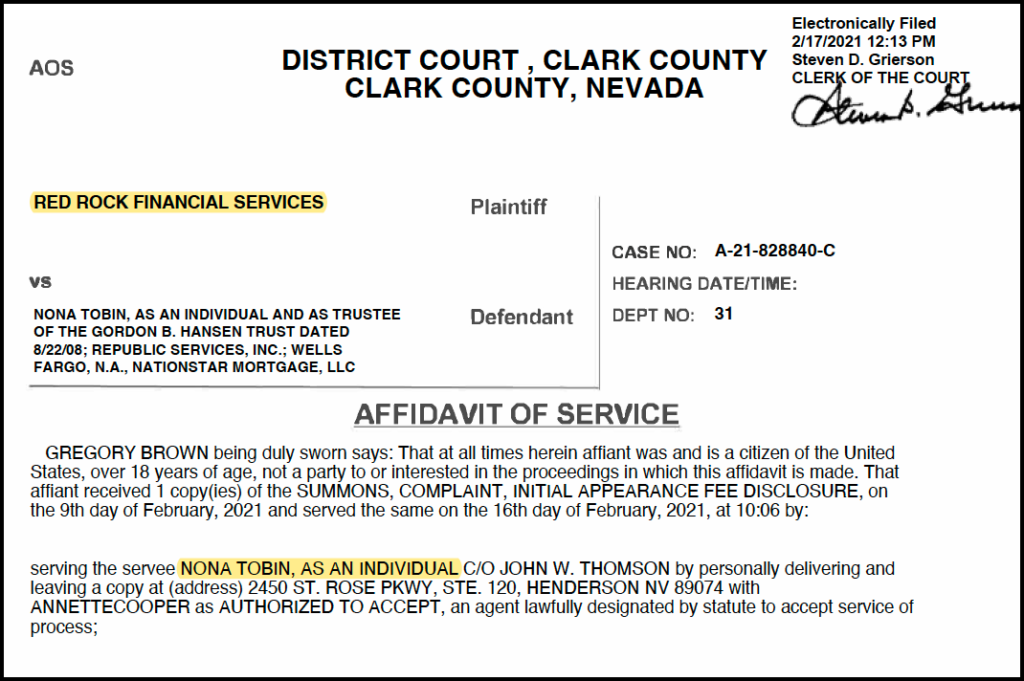 I filed the only counter- and cross-claims, and I did not serve any claims against Red Rock LLC.
C.H.A. Venture v. G.C. Wallace Consulting Eng'rs, Inc., 106 Nev. 381, 384, 794 P.2d 707, 709 (1990) ("Personal service or a legally provided substitute must still occur in order to obtain jurisdiction over a party."). Moreover, "[a] district court is empowered to render a judgment either for or against a person or entity only if it has jurisdiction over the parties and the subject matter," and a district court cannot exercise personal jurisdiction over a party—even one with actual notice of the proceedings—unless that party has first been adequately served.
Red Rock LLC is not, therefore, a counter-defendant just because Scow added an LLC designation to counter-defendant in the caption.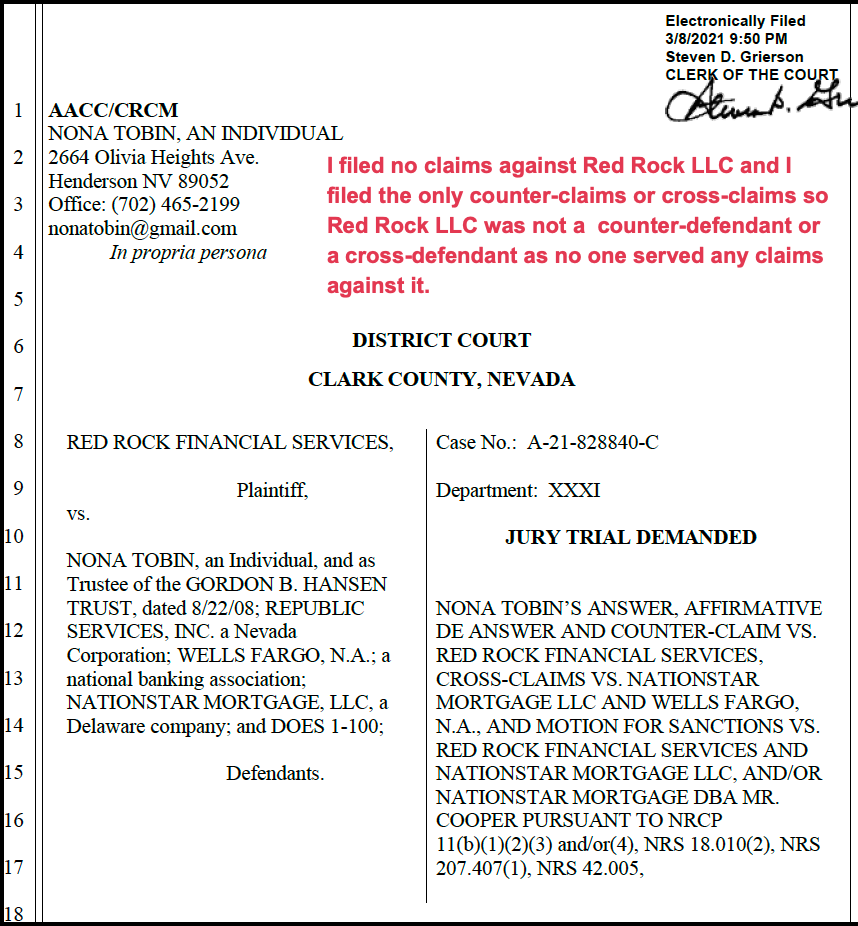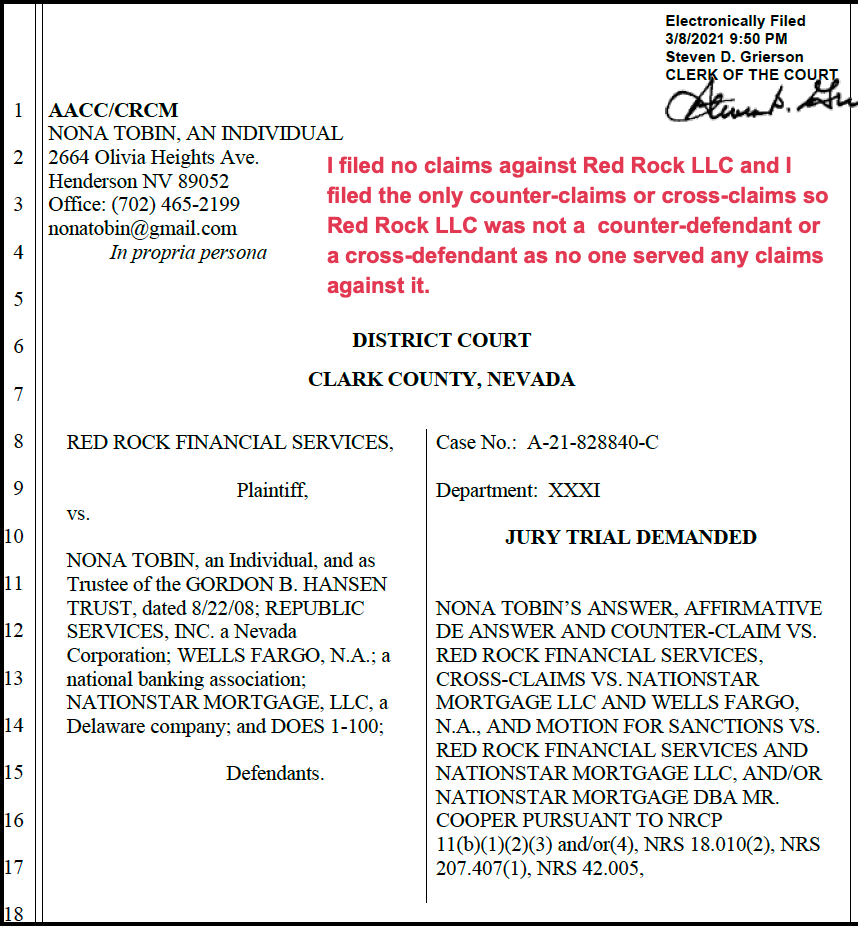 No party timely responded to my 3/8/21 claims so I filed 1st 4/12/21 motion for the proceeds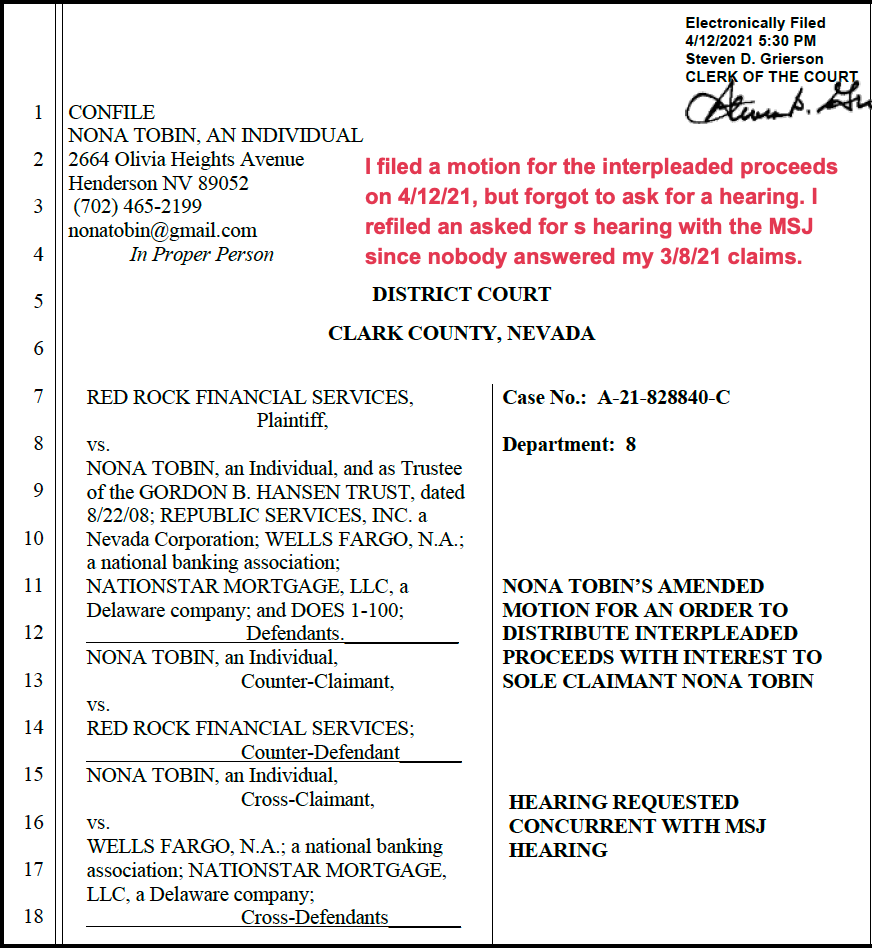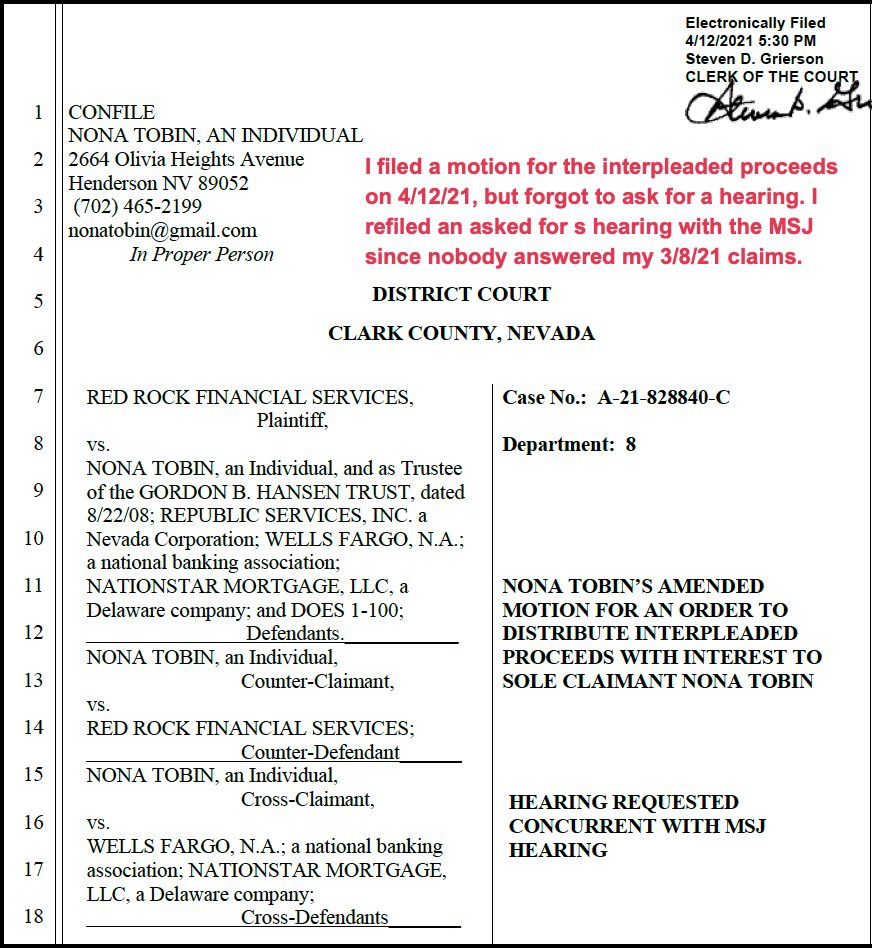 No party timely (NRCP 12(a)(1)(B) responded to my 3/8/21 claims so I filed a 4/15/21 motion for summary judgment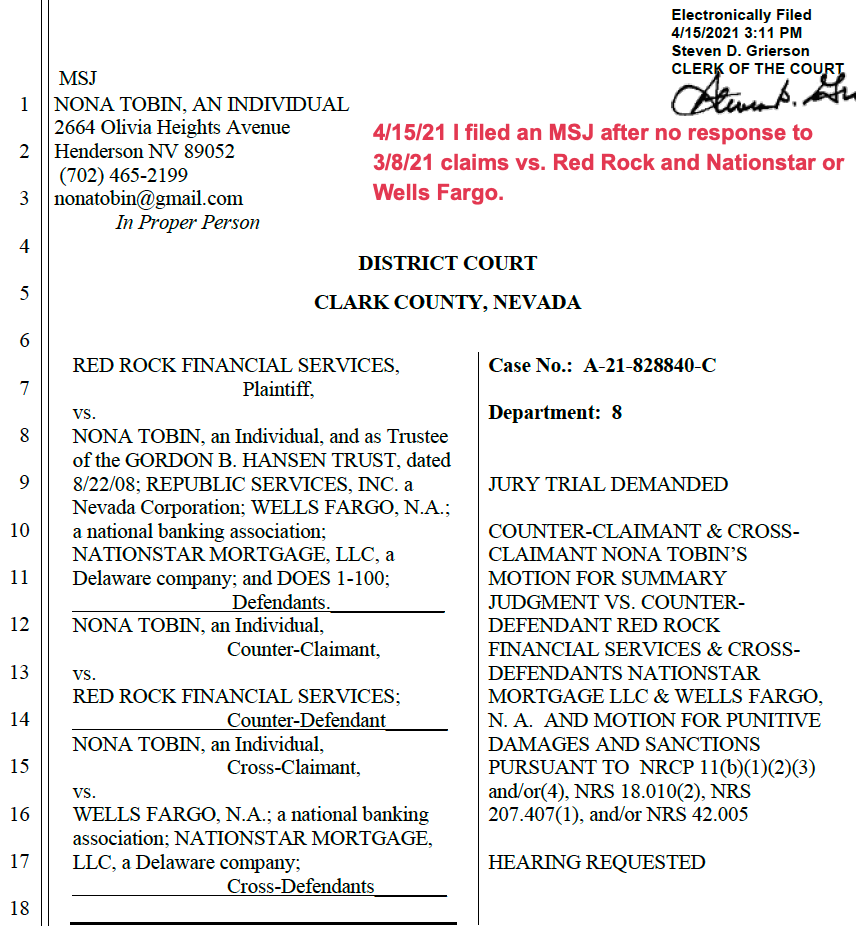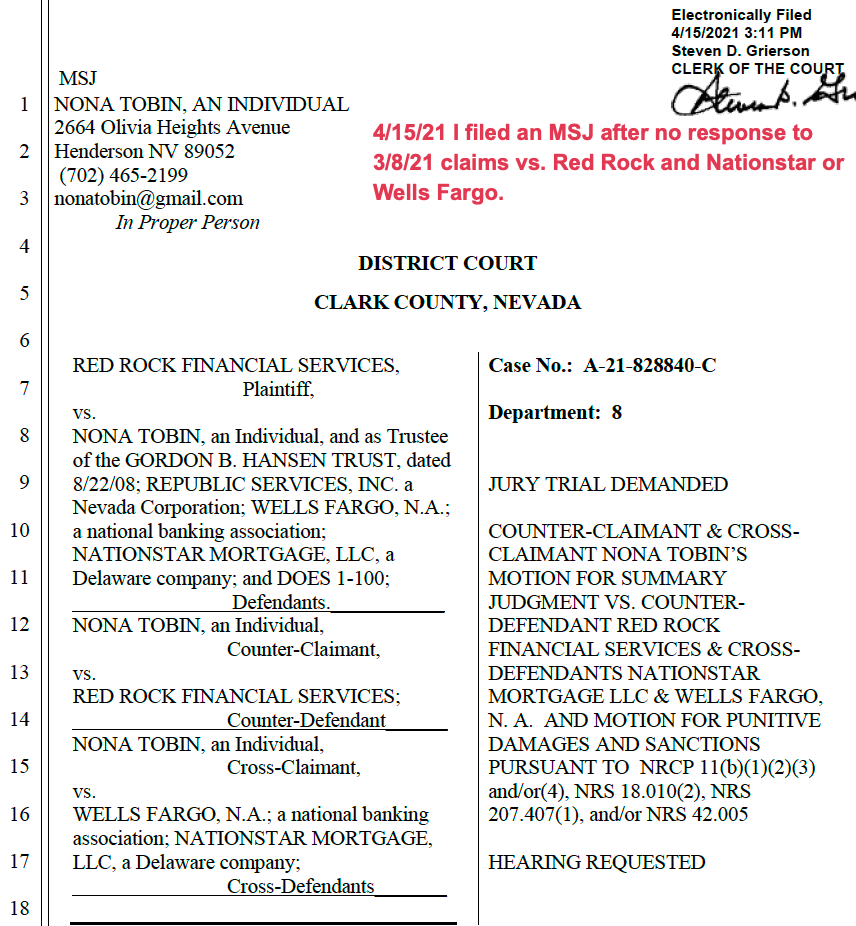 Counter -claims require a timely responsive pleading (NRCP 12(a)(1)(B))
(B) A party must serve an answer to a counterclaim or crossclaim within 21 days after being served with the pleading that states the counterclaim or crossclaim.

Rule 12.(a) Time to Serve a Responsive Pleading.
4/16/21 Scow filed a rogue, unsupported NRCP 12(b)(5) motion to dismiss on behalf of non-party Red Rock LLC the day after I filed my MSJ because no party filed a timely answer to my 3/8/21 AACC.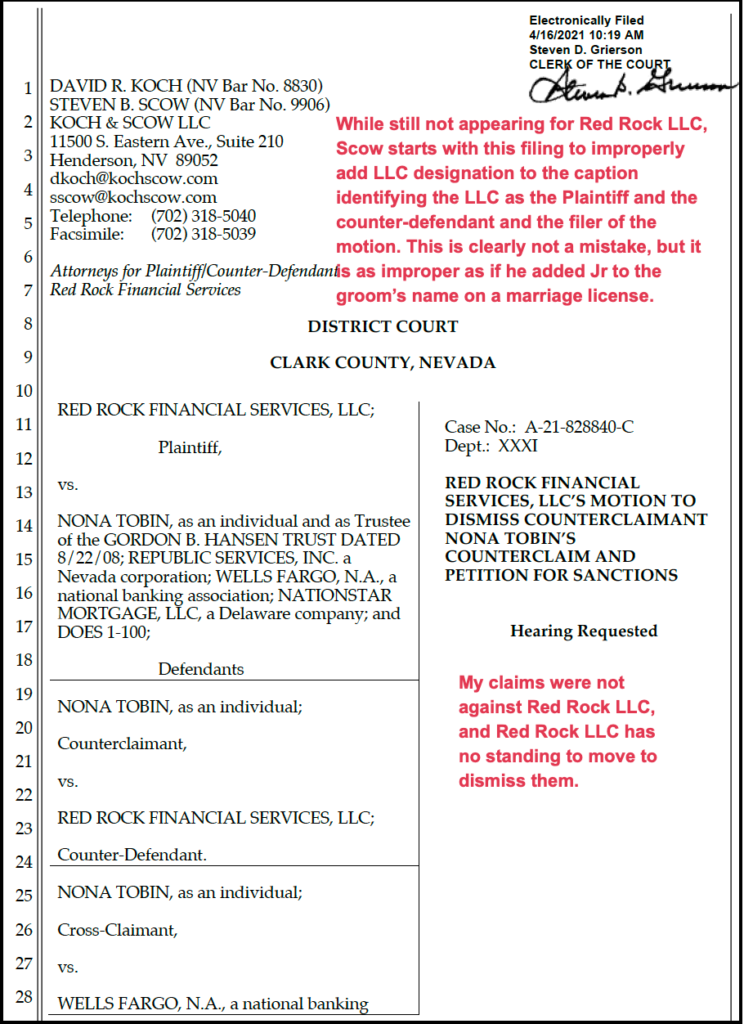 12/28/21 Non-party Red Rock LLC filed an improper opposition to my motion for an evidentiary hearing and a motion for vexatious litigant restrictive order against me and motions for attorneys fees when it had no standing to be in the case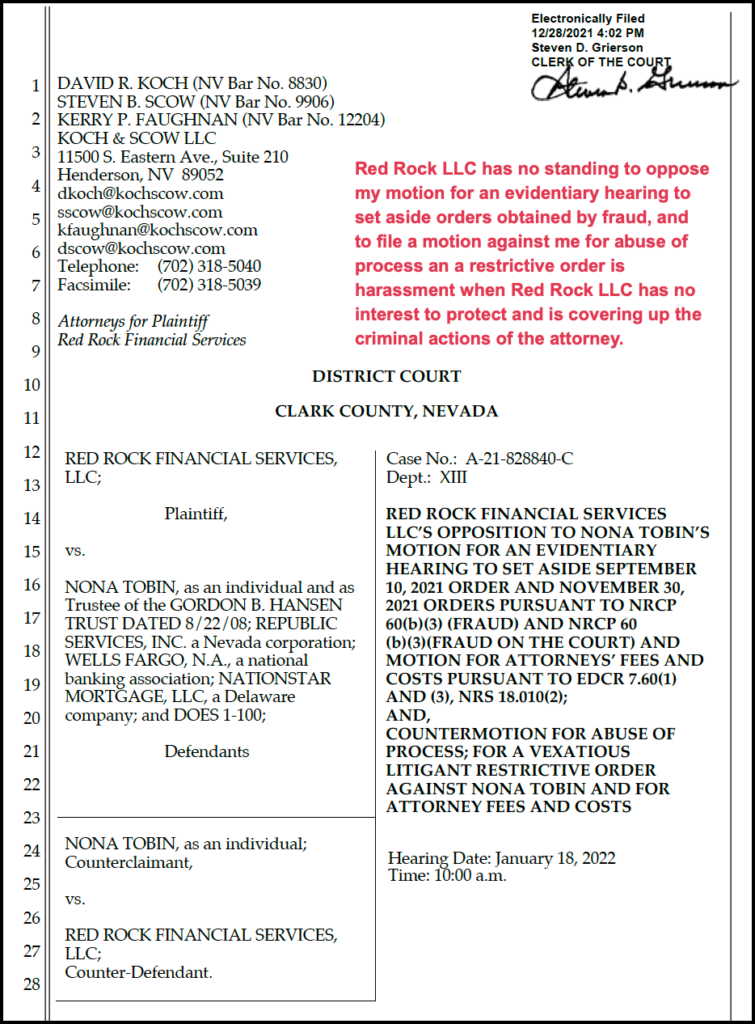 6/13/22 Non-party Red Rock LLC filed an improper opposition to my 2nd motion for the proceeds with interest and penalties for being wrongfully withheld 8+ years and another motion for a vexatious litigant restrictive order against me for moving to correct the orders for the party identification and another motion for legal fees.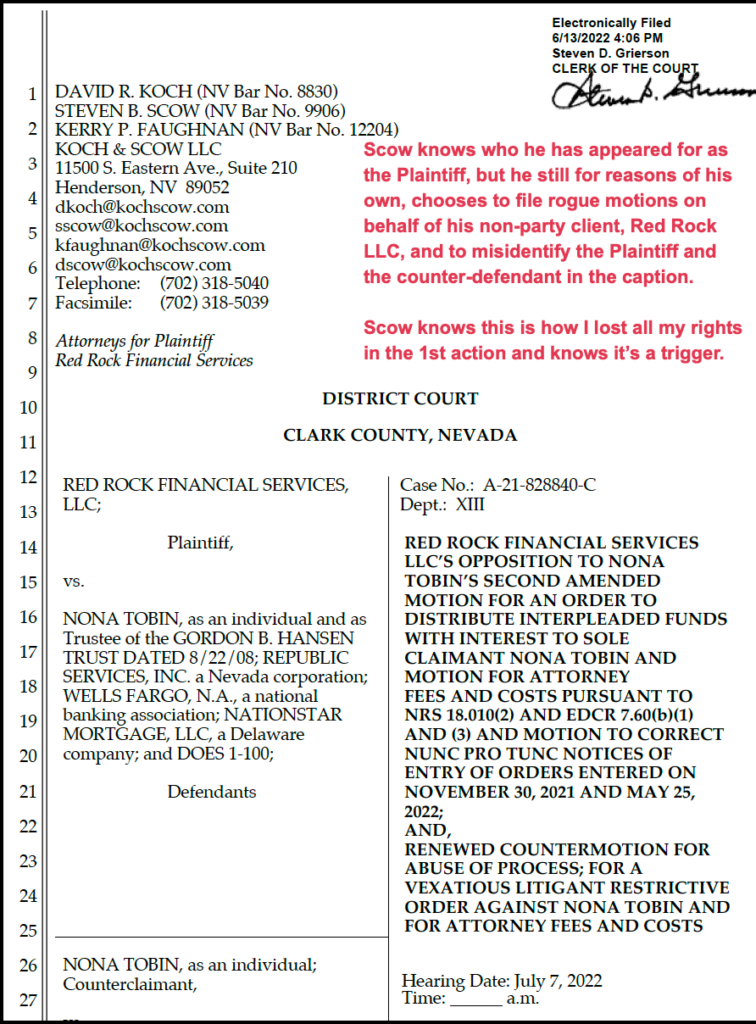 Judge Peterson granted the non-party's 6/13/22 motion for attorney fees but Scow didn't accurately write the 1/9/23 order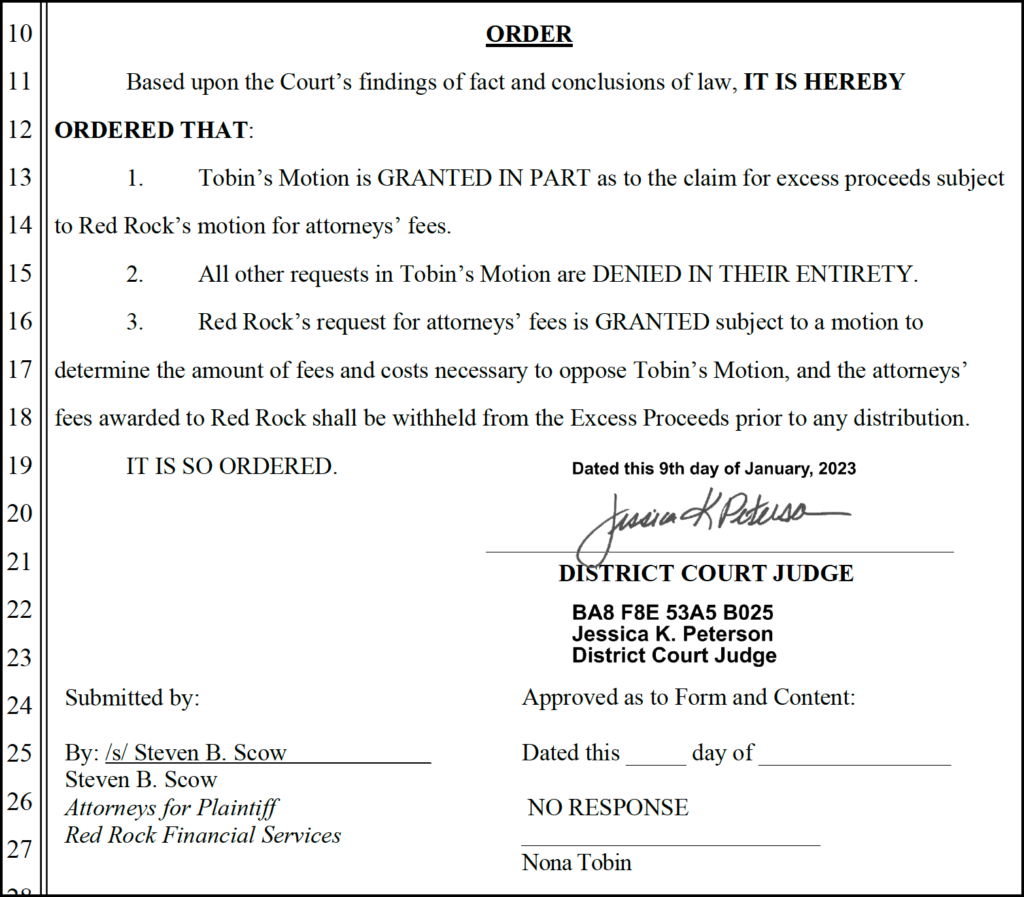 I insisted that my opposition be added and a corrected order was filed on 1/16/23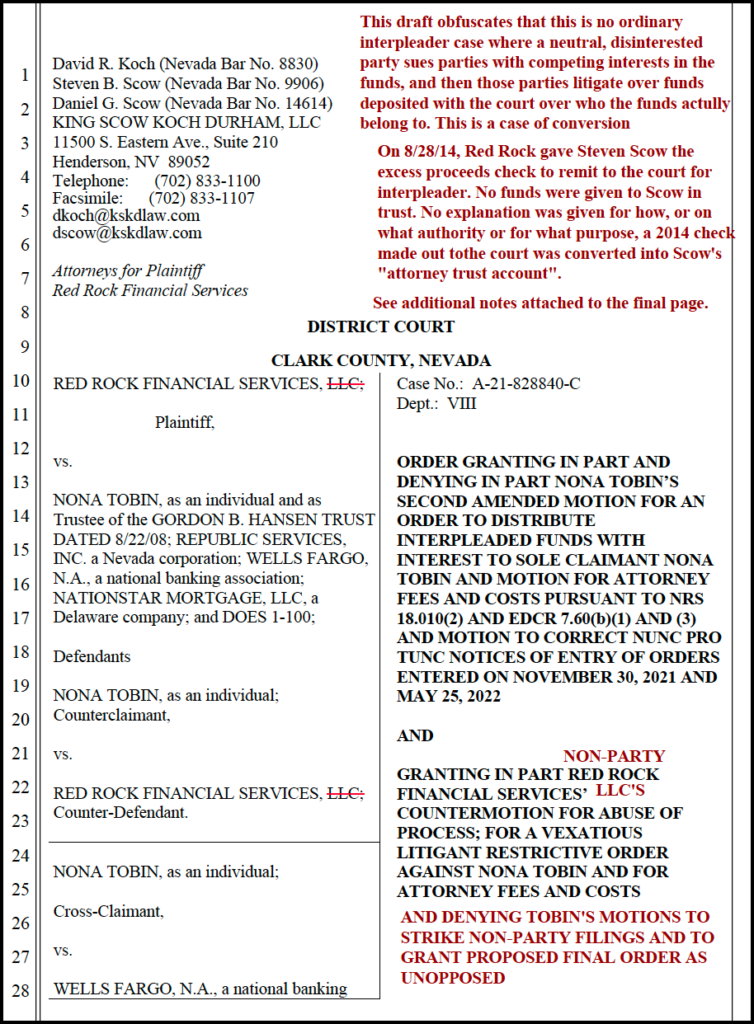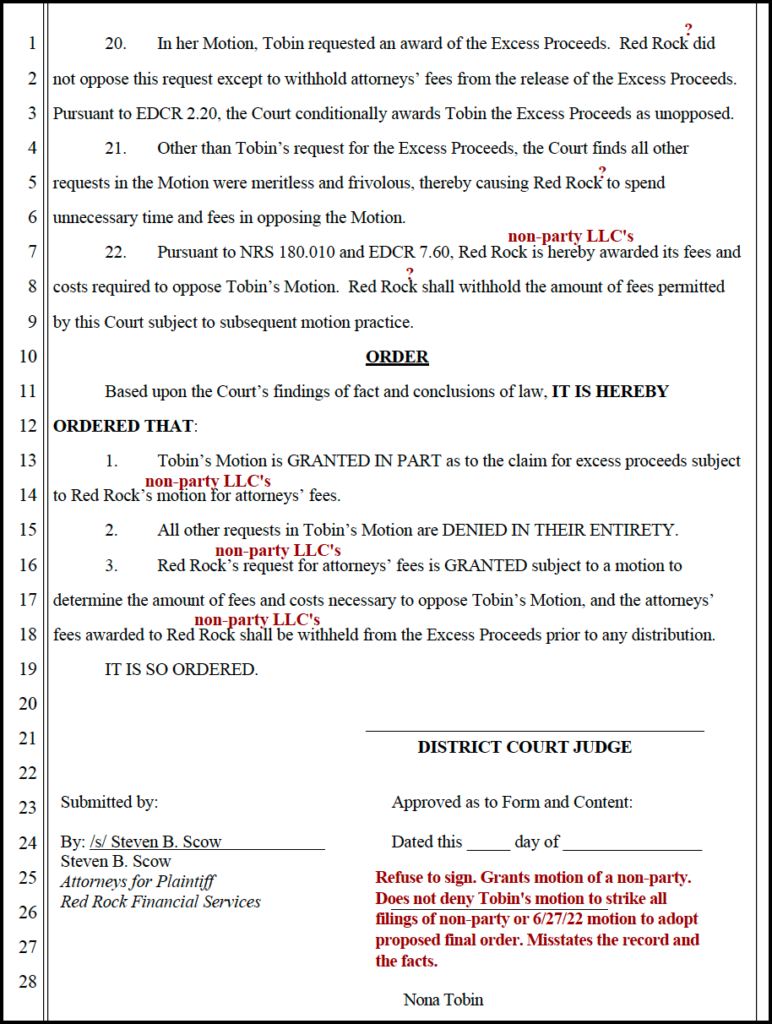 1/23/23 I filed motion to reconsider this 1/16/23 order because it was granting the motion of a non-party and because it did not deny my prior 6/27/22 motion to strike the rogue filings of non-party Red Rock LLC in an written appealable order.
State, Div. Child Fam. Servs. v. Dist. Ct., 120 Nev. 445, 452 (Nev. 2004) ("[p]rior to the entry of a final judgment the district court remains free to reconsider and issue a written judgment different from its oral pronouncement." Consequently, we stated that "[a]n oral pronouncement of judgment is not valid for any purpose; therefore, only a written judgment has any effect, and only a written judgment may be appealed."")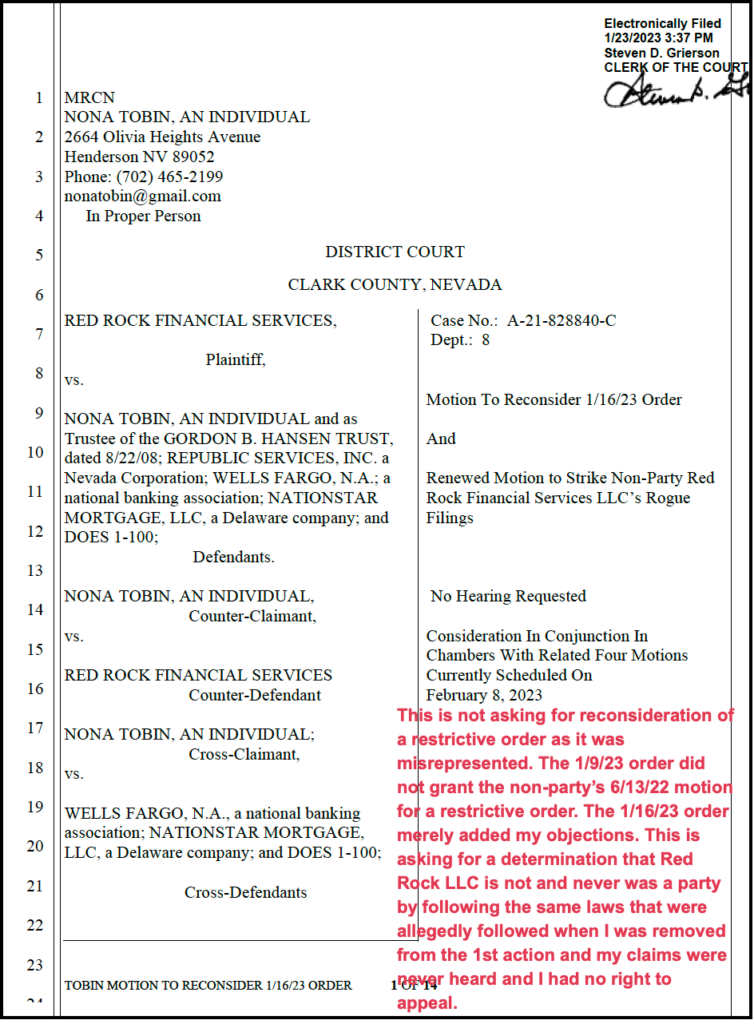 2/10/23 I filed an order granting these motions as unopposed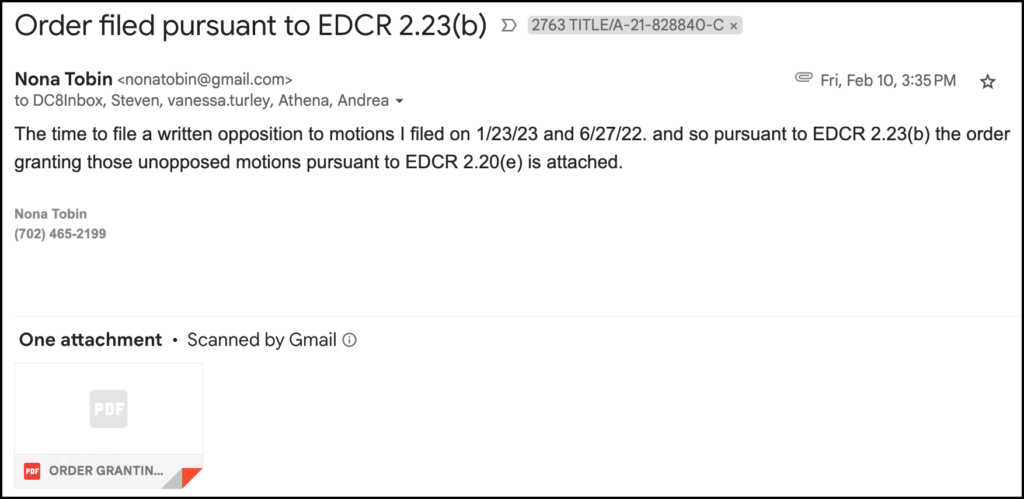 2/15/23 court denied because of ex parte hearing I knew nothing about


Judge Peterson just ex parte declared "Red Rock is a party" and I'm a vexatious litigant and the court rules don't apply to my opponents
1/23/23 motions ask for equal treatment of non-parties to fairly end this dispute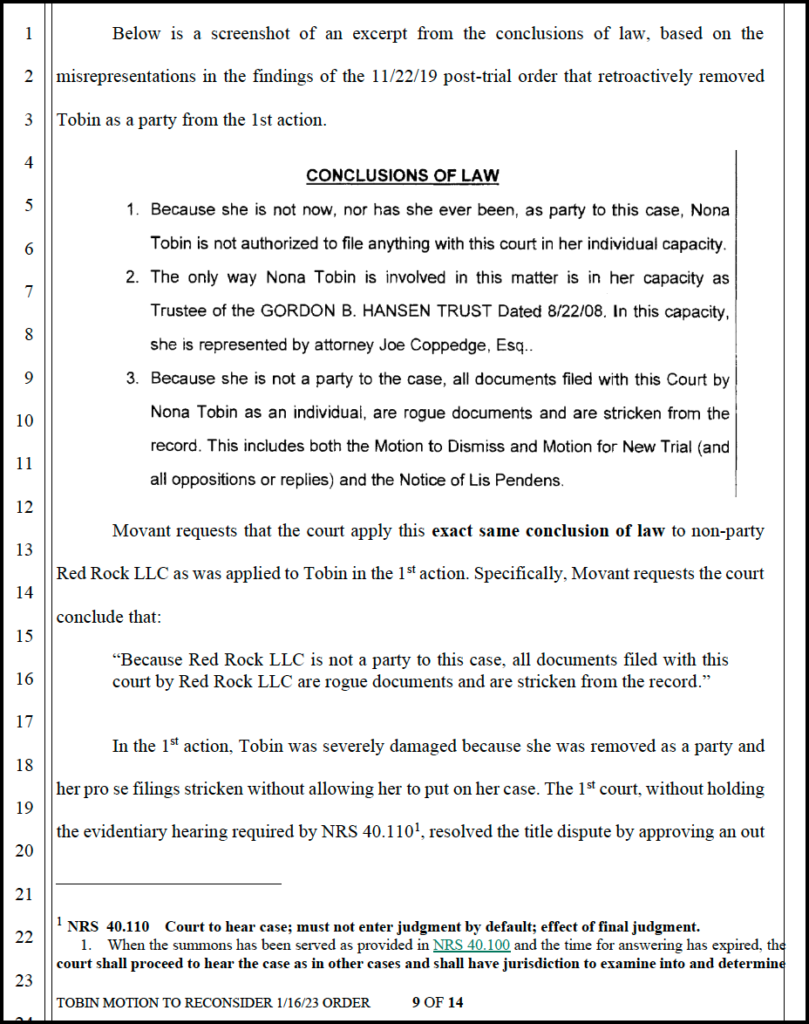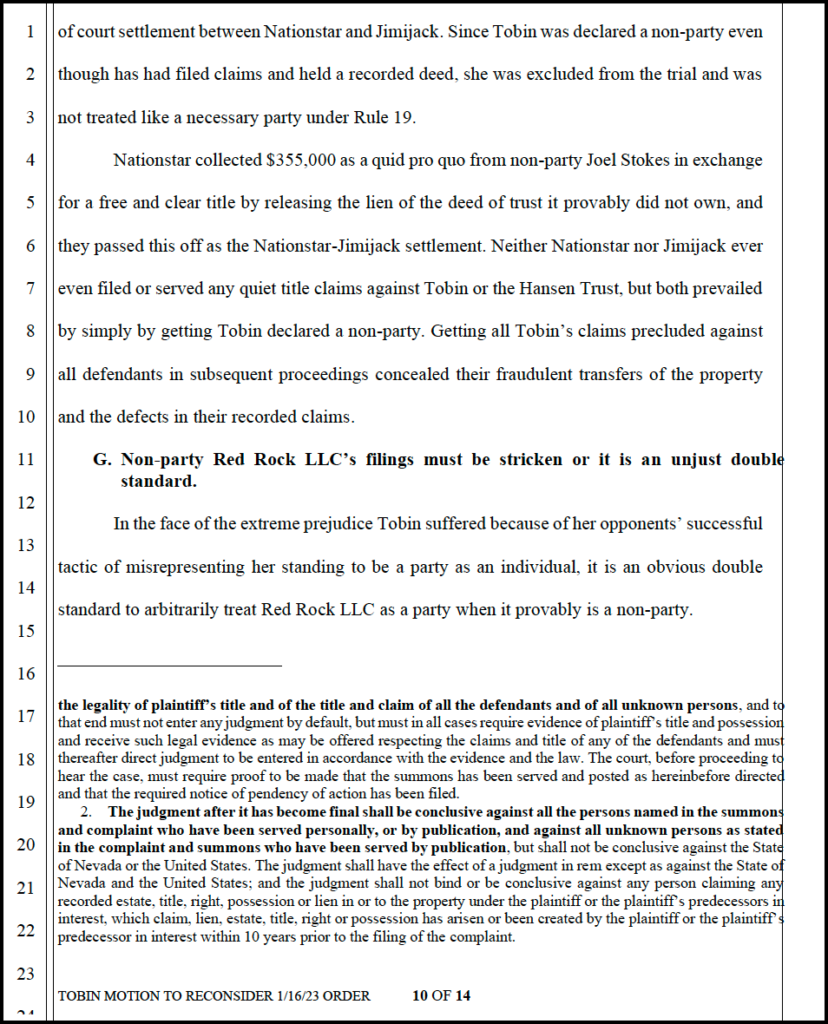 Judge Peterson allowed Scow to write the order. The order misrepresents the motion to reconsider as "frivolous" and violating the court's admonitions.
It is not improper to move to strike the rogue filings of a non-party. It is asking for equal treatment.