Really, I' m asking.
I don't know the answer.
I just know I've been in litigation for five years because they aren't working for the client that pays them.
Yesterday I filed racketeering and fraud claims against Red Rock Financial Services
NONA TOBIN'S ANSWER, AFFIRMATIVE DEFENSES AND COUNTER-CLAIM VS. RED ROCK FINANCIAL SERVICES, AND CROSS-CLAIMS VS. NATIONSTAR MORTGAGE LLC AND WELLS FARGO, N.A., AND MOTION FOR SANCTIONS VS. RED ROCK FINANCIAL SERVICES AND NATIONSTAR MORTGAGE LLC, AND/OR NATIONSTAR MORTGAGE DBA MR. COOPER PURSUANT TO NRCP 11(b)(1)(2)(3) and/or(4), NRS 18.010(2), NRS 207.407(1), NRS 42.005
PDF of my 131-page response when Red Rock sued me vs. voluntarily surrendering the $60,000 they stole from me in 2014.
I have been greatly damaged by our attorneys defending SCA's agents and screwing over homeowners
So, it has come to this.
Mortal combat.
To the death.
The Table of Contents of my 131-page response below gives you all you need to know to see why I am livid at their gall.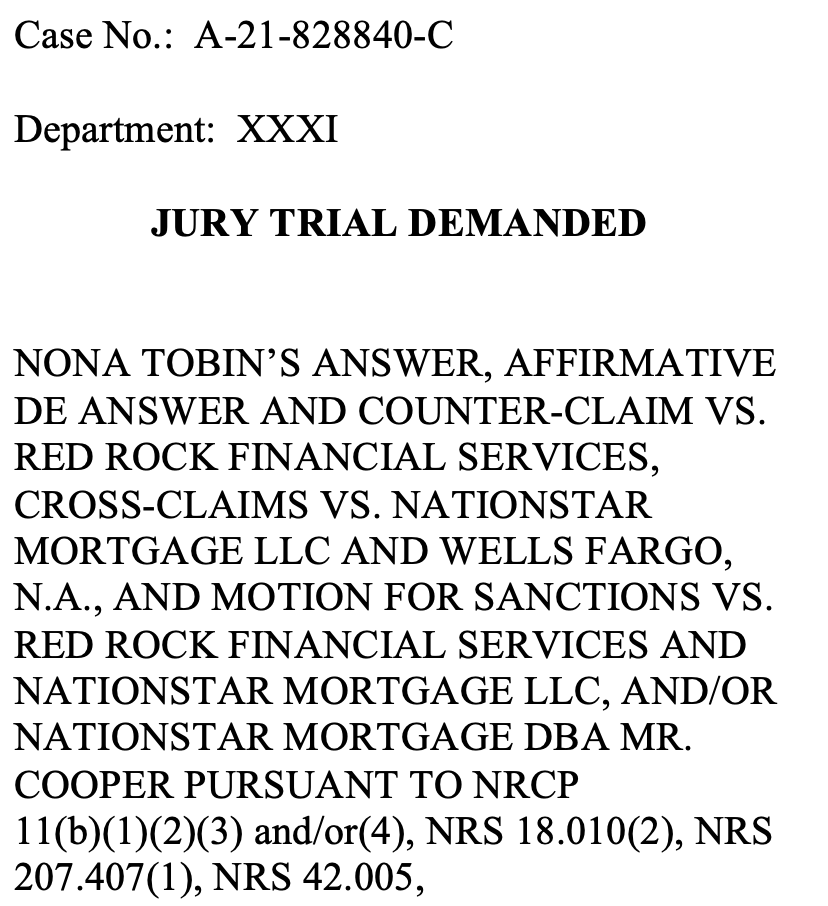 None of this litigation had to happen.
It was caused by an abuse of power and the attorneys' total lack of professional ethics.
Who told the HOA attorneys to refuse my 2017 offer to settle at no cost?
HINT: It wasn't the Sun City Anthem Board.