Adam Clarkson trained the Board,
and he has convinced them that the budget doesn't matter when it comes to legal fees.
The Board, following Rex's leadership, foolishly insisted that the 2017 Board training be conducted in secret by Adam Clarkson.
Despite the excellent free training programs available through NRED, the Board refused to allow owners to see how they were being trained to abdicate their decision-making authority.
And the the Board certainly didn't want owners to be able to comment on the self-serving training that was provided by Clarkson so it was deemed "attorney-client confidential" even though the training packet began with a legal disclaimer.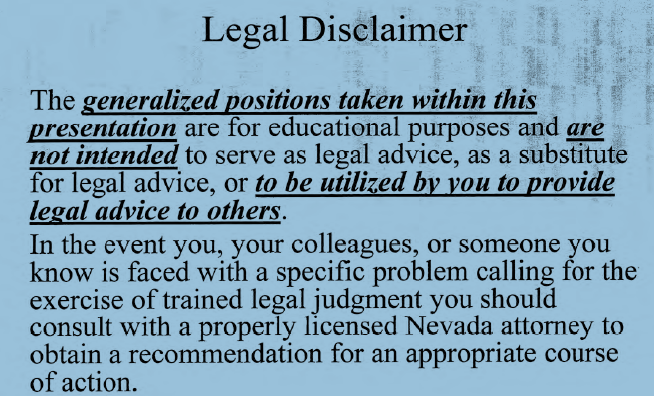 NRED complaint still pending
The secret Clarkson training was a self-dealing disaster. It bordered on elder abuse, and my complaints about the abusive conduct at that July 25, 2017 "attorney-client-privileged, not-an-executive-session workshop" are still under investigation by NRED.
Naturally, Adam Clarkson is billing the association ($325/hour, thank you very much) to defend himself and the other perps from my complaints about being bullied and harassed in that session in retribution for my telling the lot of them that they needed to straighten up and follow the spirit as well as the letter of the law.
What was wrong with the way Clarkson trained the Board?
Setting aside the for the moment the attorney-led misconduct of the participants (shunning, threatening and bullying me), Adam Clarkson twisted the interpretation of the law so far as to assert that it was a violation of the Board's fiduciary duty to act ON ANYTHING without the attorney's blessing.
Reward for complicity
Adam Clarkson rewarded the Board members who fell for his money grab, by creating a punitive cone of silence around non-confidential, discoverable SCA records against the non-compliant Director. Clarkson has also given his blessing to the unlawful claims that
the GM controls which owner or Board member can access SCA records and can withhold records at will, including in violation of a court order
the GM, President or Secretary

can exclude a Board member from Board meetings, and
can prevent a Director from voting,
and can block a Director from placing items on a Board meeting agenda
and can falsify the minutes of those meetings

the President does not have to follow Parliamentary procedures and

can magically use non-existent "substitute motions" and
can block a vote on a Director's seconded motion and
can prevent a nomination for an officer position that would compete with the President's pre-selected slate.

Annual reporting of gifts is voluntary
What does "fiduciary duty" mean?
Adam Clarkson actually gave this self-dealing definition of fiduciary duty saying that being guided by legal professionals was required by law AS IF only lawyers were experts on every subject.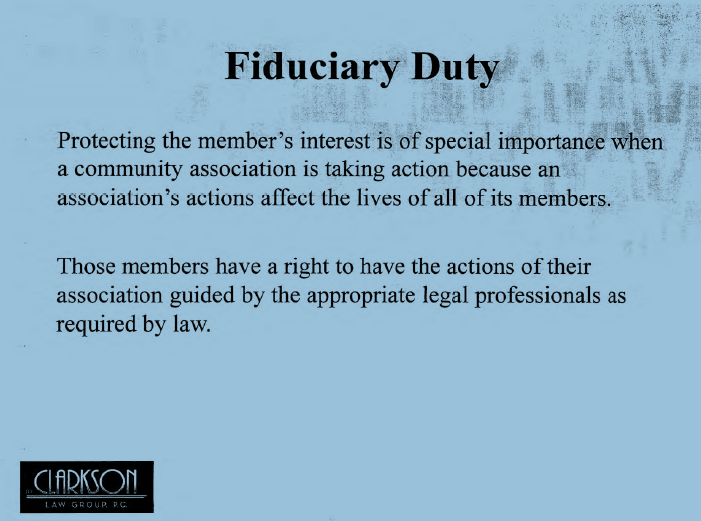 The legal requirement is actually to consult with appropriate experts of all types (not just attorneys) when it is prudent to do so. This means reserve specialists, HR experts, accountants, construction experts, not just attorneys. There is no legal requirement for a Board to delegate its decision-making authority to attorneys. In fact, it is prohibited by both NRS 116.3106 and SCA bylaws.
"Consult with appropriate professionals as necessary before making major decisions…"

And the definition of fiduciary really is focused on the duty of care that the fiduciary has to ACT SOLELY AND EXCLUSIVELY IN THE BEST INTEREST OF THE MEMBERSHIP.
A fiduciary is personally accountable for a duty of care and using good judgment to serve owners, not oneself.
It does not cut it to do (or not do) something that hurts the membership and then claim,
"The attorney made me do it."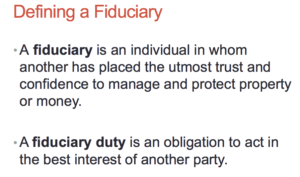 Defy the ruling of Judge (and jury) Adam Clarkson at your peril!!!
According to Adam Clarkson, attorneys are justified in verbally attacking and threatening a Director who tells the other members of the Board that:
attorneys don't have the expertise to assist on ALL Board decisions and that
it is the individual Director's responsibility to use common sense and ethical principles to evaluate courses of action to decide how to vote.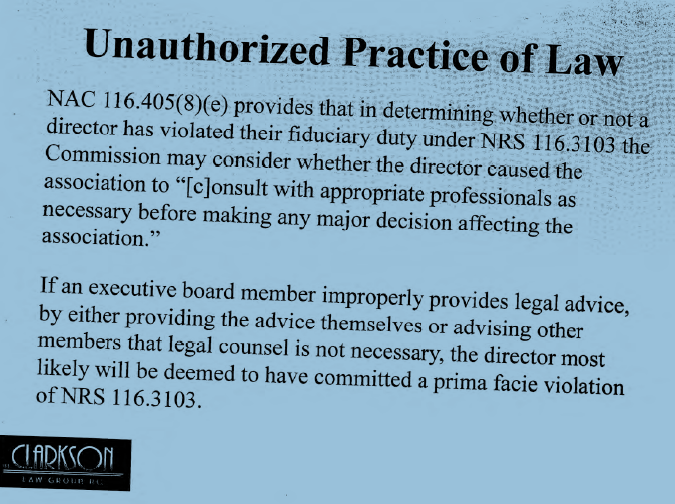 Give me a break. That's idiotic.
We are actually paying $325/hour for that type of inane self-dealing pronouncement against a Director who tells the attorney to knock it off.
Guilty until proven innocent
"Unauthorized practice of law" for "advising other members that legal counsel is not necessary"????

"… will be deemed to have committed a prima facie violation of NRS 116.3103"?????
"Prima facie"  =  A fact presumed to be true unless it is disproved.
Quid pro quo = "something for something"
Quid
"Guilty until proven innocent" is the Clarkson pro forma edict he uses to bully Board members who are not in his or the GM's pocket.
Quo
At the same time, Clarkson has protected the interests and defended the unlawful actions of the GM and those Board members who unquestioningly have agreed to pay whatever he bills with OPM (other people's money).
"Prima facie" = "presumed guilty"
Here's what NRS 116.3103 actually says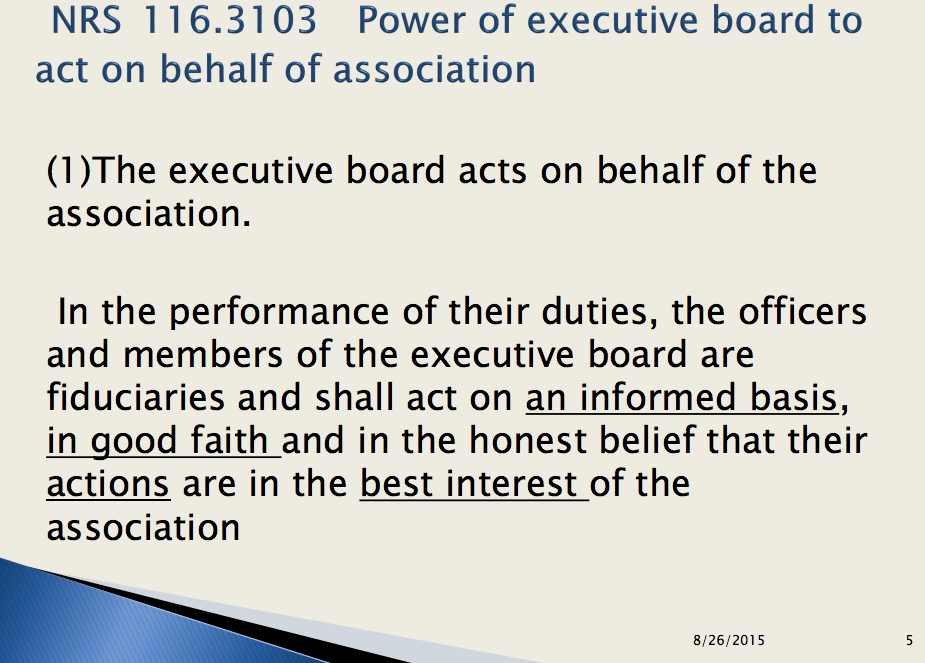 Clarkson is wrong
Telling the Board that the buck stops with it, and not with the attorney, is NOT a violation of a director's fiduciary duty.
It is a true statement made on an informed basis, in good faith, and in the honest belief that
getting attorneys out making decisions for management or the Board, and
preventing attorneys from self-dealing or
serving the personal interests of a few individuals over the interests of the membership
is acting in the best interests of the association.