Who authorized the Clarkson Law Group to block me from running for the Board?
Not the law. Not NRED. Not the SCA Board. I believe Adam Clarkson and his whole Law Group should be re-trained to better understand who their client is. No Association attorney has legal decision-making authority to control who is eligible to sit on a Board of Directors.
Follow this link for a 2012 article by Barbara Holland, "HOA directors should be held accountable", in which she noted:
The majority of the people who have been found guilty in the current FBI investigation of the massive Southern Nevada HOA scandal have been on boards of directors.
Holland argued that HOAs needed to be protected from fraud, but note her warning about the potential for abuse
There should also be some discussion as to whether a homeowner should be disqualified from being placed on the ballot when he or she is currently in violation of the community's governing documents.
Now, this is a touchy subject as this proposed law would be used improperly by HOA boards that could try and block homeowners from sitting on the board.
Why didn't Clarkson disclose his former employment to SCA when it could be perceived as a potential conflict?
Adam Clarkson's resume submitted to SCA during the 2017 RFP process did not disclose where he practiced law after he passed the Nevada bar in 2006 until 2014 when he incorporated the Clarkson law Group. Last September, AnthemOpinions reported that Clarkson was had been an associate attorney for the firm of Quon, Bruce, Christiansen early in his career.
Law Partner Nancy Quon was a principal player in the HOA corruption scandal from 2008 until her suicide in 2012. The massive conspiracy involved rigging HOA board elections and taking over HOA boards to steer legal and construction defects contracts to specific firms.
Adam Clarkson was never charged with a crime or even accused of knowing of the conspiracy that purportedly was led by Nancy Quon, a partner in the law firm that employed him. However, given the job Clarkson was applying for, shouldn't he have disclosed to SCA, that his prior employment "would appear to a reasonable person to result in a potential conflict" ? Shouldn't he held to as high a standard of disclose as he is imposing on me?
When I went on the Board, Clarkson demanded  that I "voluntarily" relinquish some of my legal rights to "avoid even the slightest appearance of a conflict" by signing an agreement to recuse myself from ALL SCA collection matters . This demand far exceeds the conflict of interest requirements in NRS 116.31084 and NRS 82 and seems pretty self-serving.
In fact, forcing me to recuse myself from current SCA collection matters did not protect SCA or homeowners one iota since my quiet title claim is for unlawful acts by SCA's former agent, FSR.Stripping my access to information about collections as a Board member, and now trying to prevent my getting back on the Board, appears to a reasonable person to only protected Clarkson's interests.
Clarkson Law Group is both SCA's general counsel and debt collector which in my book creates a potential conflict of interest. Oh yeah, one of the ways Clarkson justified deeming my board position vacant was saying  I "put matters before the Board from which (I) stand to make a profit" when I proposed to the Board that some remedies to my complaint of harassment and retaliation would be to:

So who has the greater appearance of a conflict – me or Clarkson?
Clarkson has overstepped his authority
I am not in violation of any governing documents. I am a member in good standing. I have no financial claims against SCA. SCA is still in the quiet title litigation only because they refused at least eight attempts on my part to resolve the issue without litigation and before I got on the Board.
Why have homeowners had to pay the Clarkson Law Group tens of thousands of dollars to:
order me to cease and desist asking about the GMs excessive compensation
falsely accuse me of making a profit on my Board position,
having undisclosed  or "potential" conflicts, c
reating "employer liability"?
Did the Board declare me ineligible to run?
Not the Board. There was no Board vote to declare me ineligible to run.
At least there was no agenda or notice of a Board meeting to take such a vote.
There is no provision in law, SCA governing documents or SCA Board policy that creates a mechanism for the Board to take such an action. Compare this Clarkson/Seddon edict that I am ineligible with the FBI Russia investigation:
Even if the FBI investigation produced a finding that Russia manipulated the vote enough to make Trump win the Electoral College, there is still no mechanism in law for the Attorney General to invalidate the election, declare Trump ineligible, or to put Hillary Clinton in Trump's place.
So, absent action by the Board, who decided I was ineligible and on what legal authority?
The GM, probably just did the same thing she did when she wanted legal cover for interfering in the recall election and cost homeowners $84,866 unbudgeted dollars to hire a CPA to make sure the recall failed.
But, given how Clarkson has buffaloed the Board into thinking that an Association attorney has higher decision-making authority than an Association Board, Clarkson might just as easily taken this action on his own initiative.
But whichever one did it, he or she acted without legal authority. And the Board let him or her or them do it.
Clarkson and the GM have done a fair amount of monetary damage to the Association that they have fought like hell to keep you all from finding out about.
I'm just saying.
Don't you think it is weird that the same attorney who insists that I am a financial threat to SCA is the same joker who charged SCA $39,635 in 2017 for legal fees just to write me threatening letters and to help the GM threaten to sue SCA if the Board didn't stop me from asking questions about her pay.
And it didn't end. Clarkson sent me letter last month demanding that I  stop asking for SCA records that the law says are available to any owner. He sent another one to the KTNV keep Sandy Seddon's pay confidential to protect her privacy. All SCA owners will have to pay $325/hour for these letters and for Clarkson to handle the NRED complaint. See a pattern?
Why is it a problem for the Board to act only "on the advice of counsel"?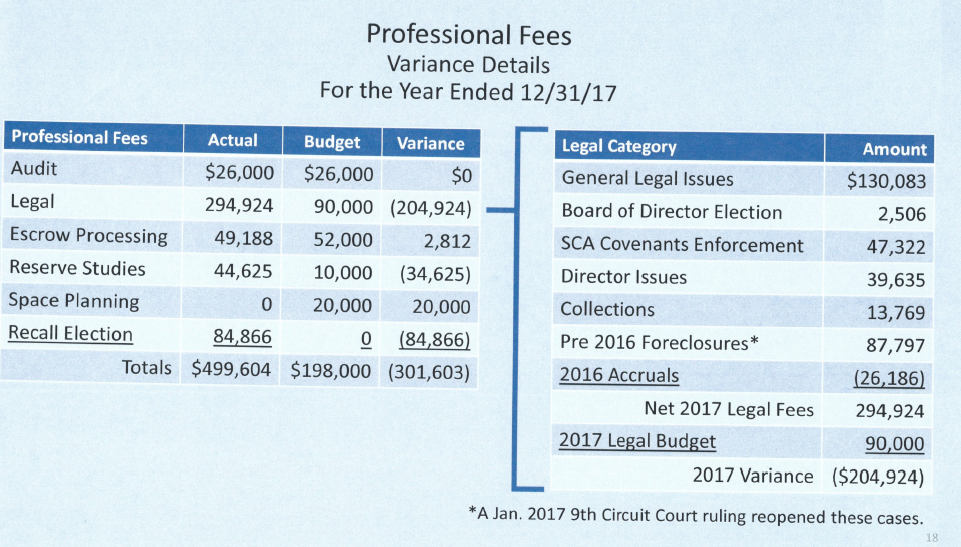 Opportunity Costs – What owners had to give up to pay attorneys
A lot of it is unnecessary. A lot of it is by creating conflict, and common sense remedies are rebuffed. No effort to do best practices is rewarded when attorneys work on the principle of using the legal minimum as legal restraints.
This is the same guy that advised the Board that it was somehow magically exempt from black letter law in NRS 116 on such trivial matters as freedom of information and owner rights to know how their money is being spent.
This is same guy who says the GM can spend money that isn't budgeted on her own initiative without measuring the opportunity cost to owner services where those funds were supposed to be spent. I personally would have much rather SCA spent some of the money that was wasted on attorney fees on
a better sound system for group exercise classrooms or
better pay for the fitness instructors or
enough funding to not cancel exercise classes.
This is the same guy who had no trouble with SCA's 2017 expenditure for legal services that was triple the already ample $90,000 budget.
Really, in 2017, this Board expended 300% of what prior Boards needed to govern responsibly. Of course, those other Boards didn't have a legal counsel who told them it was a violation of their fiduciary duty to make any decision without the approval of the attorney.
This same crackerjack attorney told me it would be considered practicing law without a license if I told people they didn't need a legal opinion every time someone blew their nose.
My commitment is to owners
Whether I get on the Board or not, I will fight for Board action to
1) prevent the overuse of attorneys,
2) prohibit the GM from using the attorney as her personal counsel against the association or individuals or groups,
3) require the Board policy manual section 4.10 be rigorously followed,
4) prohibit the use of attorneys in debt collection  prior to foreclosure,
5) use foreclosure as a last resort and not ever to benefit the debt collector over the homeowners,
6) to get the NRED or CIC Commission to rule that any fines or monetary damages come out of the attorney's pocket so that he not be paid for causing the Board to violate owner protection laws and that he not be paid for the unlawful, abusive and threatening letters he sent me both during and after my time on the Board.
What's the big picture statewide?
This interference in HOA elections is a much bigger issue than what happens to me. It affects every HOA in Nevada. The Clarkson Law Group claims to represent 300+ associations in Nevada, an amazing career trajectory for  firm that incorporated only three years ago. Adam Clarkson is the President-elect of the Nevada Community Associations Institute, a lobbying group geared primarily to serve the interests of the HOA agents – attorneys, managers, debt collectors, construction defect-related agents. CAI is NOT a homeowner advocacy group.
If Clarkson is allowed to get away with influencing the composition of the SCA Board for his or the GM's profit or to support the political advantage of compliant and docile Directors, he could do it anywhere.
In fact, I bet he already has.
.