What happened?
As I told you last week, I timely filed my application to be a candidate for the Board. Although I meet the legal requirements to be a candidate, two hours after the closing bell for applications, I received a 43-page document entitled "Notice of Ineligibility", generated by the Clarkson Law Group @$325/hour to be fully paid for by SCA homeowners, that said I was disqualified to be a Board member.
Don't I meet the legal requirements to be on the Board?
Absolutely. The law requires that I disclose that I am a member in good standing.
I am, and I did.
And the law and our bylaws require that I
"[m]ake a good faith effort to disclose any financial, business, professional or personal relationship or interest that would result or would appear to a reasonable person to result in a potential conflict of interest for the candidate if the candidate were to be elected"
I did. In fact, I disclosed everything twice.
First, using the official NRED form 850, I made my candidate disclosures in good faith on time, and, by law, SCA SHALL distribute the disclosures on my behalf because they include nothing defamatory, libelous or profane.

And, just to be safe, I voluntarily did a second set of disclosures, although the NRED Form 850 form I signed above clearly states:
"Any additional information provided by the candidate to the executive board is voluntary and is not a requirement under NRS 116.31034."
I submitted the SCA candidate disclosure form (rev.2 by Clarkson Law Group, but not approved by the SCA Board) since Clarkson's crafty, creative corruption of the candidate disclosure requirements had obviously been tailored to exclude little, old me from eligibility: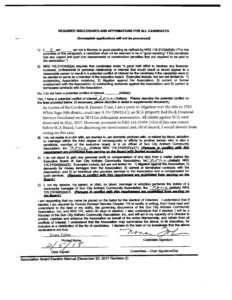 Why did the letter say I was ineligible to run for the Board?
These self-serving rationalizations to keep me off the Board aren't true, of course, and they are more than a little infuriating to have to deal with.
I consider this action to block my candidacy, and to disenfranchise at least the 2,000 voters who elected me to the Board last May, further unlawful, defamatory, politically-motivated retaliation for my outspoken advocacy for homeowners' rights and my progressively more strident demands that the Board, Adam Clarkson, and the GM hold themselves accountable to the homeowners and not to their own power trips or financial self-interest.
In fact, much bigger potential conflicts have not been disclosed by Adam Clarkson and Sandy Seddon, and they are the ones who are financially benefiting from making these false statements (that I'm making a profit off being on the Board or that I'm failing to disclose that I could hypothetically make a profit) to keep me off the Board and to keep me from disclosing how much money they are actually making off the homeowners.
Anyway, here's the gist of what the attorney's letter says about why letting me run for the Board would pose a massive threat to SCA:
You are ineligible because you stand to make a profit from matters before the Board:
Your outstanding August 10, 2017 demand to the Association that included the following demand for monetary damages: SCA to pay damages for the GM's, CAM's, SCA attorney Adam Clarkson's and the Board's misconduct and intentional infliction of emotional distress, attorney fees and other costs associated with my defense against the unlawful abuse of process, defamation, libel and false claims that I committed illegal acts, violated my fiduciary duty or created employer liability.
You have a pending quiet title claim against the Association and additional claims that may be asserted against the Association.
Failure to Disclose Potential Conflicts of Interest and False Statement of Fact
The candidate form you submitted failed to identify the potential conflicts of interest associated with your candidacy including, but not limited to, the following: 1) failure to disclose that on August 10, 2017 you made monetary demands upon the Association that remain outstanding. See Attachment 3; and 2) in relation to your litigation against the Association, the failure to indicate that your claims against the Association that were dismissed without prejudice may be reasserted against the Association subsequent to your completion of the Nevada Real Estate Division ("NRED") alternative dispute resolution procedures under NRS 38.310 et seq. See the Notice of Entry of Order attached as Attachment 4.
Are there matters before the Board that I could make a profit from?
No.
What about the August 10, 2017 "demand for monetary damages?
On August 10, I sent a NOTICE OF INTENT TO FILE AN INTERVENTION AFFIDAVIT against the Board, the GM and Adam Clarkson for harassment and retaliation, for withholding  SCA records, excluding me from Board meetings, and other violations of their fiduciary duty.
Look at the date – 2 weeks before they kicked me off the Board as I walked into the August 24 Board meeting  – without any notice, due process, cause, or legal authority.  Kicking me off the Board was the Board's only response to my complaint that I was being bullied and retaliated against, and now Clarkson is saying my requesting reimbursement of attorney fees is a demand for monetary damages that makes me ineligible to be on the Board.
That's like beating someone up and throwing her out in the street, then beating her up again if she came back and wanted her hospital bills to be paid.
Look at what is actually being done here.
It could apply to any owner who speaks up.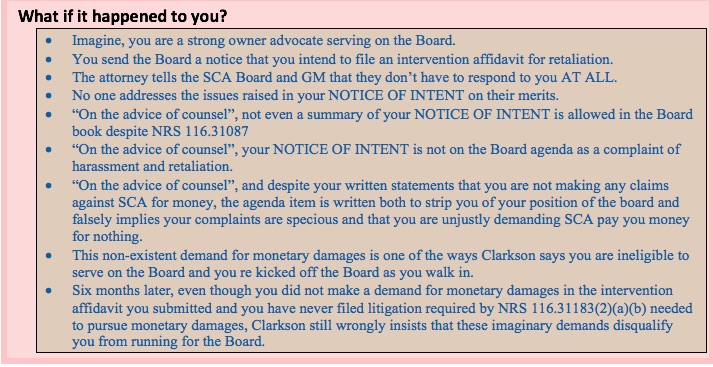 I have no demand for monetary damages against SCA. Period.
Quiet title litigation is not disqualifying per se.
NRS 116.31084 says what to do if a Director might make a profit from being on the Board:
1) Disclose it, and 2) Don't vote on it.

Done and done.
Here's why the quiet title litigation is not a disqualifying conflict except in Clarkson's mind.
SCA has no skin in the game. SCA was paid in full in 2014.
Nothing the Board has to decide will affect the outcome of the title decision that will be made by the court.
Judge Kishner is being asked to void a foreclosure sale defective because SCA's former agents violated the statutory requirements for a valid sale.
SCA will lose nothing in the title dispute, It does not matter to SCA financially whether the judge quiets title to me, trustee of the Gordon B. Hansen Trust that owned it, to the bank, or to the guy who got the property on a fraudulent quit claim deed.
SCA will be out attorney fees which will be substantial because they are foolishly defending the former debt collectors who stole money from me on this one house, but stole from the Association on lots of houses.
What potential conflict of interest did I fail to disclose?
Nothing.
Accusing me of it is just wrong. The attorney's logic is specious and speculative. All claims against SCA were dismissed at a hearing on May 25, 2017, except quiet title that SCA has no financial interest in, but SCA attorneys didn't file the order until September 19, 2017, a month after they kicked me off the Board.  Why?
The attorneys have filed false litigation reports for the past year claiming that the current status of the case was back in February 1, 2017. Why?
The most recent litigation report defamed me by falsely stating that I had been removed from the Board for cause. Why?
When the Clarkson Law Group was hired, Adam Clarkson failed to disclose prior employment that would appear to a reasonable person to be a potential conflict of interest requiring disclosure. Why?
The blog, "Who gets to decide who is eligible to serve on the Board?", discusses why the SCA membership has more to fear from over-compensated, power-grabbing attorneys than from me, a homeowner advocate who also is also trying to get title back to a house that was essentially stolen by SCA's former debt collector.