Nothing that I think is really important to tell residents about what happened at the January Board meeting is included in the meeting summary on SCA's official website www.sca-hoa.org: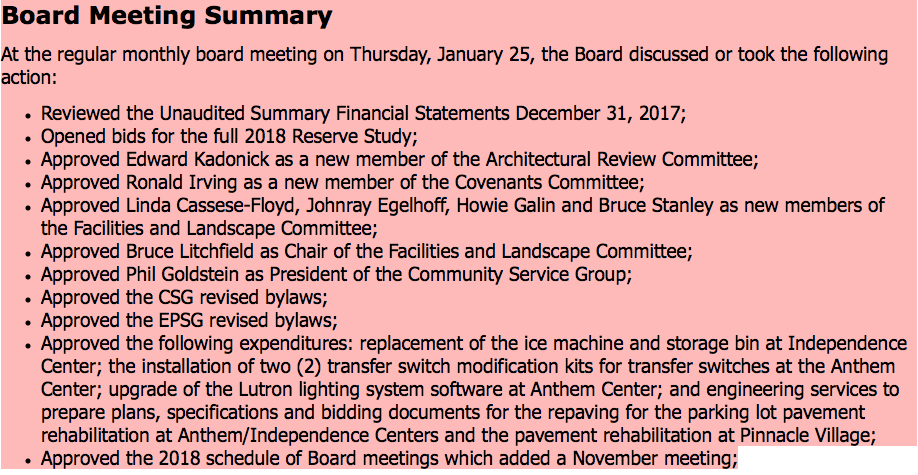 Here's what I think owners might want to know:
Restaurant space decision delayed again

Here's what appeared in the Board book:

There was a 17-minute verbal report explaining why the GM won't have until April the recommendation (due last December) on whether to have a restaurant or not. She did not mention that it's been closed during her entire tenure despite the fact that SCA CC&Rs require:

The GM, working with two Board members, analyzed past failures, legal issues and input from two workshops.
1/8/18 Issued an RFP to 9 potential bidders for restaurant
It is unknown who the potential bidders were or how they were selected
Gaming is still under consideration to subsidize a restaurant.
She held a bidders' conference to see what were "operator expectations"
The RFP is not available for review by owners, but is promised for the February meeting
Bidders had until February 2 to put in a proposal.
Alternative use of space is being studied simultaneously
"If it can't be restaurant, what can it be, given there is almost an insurmountable vote. If the board repurposes, then if 10% object then 50%+1 has to vote to make change."

Forrest Quinn is focusing on construction and engineering and met with an architect, and he commented that the kitchen is disproportionately large:
The kitchen is 4300 square feet and the restaurant is 3300 square feet
With only 162 seats, probably a 700-square-foot kitchen is needed
The GM repeated several times how difficult it is because it is so emotional and important not to make a mistake. No matter what decision is made, there will be costs.
Tom Nissen, who is working on the restaurant part of the analysis, commented–
"What we're trying to do is take a disciplined approach of the pros and cons to having a restaurant. Maybe there will be a subsidy, it'll depend on what the responders say."
My concerns were stated (and ignored) earlier:
"Our past failures have been due in substantial part by the the inability of Board members and management to allow an equitable arms-length selection and leasing process to be conducted by an experienced, independent broker who specializes in restaurants, bars, and gaming. Neither the GM, the Board or any individual Board member, regardless of their expertise and experience,  would be as effective in handling the selection process as a neutral expert would be. It would simply be a poor business decision to insist otherwise."
I hope they prove me wrong.
Director's Comments
Art Lundberg highlighted the successful fundraising of the Women's Club for charities equaling $43,400 in 2017 and $400,000 since 2000.
Important, but not agendized: Future of Revere

Revere is safe from residential development in perpetuity!
Tom Nissen reported that because golf courses around the country have been converted to other uses, such as residential development, three directors visited City of Henderson officials and Revere management to determine if Revere was at risk of being plowed under for alternative use. The news from both fronts is good.
Revere has no plans to close as their business is good.
Zoning is currently PS (Public and Semi-public), and the City would make a zoning change difficult.
The best news is that a document, "Operating & Maintenance Instructions", is on file with the City of Henderson, that limits future use and has a permanent restriction: "Residential development on the property of any type is prohibited."
As an owner who lives on the golf course, I am thrilled that these directors took the initiative to research this concern. When Legacy Golf Club was threatened with permanent closure for residential development, an owner there told me her property value dropped $60,000 overnight.
My only concern is that this was done on their own initiative, and it was not handled by the SCA-Revere Golf Course Liaison Committee which  was abolished when we went to self-management. The GM felt that the only golf course issues were management-related and so the GM herself would be a more effective liaison than homeowners. I think that decision should be re-visited.
Board-Work Group report on Communications
Board Work Group (Aletta Waterhouse and Jim Coleman) are totally committed to the project of improving Board-owners communications,  and yet, they do not seem to see the irony that their little committee does not include any owners.

They reported that they will hold two workshops:
February 6 @ 11 AM to discuss their plans for improving communications and getting owner feedback
February 23 @ 1-2:30 PM to discuss:
The role of NRED and the Office of the Ombudsman
How the Community service Group plans to deal with durable medical equipment
Tom Nissen will give his presentation on self-management
GM's Report
In another mis-step when it comes to truly effective communications, the GM's report mentioned that a new website will be online by March. It is unknown if any owners had any input into the design. Probably not as I think the Owner Communication Committee was disbanded as not being needed under self-management.
Disappointingly, and contrary to the lip service being paid to transparency, the website will still require a password. Too bad when Tom Nissan was looking at self-management, he didn't look at Sun City Summerlin's website which does not require a password, and it has been self-managed since 1997.
Proposed Tow Policy was a big surprise
Continuing on the theory that telling owners what is being done to them after the fact is a form of transparency, the Board sprung on owners a surprise, fully-developed set of proposed parking prohibitions.
Fortunately, the Board tabled the whole proposed towing policy after many owners objected to being surprised by the proposal to prohibit ALL on-street parking in Pinnacle without consulting those most impacted and without offering an alternative solution.
ALL on-street parking in Pinnacle Village to be prohibited?
The proposed towing policy section 5 uniquely impacts Pinnacle Village because it is gated and so the streets are Association property and not controlled by the City of Henderson:
On-Street Parking Is Prohibited Within the Gated Neighborhood of the Association Commonly Referred to as "Pinnacle" or "Pinnacle Village"[NRS 116.31031, 116.3102, NRS 116.31065; CC&Rs §§ 3.3(a), 3.6(m), 7.4; Bylaws § § 3 .1 7, 3 .18( f)]: Unless otherwise excepted by the express written authorization of the Association's Board of Directors, on-street parking is prohibited within the gated neighborhood of the Association commonly referred to as "Pinnacle" or "Pinnacle Village".
The Board tried to soft peddle it by saying that enforcement was not going to be "proactive".  Rex even asked, after an hour of complaints, if it would be enough if the Board rendered the policy "inoperable". It wasn't.
Here's the gist of what the speakers complained about:
No notice – just found out a few days before.
Shocked, thought it was fake news.
Taking away something that was a benefit when we bought in is awful, but even worse, there is no parking alternative proposed.
Why would anyone move into Pinnacle if there is no parking?
Why wasn't the Pinnacle Neighborhood Advisory Committee involved, or preferably given the lead, to come up with a solution to the problem, if a problem even actually exists?
This is a lawyer's dream. If you have a written policy you don't enforce, then it is litigation for differential treatment the first time you do.
The proposed parking prohibition in Pinnacle dominated the discussion, but also mentioned was the negative impact on people with RVs. There is also a proposed prohibition of parking in ANY center's parking lot – Anthem, Independence, and Liberty Centers – ANY night from midnight to 5 AM, but it not really discussed. It wasn't clear what "not proactive" enforcement would mean.
President's Report
Per usual, Rex Weddle reported out of the morning's executive session multiple discussions and actions that had no relationship whatsoever to the agenda published for that meeting: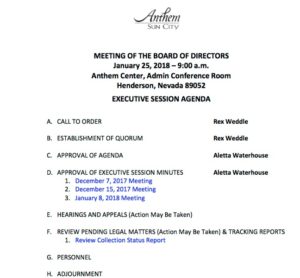 Here is Rex's version of telling owners what they need to know about what the Board privately discussed:
The Board heard an architectural appeal.
The Board discussed its proposed response to an unspecified NRED complaint.
There was a legal update, and they discussed taking action on some unnamed cases.
A legal opinion was provided on something also without a name.
The GM's performance objectives were discussed again, and again no mention was made of whether or not she received a bonus, and if so, for what.
A pending legal settlement was discussed.
An ADA accommodation request was heard.
An unspecified NRED complaint related to the Foundation Assisting Seniors was "dismissed as baseless".
Rex didn't mention the collection status report which was actually on the agenda nor did he explain why that report is not made in open session as required by our bylaws:

This policy was not discussed, but it bears looking at before it comes up at the next Board meeting on February 22 @ 5:30 PM.
To me, it is ghastly, and a stunning example of why the over-reliance on attorneys is detrimental to our happy lives.
I bet this proposal is an over-reaction to the complaints filed when the GM refused to provide equal time to proponents of the recall. The proposed policy gives tons of power to the GM to refuse equal time to opposing viewpoints and to prevent a dissenting opinion from being published without providing "clear and convincing" evidence that their opinion is not defamatory.
Then, to add insult to injury, after official publications are inaccessible to the requester, merely asking to be heard is considered a violation of the CC&Rs worthy of a penalty.

How much money we waste on attorneys to come up with this crap is a topic for another day.