Who is running and deemed eligible?
10 owners self-nominated for the Board
7  cleared whatever vetting the GM and attorney dreamed up
2  did not pass muster, but will remain unnamed for unknown reasons
1  was declared ineligible in yet-another $325/hour attorney letter.
4 candidates who did not show up on 2/13 were included in the drawing for ballot position
2 of the 4 no shows on 2/13 did not send a rep and did not send regrets
1  candidate (Nona Tobin) showed up on 2/13, but was prohibited from drawing for a ballot position because, of course, she is a monster.
What happened to the other two nameless candidates who were gone in the first round?
The unnecessary secrecy makes me suspect that the GM's implying that 3 owners were ineligible (deeming anyone ineligible to run is unprecedented) was a sham to cover up how I have been singled out and wrongfully disqualified by the attorney asserting the same false charges used to unlawfully kick me off the Board last August which was done without legal authority, without a requested open hearing and without any appeal or equal time to contradict the defamatory statements they've published about me.
Who are the 7 candidates whose names will appear on the ballot?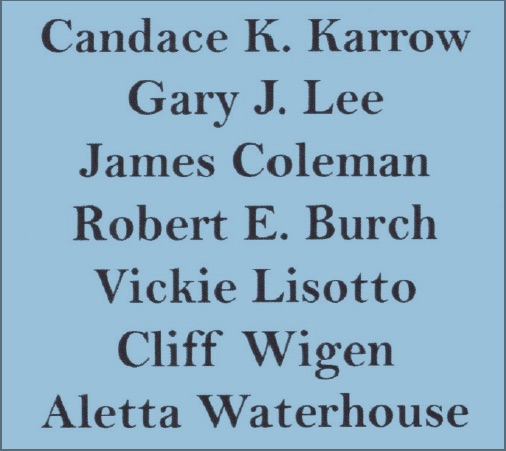 The candidates are listed  above in the order assigned to them by which lot was drawn for them at the 2/13/18 Election Committee meeting.
Two of the listed candidates – Vickie Lisotto and Cliff Wigen – did not show up for the drawing, Nevertheless, the Election Committee drew ballot positions for them without knowing whether Vickie or Cliff were even still interested in  running. They thought it was the only fair thing to do since they were absent. They apparently didn't see anything wrong with prohibiting me from drawing a ballot number even though I was present and I had submitted an appeal.
What if there are only five candidates and four openings?
If Vickie and Cliff drop out, or were shills to begin with, and the Board is vindictive and disingenuous enough to insist I am a such a financial threat to SCA that I must be kept out of the race, there will only be five candidates for four seats.
This means that at least one of the two incumbents, Aletta and Bob, will get re-elected, despite the fact that they usurped the rights of the 2,000 owners who voted for me when Aletta and Bob voted to unlawfully kick me off the Board at exactly the same time that they were themselves were the subjects of recall petitions signed by 800+ owners.
Don't forget that Aletta and Bob voted to spend almost $90,000 of owners' money to pay a CPA and the attorney to botch the recall election so they could keep their seats and the attorney and the GM could keep their big, fat jobs.
Very convenient for Bob Burch and Aletta Waterhouse who have tried to ruin my reputation by saying that I deserved to be kicked off without any recourse and who personally benefit from knocking me out of the competition.
I guess nobody in power sees a problem with that.
Notes on Incumbents
Robert (Bob) Burch has been on the Board one term. He has not been an officer, but he has been instrumental in causing serious deterioration in owner oversight, the personnel and compensation policy areas, has aggressively attacked owners who signed the petitions of no confidence in the GM or who signed petitions to recall four of the directors. He failed to disclose that he has lived across the street from 2763 White Sage, the property that is subject to my quiet title litigation and two other lawsuits.  and he voted to force me to recuse myself from all collection matters even though he voted against me and voted to kick me off the Board over the litigation about that same house. Bob should be questioned about his reasons for refusing to address any of the owners' concerns listed in the petitions for an election to remove him from the Board.
Aletta Waterhouse is Board Secretary and a two-year incumbent who was the subject of a petition and a vote for removal from the Board. She needs to be held accountable for her failure as the Secretary to ensure that the agendas, minutes, and other documents were not corrupted by error, negligence or fraud.
Both Bob and Aletta should be questioned and need to be held accountable for their actions as Board members in kicking me off the Board, refusing to respond to any of the concerns owners raised in their petitions, for concealing information that is legally accessible to owners, and for harassing and retaliating against me, for tolerating significant misconduct on the part of the GM is threatening frivolous litigation, using the association attorney as her personal attorney, and for allowing the GM and attorney to expend unbudgeted funds
James Coleman was hand-picked last August without any competitive process in violation of SCA bylaws 3.6 to fill my Board seat after the 6 other directors unlawfully kicked me off. Jim was not involved in any of the decisions that led to my being kicked off unlawfully off the Board and did not vote on any of the myriad foolishness the other two incumbents participated in.