August 11, 2020 hearing before Judge Susan Johnson
12/3/20 order is being appealed in NV Supreme court case 82294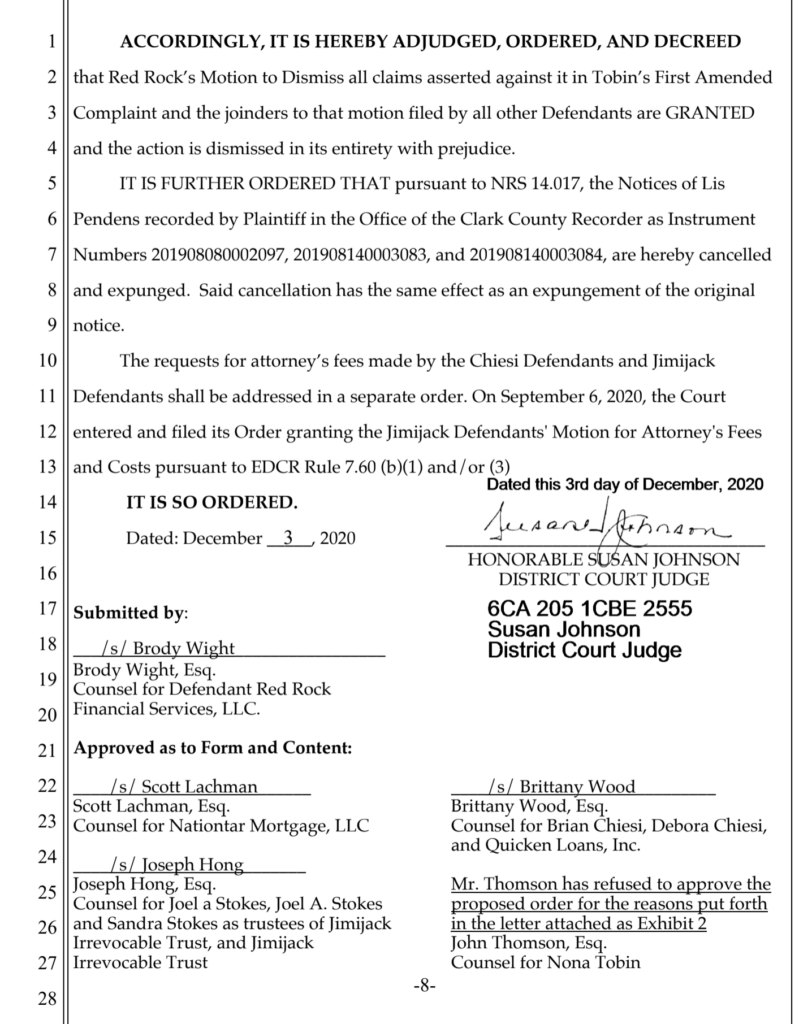 8/7/19 Nona Tobin's A-19-799890-C Complaint
8/13/ 19 Nona Tobin's filed Notice of Lis Pendens
Three Recorded Lis Pendens that Judge Johnson expunged by 12/3/20 order
Red Rock's motion to dismiss was joined by all defendants
6/23/20 Red Rock Financial Services motion to dismiss Nona Tobin's claims pursuant to NRCP (b)(5) (failure to state a claim, non-mutual claims preclusion, res judicata) and NRCP (b)(6) (failure to join the HOA as a necessary party pursuant to Rule 19 "to protect its interest in the excess proceeds")
Red Rock's motion to dismiss was joined by all defendants even though ALL the attorneys knew what they were saying was false.
Joseph Hong's joinder and motion to sanction Nona Tobin for filing the complaint misled Judge Johnson
6/25/20 Joinder Joel A Stokes, Joel A Stokes & Sandra f. Stokes, and Jimijack Irrevocable Trust, Jimijack Irrevocable Trust
8/3/20 RIS annotated Hong reply to support motion to dismiss and motion to sanction Tobin per EDCR 7.60 (1) &/or (3)
order granting Hong $3,455 as EDCR 7.60 sanction Hong's EDCR 7.60 (1) and/or (3) $3,455 sanction for filing my A-19-798990-C complaint is being appealed in NV Supreme Court case 82094
Nationstar is judicially estopped from claiming it ever was the beneficial owner of the Hansen deed of trust
Link to "Nationstar Mortgage's Fraud"
7/6/20 RFJN pages 1-4 lists the documents Brittany Wood requested the court notice. Brittany Wood's complicity with the fraud will be addressed in the next episode.