NRS 116.310313 Collection of past due obligation; charge of reasonable fee to collect.
2.  The provisions of this section apply to any costs of collecting a past due obligation charged to a unit's owner, regardless of whether the past due obligation is collected by the association itself or by any person acting on behalf of the association, including, without limitation, an officer or employee of the association, a community manager or a collection agency.

NRS 116.310313 (2)
NRS 116.310315 Accounting for fines imposed by association.
NRS 116.31083 Meetings of executive board; frequency of meetings; notice of meetings; periodic review of certain financial and legal matters at meetings; requirements concerning minutes of meetings; right of units' owners to make audio recordings of certain meetings.
NRS 116.31084 Voting by member of executive board; disclosures; abstention from voting on certain matters.
NRS 116.31085 Right of units' owners to speak at certain meetings; limitations on right; limitations on power of executive board to meet in executive session; procedure governing hearings on alleged violations; requirements concerning minutes of certain meetings.
NRS 116.31087 Right of units' owners to have certain complaints placed on agenda of meeting of executive board.
HOA managing agents are fiduciaries
NRS 116A.620  Management agreement: Contents; requirements; community manager to provide executive board with evidence of insurance; community manager to provide executive board with copy; changes; termination or assignment
3/31/14 management agrement FirstService Residential and Sun City Anthem
4/27/12 debt collection agreement FirstService Residential dba Red Rock Financial Services and Sun City Anthem includes an unenforced indemnification clause that unjustly enriches Red Rock's undisclosed principals

NRS 116A.630  Standards of practice for community managers. 
In addition to any additional standards of practice for community managers adopted by the Commission by regulation pursuant to NRS 116A.400, a community manager shall:

1.  Except as otherwise provided by specific statute, at all times:

(a) Act as a fiduciary in any client relationship; and

(b) Exercise ordinary and reasonable care in the performance of duties.

NRS 116A.630(1)(a)
Agents owe duties to the HOA & have no independent rights to profits
NRS 205.405  Falsifying accounts
NRS 207.230 Acting without lawful authority.
NRS 116.3116-NRS 116.31168 (2013)
NRS 116.31164(3)(2013) Ministerial duties after an HOA sale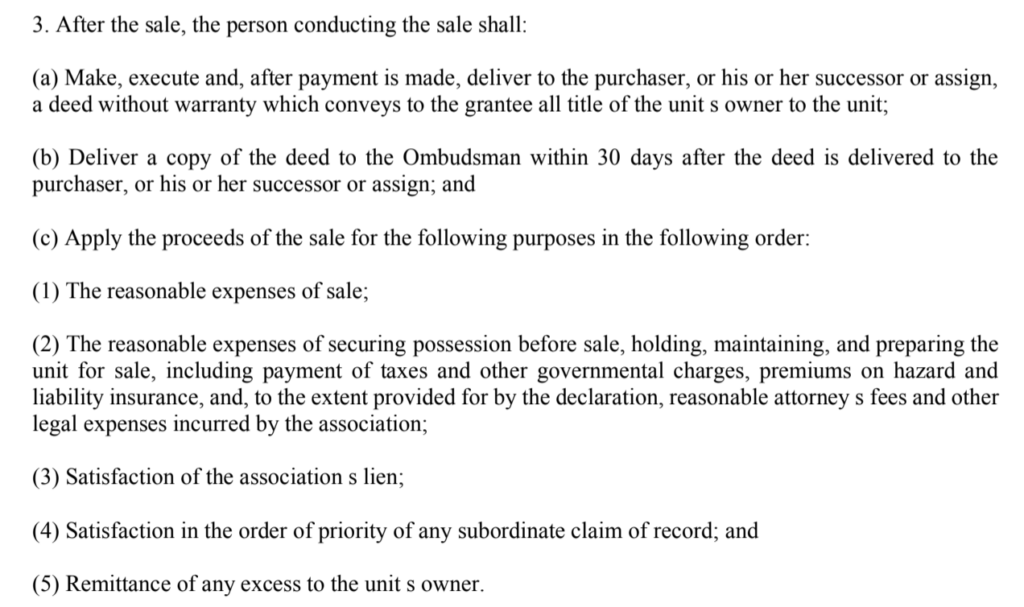 NRS 116A.640 Community manager prohibited from engaging in certain acts; exceptions.
In addition to the standards of practice for community managers set forth in NRS 116A.630 and any additional standards of practice adopted by the Commission by regulation pursuant to NRS 116A.400, a community manager shall not:

8.  Intentionally apply a payment of an assessment from a unit's owner towards any fine, fee or other charge that is due.

9.  Refuse to accept from a unit's owner payment of any assessment, fine, fee or other charge that is due because there is an outstanding payment due.

10.  Collect any fees or other charges from a client not specified in the management agreement.

NRS 116A.640 (8), (9), (10)
9.  Taking property from another under circumstances not amounting to robbery;

29.  Perjury or subornation of perjury;

30.  Offering false evidence;

NRS 207.360 (9) (29) (30)
HOA Governing Documents
Sun City Anthem CC&Rs 7.4 Compliance & Enforcement
Sun City Anthem bylaws 3.15 Open HOA Board meetings
Sun City Anthem bylaws 3.15A Executive session HOA Board meeting
Sun City Anthem bylaws 3.17 Powers of the HOA Board
Sun City Anthem bylaws 3.18. Duties of the HOA Board
Sun City Anthem bylaws 3.20. Management; Defines what HOA Board duties SHALL not be delegated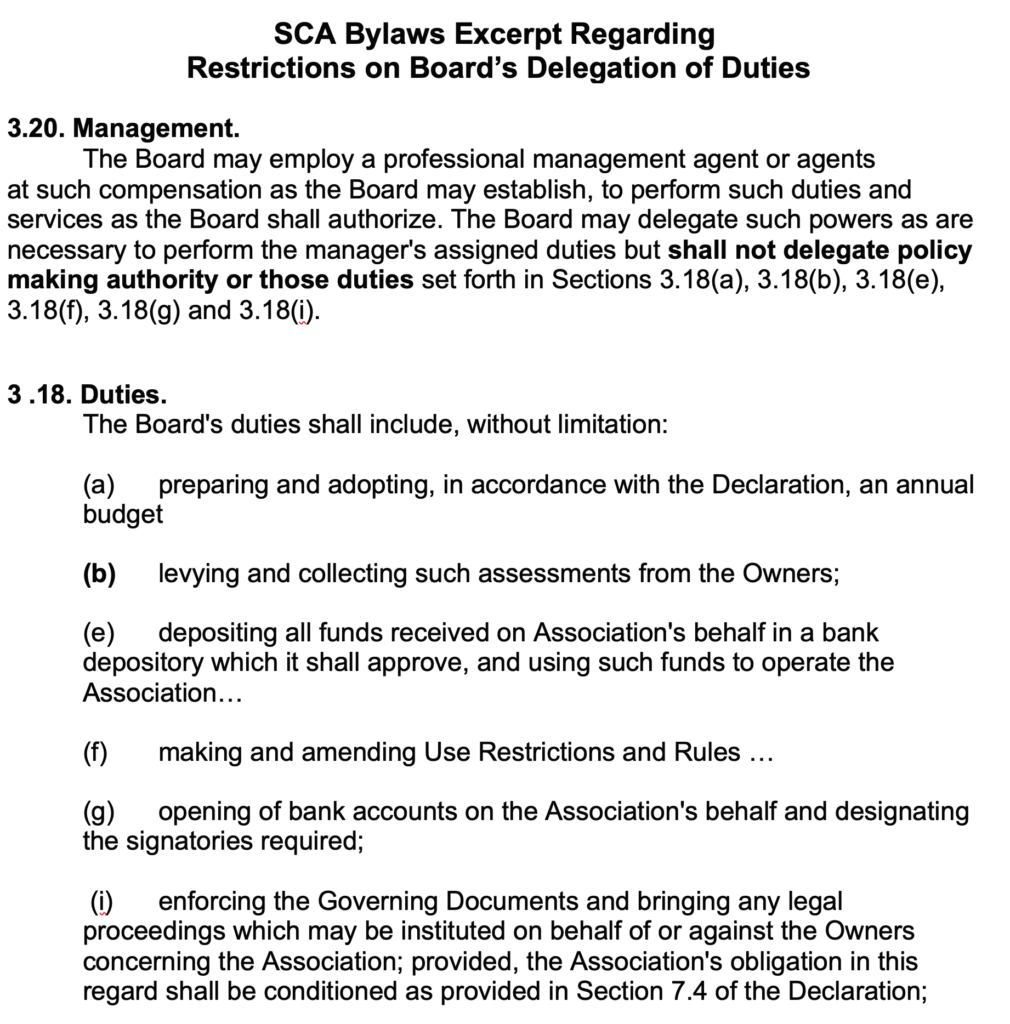 Sun City Anthem bylaws 3.25. Board standards. Directors are fiduciaries
Sun City Anthem bylaws 3.21 (f)(v) Delinquency reports must be published quarterly
Sun City Anthem bylaws 3.21 Accounts and reports: delinquency report
(f)(v) a delinquency report listing all Owners who are delinquent in paying any assessments at the time of the report and describing the status of any action to collect such assessments which remain delinquent ( any assessment or installment thereof shall be considered to be delinquent on the 15th day following the due date unless otherwise specified by Board resolution).

SCa bylaws 3.21 (f)(v)
Sun City Anthem bylaws 3.26. Enforcement procedures