On 3/8/21, Nona Tobin filed an answer, affirmative defenses and counter-claims vs. Red Rock, and cross-claims against nationstar and wells Fargo.
Link to NONA TOBIN'S ANSWER, AFFIRMATIVE DEFENSES AND COUNTER-CLAIM VS. RED ROCK FINANCIAL SERVICES, CROSS-CLAIMS VS. NATIONSTAR MORTGAGE LLC AND WELLS FARGO, N.A., AND MOTION FOR SANCTIONS VS. RED ROCK FINANCIAL SERVICES AND NATIONSTAR MORTGAGE LLC, AND/OR NATIONSTAR MORTGAGE DBA MR. COOPER PURSUANT TO NRCP 11(b)(1)(2)(3) and/or(4), NRS 18.010(2), NRS 207.407(1), NRS 42.005
It is long and complex, and so it is published here in segments.
This blog is the counter-claim vs. Red Rock which has five causes of action: 1) distribution of the proceeds to Tobin plus interest & penalties (Interpleader); 2) unjust enrichment/conversion; 3) Fraud; 4) Alter ego -piercing the corporate veil; 5) Racketeering.
Counterclaim vs. Red Rock Financial Services
PARTIES
See Exhibit 22 for 1/31/17 cross-claim vs. HOA parties pg 2-3, 5th cause of action unjust enrichment (pgs 18-19), statement of facts (pgs 5-9)
Cross-claimant NONA TOBIN, an Individual, (Herein "Cross-claimant" or "Tobin") was the sole successor trustee, beneficiary and surviving member of the Gordon B. Hansen Trust, dated 8/22/08, (Herein "Hansen Trust") that held recorded title to the subject property from 8/27/08 until a foreclosure deed was recorded on August 22, 2014 transferred title to the alleged purchaser at the disputed HOA sale.
Tobin claims an individual interest in this property as all the GBH Trust's claims to title were transferred to Tobin as an individual via a quit claim deed, recorded on 3/28/17.
Also on 3/28/17 the Hansen Trust was closed as it was insolvent when its sole asset was transferred out of the trust. NONA TOBIN claims the proceeds of the sale unlawfully retained by Koch & Scow, with interest, penalties and sanctions.
JURISDICTION, VENUE
The real property which is the subject of this civil action is a residence commonly known as the 2763 White Sage Drive, Henderson, NV 89052, APN 191-13-811-052, (hereinafter "Property").
This action is within the jurisdictional limits of this Court and this venue is appropriate because the real property is located within the jurisdiction of this Court.
The Court has the authority under NRS 30.030 to declare rights, status and other legal relations of the respective parties in this NRS 40.010 quiet title dispute.
NRS 30.130 limits the Court's authority to ensure that the rights of parties who are not present from being prejudiced by court actions in their absence.
The Court's jurisdiction in cases involving the interpretation, application or enforcement of any covenants, conditions or restrictions (CC&Rs) applicable to residential property or any bylaws, rules or regulations adopted by an association (HOA) to parties who have submitted their claims to mediation in the manner proscribed in NRS Chapter 38.
NRS 38.310(2) limits the Court's jurisdiction to adjudicate claims that have been
The Court's jurisdiction in this case requires an interpretation of NRS 116.31164(3) (2013) which mandated the ministerial duties Red Rock Financial Services (Herein "RRFS") was required to perform promptly after it conducted the disputed 2014 HOA foreclosure sale.
This Court's jurisdiction includes the authority to impose sanctions on Red Rock Financial Services for its failure to comply, and to ensure that the HOA Board complied, with with ALL the statutory mandates for conducting a valid HOA foreclosure sale, included in NRS 116.3116-NRS 116.31168 (2013), NRS 116A.640 (8), (9), (10), NRS 116.31083, NRS 116.31085, NRS 116.31031, NRS 116.1113, NRS 116.31065, NRS 116.3102, NRS 116.31087, NRS 116.31175, NRS 116.31183, NRS 116.31184, NRS 116.4117
This Court's jurisdiction includes the authority to impose sanctions on Red Rock Financial Services for its failure to provide, and its failure to ensure that the Sun City Anthem (Herein "SCA") Board provided ALL the owner protections, notice and due process mandated by the HOA governing documents, SCA Board 2013 Delinquent Assessment Policy (SCA 168-175). SCA Board Resolution 1/17/11 Policy and Procedure for enforcement of the governing documents (due process before imposing sanctions for alleged violations), SCA bylaws 3.21(f)(v) (owner access to quarterly delinquency reports) , SCA bylaws 3.15 (open Board meetings), SCA bylaws 3.15A (closed Board meetings permissible topics), SCA bylaws 3.18/3.20 (delegation by SCA board prohibited), SCA bylaws 3.26, SCA bylaws 6.4 (owner access to records), CC&Rs 7.4 (enforcement (due process before imposing sanctions),
This Court's jurisdiction includes the authority to determine the standing of the defendants named by Red Rock to assert a claim for the excess proceeds from the HOA sale.
The court has jurisdiction to impose sanctions against parties who have recorded false claims to title as defined by NRS 205.395 and to consider the severity of the sanctions in terms of other statutes applicable to, and commensurate with, the frequency and seriousness Nationstar's corrupt business practices, under the auspices of NRS 205.377, NRS 207.360 (9)(10)(30)(35), NRS 207.400 NRS 207.470 (1)and (4), and NRS 207.480.
See Exhibit 20 – Relevant statutes and regulations.
Factual allegations
Plaintiff RRFS knows that all the liens recorded related to named Defendants other than Nona Tobin, i.e., Republic Services, Wells Fargo, and Nationstar have been released on 3/30/17, 8/17/04, 3/12/15, and 6/3/19, respectively. See Exhibit 1.
The HOA sale was void as payments and tenders after 7/1/12 were rejected, misappropriated, misrepresented and/or concealed. Default did not occur as described in the 3/12/13 Notice of default or as recited in the 8/22/14 foreclosure deed. See Exhibit 2.
The Default was cured three times, but RRFS kept pursuing the predatory path to unwarranted, unjustly profitable foreclosure. See Exhibit 3.
There was no valid authorization of the sale, but RRFS disclosed deceptive and falsified documents to create the misrepresentation of reality. See Exhibit 4.
Required notices were not provided, but RRFS falsified records to cover it up. See Exhibit 5.
SCA Board imposed the ultimate sanction against the estate of the deceased homeowner, but RRFS and SCA attorneys concealed and misrepresented material facts and the law to cover it up. See Exhibit 6.
Bank of America never was the beneficiary of the Hansen deed of trust, but committed mortgage servicing fraud, refused to let two fair market value sales close escrow, refused to take the title on a deed in lieu, took possession without foreclosing, and used attorney Rock K. Jung to covertly tender delinquent assessments to circumvent the owner's rights under the PUD Rider remedies (f) to confiscate her property without foreclosing. See Exhibit 7.
Many examples of RRFS's corrupt business practices exist of keeping fraudulent books, scrubbing page numbers from ledgers, combined unrelated documents to rewrite history, scrubbing dates from emails, not documenting Board actions, and much more. See Exhibit 8.
All opposing counsels in all the litigation over the title to this one property made misrepresentations in their court filings and made oral misstatements of material facts and law at hearings. See Exhibit 9.
The proceeds of the sale were not distributed in 2014 and RRFS's complaint for interpleader in 2021 was filed in bad faith. See Exhibit 10.
RRFS concealed the 4/27/12 debt collection contract that requires RRFS to indemnify the HOA and has been unjustly enriched, thereby well over $100,000 in fees and considerably more in undistributed proceeds. RRFS did not participate in NRS 38.310 mediation in good faith. See Exhibit 11.
In case A-19-799890-C, Brody Wight knowingly filed a motion to dismiss Nona Tobin's claims pursuant to NRCP (b)(5) and NRCP (b)(6) that was totally unwarranted, harassing, disruptive of the administration of justice, not supported by facts or law, and filed solely for the improper purpose of preventing discovery of the crimes of his law firm and its clients. See Exhibit 12.
None of the opposing counsels have acted in good faith in compliance with the ethic standard of their profession. All have failed in their duty of candor to the court, wasted millions of dollars in judicial resources, and have engaged in criminal conduct to further the criminal conduct of their clients. See Exhibit 13.
Attorneys have knowingly presented false evidence into the court record in discovery. See Exhibit 14.
Nationstar and RRFS conspired to conceal the manner in which RRFS covertly rejected Nationstar's $1100 offer to close the MZK sale. Civil Conspiracy. See Exhibit 15.
First cause of Action: Interpleader NRCP 22
For a declaratory judgment that RRFS must distribute the retained funds to Nona Tobin with interest as there are no parties with higher priority and all the liens of named defendants have been released.
Second Cause of Action: (Unjust Enrichment) or (Conversion)
Plaintiff/counter-defendant RRFS has been unjustly enriched:
by adding unauthorized fees,
by applying assessment payments to fees first,
by suppressing bidding through selective notice to only speculators,
by unlawfully exerting proprietary control of funds belonging to Nona Tobin, Sun City Anthem and others,
by keeping two sets of books,
by presenting false evidence to the court,
by conspiring with lenders and aiding and abetting them to assert ownership of deeds of trust they do not own.
In Nevada, the elements for a claim of conversion are:
A distinct and intentional act of dominion by one which is wrongfully exerted over the property of another;
Act committed in denial of, or inconsistent with the rightful owner's use and enjoyment of the property;
Act committed in derogation, exclusion, or defiance of the owner's rights or titled in the property; and
Causation and damages
M.C. Multi-Family Development, L.L.C. v. Crestdale Assoc., Ltd., 193 P.3d 536, 543 (Nev., 2008); Evans v. Dean Witter Reynolds, 5 P.3d 1043 (Nev. 2000); Bader v. Cerri, 96 Nev. 352, 609 P.2d 314 (1980); Wantz v. Redfield, 74 Nev. 196 (1958); Boylan v. Huguet, 8 Nev. 345 (1873).
All of the elements of conversion are met and established by the evidence in the exhibits.
Third Cause of Action: Fraud
Defendant RRFS made multiple false representations or misrepresentations as to a past or existing fact; See Exhibits. There are examples in almost all of them.
With knowledge or belief by defendant that representation is false or that defendant lacks sufficient basis of information to make the representation;
Defendant intended to induce plaintiff to act in reliance on the representation;
Justifiable reliance upon the representation by the plaintiff;
Causation and damages to plaintiff as a result of relying on the misrepresentation; and
Clear and convincing evidence exists and is pleaded with specific evidence in the exhibits filed herein.
Exhibits
NRCP 9; NEVADA JURY INSTRUCTIONS 9.01; Jordan v. State ex rel. Dep't of Motor Vehicles & Pub. Safety, 121 Nev. 44, 75, 110 P.3d 30, 51 (2005); J.A. Jones Constr. Co. v. Lehrer McGovern Bovis, Inc., 120 Nev. 277, 89 P.3d 1009 (2004); Barmettler v. Reno Air, Inc., 14 Nev. 441, 956 P.2d 1382 (1998); Blanchard v. Blanchard, 108 Nev. 908 (1992); Bulbman, Inc. v. Nev. Bell, 108 Nev. 105, 111, 825 P.2d 588, 592 (1992); Albert H. Wohlers & Co. v. Bartgis, 114 Nev. 1249, 1260, 969 P.2d 949, 957 (1998); Sanguinetti v. Strecker, 94 Nev. 200, 206, 577 P.2d 404, 408 (1978); Lubbe v. Barba, 91 Nev. 596, 541 P.2d 115 (1975).
Fourth Cause of Action: Alter Ego Piercing the Corporate Veil
On 1/31/17, Nona Tobin filed a cross – claim versus Sun City Anthem and identified "HOA Agents" as the true perpetrators of the wrongdoing. See Exhibit 21 for the description of why these agents were not named as parties.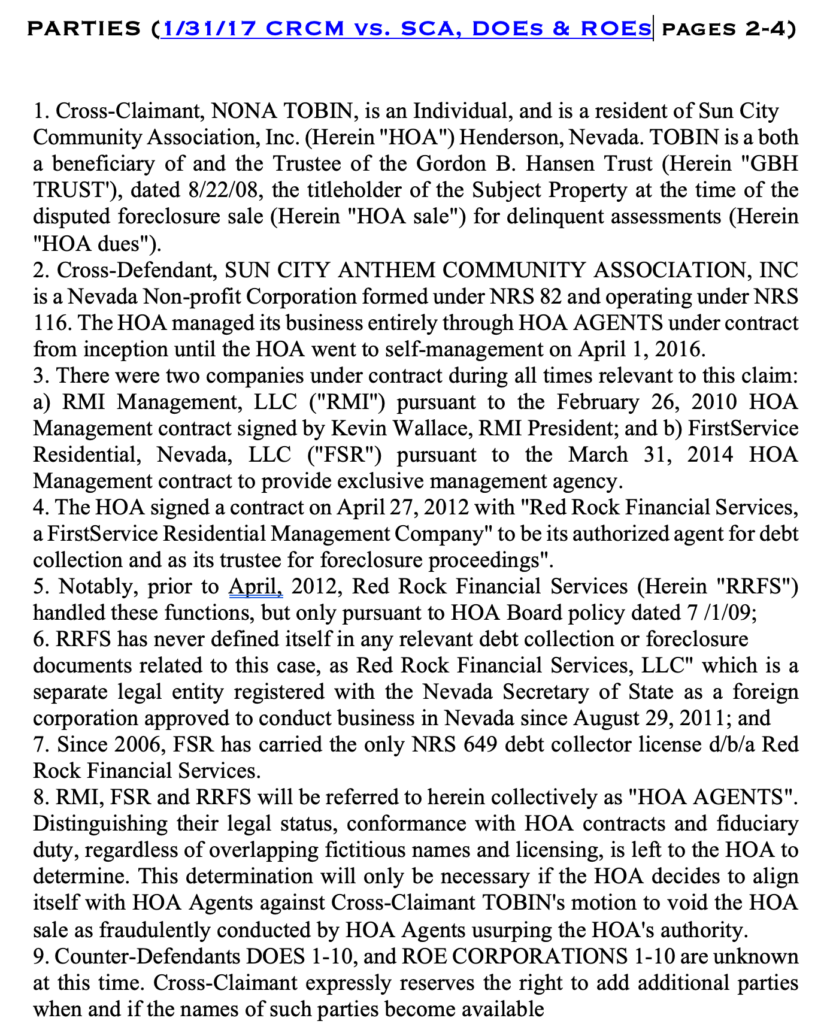 See Exhibit 22 Excerpts of 1/31/17 cross-claim vs. HOA and its agents for the 1/31/17 claim for the excess proceeds.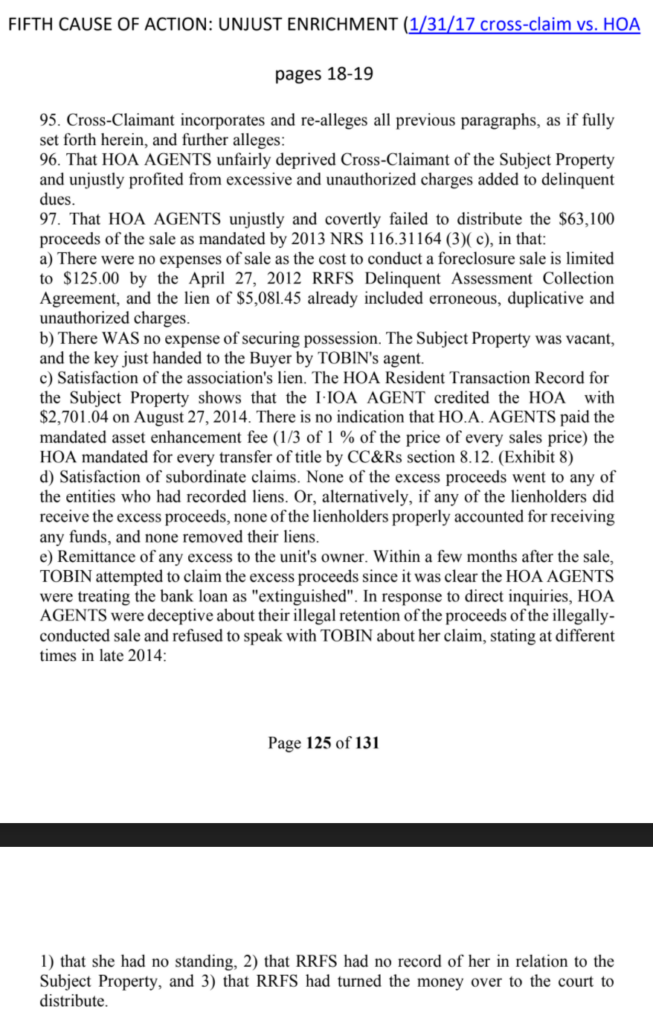 RRFS and SCA withheld and concealed all contracts and all identification of the parties in a manner that completely obscured the money trail.
The Nevada Supreme Court has held that, though generally "[t]he corporate cloak is not lightly thrown aside," nevertheless there are some situations in which blind "adherence to the fiction of a separate entity [of the corporation] [would] sanction a fraud or promote injustice." Baer v. Amos J. Walker, Inc., 85 Nev. 219, 220, 452 P.2d 916, 916 (1969). The court has therefore carved out an exception to the general rule of faithfully respecting the corporate form and corporate independence, i.e., the so-called "alter ego" exception, by which the corporate veil can be pierced. Id. The Supreme Court of Nevada, in the matter of McCleary Cattle Co. v. Sewell, adopted a three prong test for ignoring the separate existence of a corporation in determining "alter ego liability." McCleary, 73 Nev. 279 at 282, 317 P.2d 957 (1957). This test has since been codified in by Nevada Statute, NRS 78.747:

Jay Young, Nevada Law Blog
FIFTH CAUSE OF ACTION vs. RRFS (Racketeering)
COUNTER-DEFENDANT RRFS AND CROSS-DEFENDANT NATIONSTAR engaged in racketeering activities as defined in NRS 207.360 and a racketeering enterprise as is defined in NRS 207.380;
COUNTER-DEFENDANT RRFS AND CROSS-DEFENDANT NATIONSTAR, acting directly, and in conspiracy with one another or through their syndicate(s), participated directly in racketeering activity by engaging in at least two crimes related to racketeering;
COUNTER-DEFENDANT RRFS AND CROSS-DEFENDANT NATIONSTAR's activities have the same or similar pattern, intent, results, accomplices, victims, or methods of commission, or otherwise interrelated by distinguishing characteristics and are not isolated events;
COUNTER-DEFENDANT RRFS AND CROSS-DEFENDANT NATIONSTAR acquired or maintained directly or indirectly an interest in, or control of, any enterprise, or defendants are employed by or associated with any enterprise to conduct or participate directly or indirectly in the affairs of the enterprise through a racketeering activity;
COUNTER-CLAIMANT AND CROSS CLAIMANT NONA TOBIN's injuries flow from the defendant's violation of a predicate Nevada RICO act;
NONA TOBIN's injury was proximately caused by the defendant's violation of the predicate act;
NONA TOBIN's did not participate in the commission of the predicate act; and
NONA TOBIN is entitled to institute a civil action for recovery of treble damages proximately caused by the RICO violations. NRS 207.470(1).
COUNTER-DEFENDANT RRFS conspired with, aided and abetted CROSS-DEFENDANT NATIONSTAR, and many other lenders, to perpetrate a fraud on the court with a quid pro quo of Nationstar's (and fill-in-the-blank OTHER LENDER'S NAME)'s not asserting a claim for the excess proceeds so Koch & Scow could keep whatever proceeds they wanted without fear of audit or challenge.