I have heard many SCA homeowners talk about the recall election and their main focus of concern seems to be the cost of removing Rex, Aletta, and Tom from office.
However, the real issue of this recall election should be the unnecessary costs these Directors have created, and insist homeowners continue to pay, rather than admit they are wrong. Their visceral hostility to my professional assessment of how to address excessive executive compensation is what got me excluded from meetings and decisions and is the real reason they kicked me off the board.
Refusal to utilize professional compensation standards for GM is unacceptable.
Excessive executive compensation may be justified in the eyes of the board members who approved it when the GM was hired in November, 2015, but they erred significantly in the compensation for the GM going forward which is easily $100,000/year too high.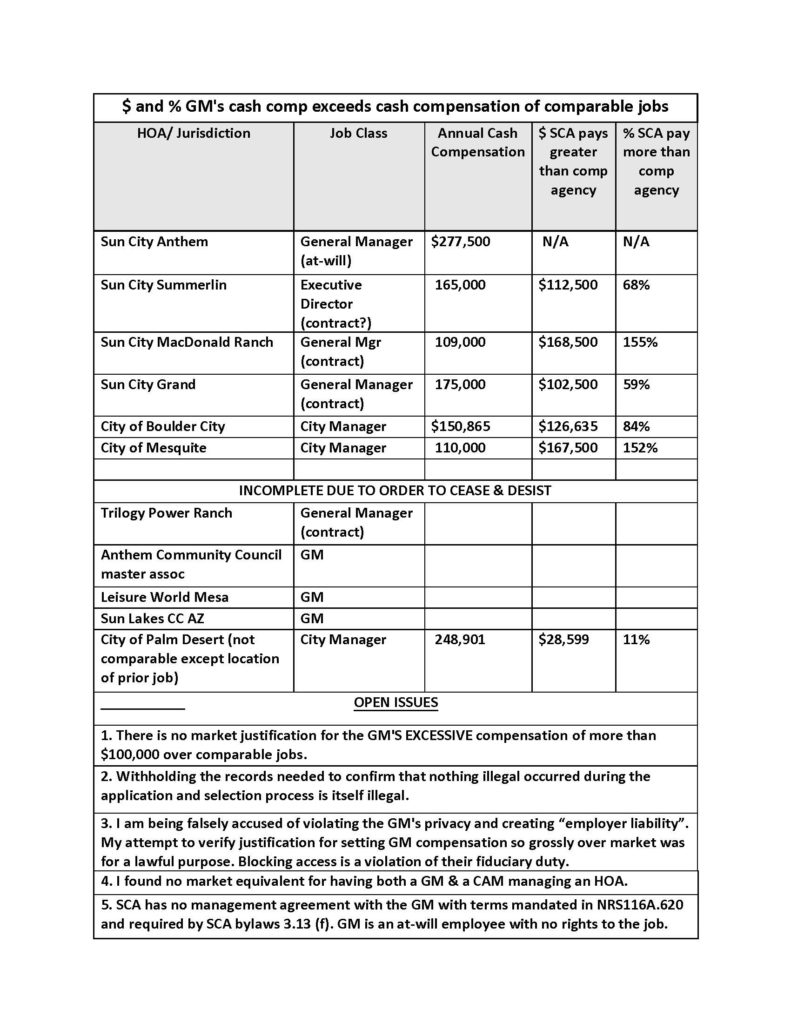 The problem needs to be corrected by using expertise within our community, but instead, it was exacerbated by Rex appointing Tom Nissen and Bob Burch, a Board work group, and excluding me with threats of legal action regardless of my expertise. There are professional standards and practices governing compensation in the public and/or non-profit sectors that cannot be legitimately dismissed, but have been. Compensation for a job class is based on a number of factors normally determined by a classification and compensation survey of comparable agencies within the geographic job market conducted by trained and independent persons. SCA lacks a needed professional protocol for this.
 As delineated in our Articles of Incorporation, SCA was incorporated in 1998 as "a non-profit corporation organized under Chapter 82, Nevada Revised Statutes". As such, the Board, contrary to what they believe, must operate under the good governance principles of a non-profit even though we are not a non-profit in the sense of a charity under IRC 501c3.
An easy-to-read article, WHAT IS "REASONABLE" COMPENSATION FOR A NON-PROFIT EXECUTIVE? describes one professional method for addressing GM compensation issues:
"Establish a Good Governance Framework
As a preliminary matter, non-profit Boards must establish good governance processes and procedures.  As suggested by the Treasury Department, good non-profit governance in the area of executive compensation starts with the following basic framework:
 Set and follow established procedures for determining compensation;

 Use responsible effort to determine appropriate or reasonable levels of executive compensation; and

 Maintain appropriate oversight of executive compensation levels.

"
Owner complaints of GM compensation should not be treated as beneath the Board's notice.
The hot-button GM compensation issues listed below involve major deviations from standard compensation principles. I wanted the Board to take back policy control and be accountable to the homeowners. The other Board members wanted to pay the GM whatever they decided without having to listen to me 'bitch' about it or to my insisting that they explain their rationale to owners.
The GM was hired at $250,000 which was $100,000 more than Sun City Summerlin paid to hire their Executive Director in 2015, and both SCA and SCS recruitments occurred at about the same time.
We also pay for $100,000 for a CAM Lori Martin (recently replaced), so in essence, we are paying two people $400,000 (including increases, bonuses and benefits) for the work that other HOAs pay a single person under $200,000 on contract to accomplish. I have found that other larger and more complex HOAs pay for a top executive to operate the HOA under their own CAM license.
In addition, Rex and the rest of the Board Members, gave the GM a $20,000 bonus, six months after she took over duties from FSR, the management company. However, to date, Rex has not been able to give a good justification for the bonus. The Board has refused to publicly adopt any GM performance standards.
They cannot explain why there was a need for a 10% increase in owner assessments when we were moving to self-management as a more cost-effective form of operations.
They claim that the GM's big compensation was justified by the saving she accomplished when taking over early from FSR (a savings which was not known or predicted when she was hired in 2015 at such an exorbitant salary.)
Why didn't the $30,000/month for nine months that was supposedly saved by her early transition show up in the bottom line in the 2016 audit?
The GM hired a CFO at $190,000 + benefits to handle our comparatively small $10 million budget. This compensation is also way out of line with the proper pay for that job class, maybe as much as double what others pay in this market for comparable work.
The same problem of compensation rates based on a total disconnect with the local market rates for comparable jobs occurred again with the Facilities Manager compensation at $154,000, again double what other Sun City HOAs are paying in our region.
The combined compensation of four executives unreasonably takes up about 10% of the operating budget. However, but before I could finish my analysis, they ordered me to cease & desist asking questions. After prohibiting me from researching this subject further, they illegally removed me from my position on the Board on completely unrelated, bogus charges.  This is the Board's fatal step off the cliff, and SCA is still tumbling down the slippery slope of an unfair, overly-politicized system.
Transparency and accountability to owners is essential, but inadequate at SCA.
As fiduciaries, the Board should be much more transparent and accountable to the homeowners as they fund all employee salaries. Compensation practices in organizations that are funded by taxpayers, donors, or assessment payers are necessarily different than compensation practices permitted in the private for-profit sector. The extreme resistance to this notion of transparency, accountability and homeowner oversight of GM compensation and performance standards has been a major source of contention between me and the other Board members who are overly protective of the GM to the detriment of the effective governance of the association as a whole
Sound personnel and salary administration requires formal policies which should NOT be delegated to the GM without competent owner oversight.
Coming from for-profit and military backgrounds, the current Board members don't see a problem operating without strict policy control of positions, classification, and compensation. Nor do they see that this oversight can be provided more effectively and consistently by owners with relevant professional skills BETTER than the function can be performed by the Board which may or may not have members with the proper expertise. They don't see the problem they create by abdicating complete control over position control, performance expectations, and compensation, a third of the budget, to the GM without an adequate system of accountability.
Just as there is a Finance Committee, SCA should be a Personnel Committee which includes owners, and at least one Board member,  as required by NRS 82.206(3) to utilize the expertise of owners with backgrounds in HR, with an emphasis in the public and non-profit sectors, to oversee the development of personnel policies appropriate to a self-managed Sun City. I submitted a proposal for such a committee to the SCA Board at the January 26, 2017 Board meeting, but it was given zero consideration and, despite my request to have my written comments included in the Board Book, it's as if it never happened.
Once the salary is set for the job classification, performance standards, and measurements must be publicly adopted to determine any bonus. Absent customer-service ratings and other performance measured against publicly-adopted standards, any compensation increase by the board is irresponsible.
Contrary to what I believe is in the best interests of the membership and my literal interpretation of NRS 116.31085, Rex has aggressively blocked the PUBLIC adoption of GM performance standards to a ludicrous level. He claims that the law does not require members to know what factors or measurements control GM compensation. Further, unit owners haven't been informed how many of your assessment dollars have gone to the attorney to prevent me as a Director from seeing documents showing what performance expectations the Board had adopted in executive session (if any). In my view, this skewed interpretation of the law benefits no one except the GM, attorney, and Rex, the man who would be king.
Refusal to use my expertise to address owner concerns about GM compensation was only the beginning. SCA's system of accountability has been seriously damaged by how the Board mis-handled the GM's frivolous threats of litigation.
This dispute is the real impetus for my being unfairly kicked me off the Board. Rex has allowed the GM to use the attorney to block ANY audit of the GM's compensation and performance by me as an individual Director. This politically-motivated act could only be  accomplished by paying the association attorney literally thousands of dollars to conceal SCA documents from me and bless violating SCA Bylaws 6.4c:
Bylaws 6.4 ( c) Inspection by Directors. Every director shall have the absolute right at any reasonable time to inspect all books, records, and documents of the Association and the physical properties owned or controlled by the Association. The right of inspection by a director includes the right to make a copy of relevant documents at the Association's expense.
Concealing records and unequal treatment of independent Board members are two of SCA's BIG unacceptable governance practices.
Whether the GM's salary is correct or too high is not the critical issue. The huge problem is the kind of system that's created when when the Board tolerates the GM throwing a hissy-fit because I did a salary verification with her former employer, and then claims I am not authorized to identify myself as an SCA Director or ask questions about GM compensation, and then orders SCA's official records be sealed from my view. I was threatened with litigation, accused of violating my fiduciary duty, and many other humiliations, including shunning, for refusing to just shut-up.
In what world is it justifiable to treat a volunteer Director in such a horrific manner?
In what world is there any possible way I could have used GM compensation information to make a profit in unrelated quiet title litigation as they claimed?
SCA's system of accountability and responsible governance has been seriously damaged by how the Board mis-handled the GM's frivolous threats of litigation.
The GM's actions, to prevent me from interfering with her gravy train, and to shut me up about demanding higher performance and responsiveness to homeowners to qualify for her high level of compensation were acts so egregious that, in my book, she should have been fired for her vindictive and retaliatory acts alone.