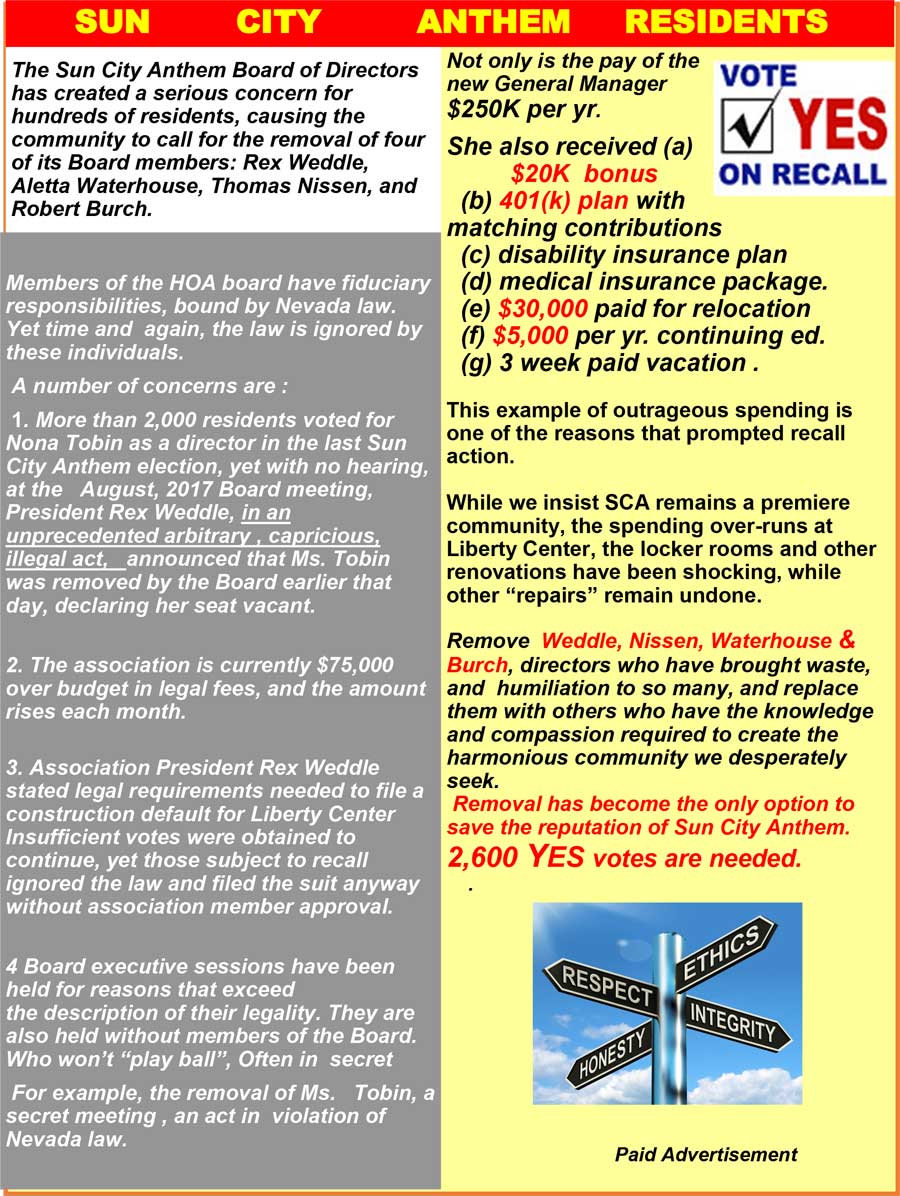 Hello, my name is Nona Tobin. I have been happily retired and a Sun City Anthem homeowner for over 13 years. But, in the last year, I became concerned about the way this community was being managed, so I decided to do something about it and successfully ran for a seat on the seven-member HOA Board of Directors, garnering 2,001 votes. My campaign slogan "Owners Always Come First" has become my mission. 
As I began asking questions and requesting information about past Board actions, I was met with resistance from management and my fellow Board members. Just 116 days into my tenure on the Board, the other six members of the Board, along with the HOA Attorney and the paid management staff, held a secret meeting to illegally vote me off the Board. This action is one of many illegal and unethical actions that I, and many others, have questioned.
Over 800 homeowners signed petitions for a recall election to remove four of the Directors. Of the four petitions, three (Rex Weddle-758, Aletta Waterhouse-734, and Tom Nissen-726) had more than the needed 715 signatures to be subject to a removal vote. Bob Burch managed to skate receiving only 713 signatures, two short of the requirement.
So far on this website, you have only heard my voice. But my voice is not the only one that is speaking out. Above is an ad supporting the election recall that just ran in the current, October 2017 issue of The Vegas Voice, a monthly publication serving the 50+ community in Las Vegas. 
Here are a couple more links, and we will be updating the Resources section of this website with more periodically.
http://anthemtoday.com/ – This website is published by Rana Goodman, a SCA homeowner.
http://anthemopinions.blogspot.com/ – This website is published by Dick Arnedt, a SCA homeowner.
Get Involved
ACTION Items:
Get informed: review our blog posts and resources
Vote in the Recall Election – mail your ballot so that it is received by October 26th
Stay involved: share this website and information & sign up for notices
Owners should ALWAYS come first!