Don't we all deserve equal protection by the rule of law?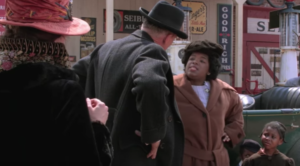 Please, Sheriff NRED, don't treat me like Sophia
I just have to ask you, personally,
…and I am speaking to you, Nevada State CIC Compliance Officials -NRED Administrator Chandra, Attorney Briggs, Ombudsman Foger, Compliance Chief Wheaton, and Compliance Audit Investigator II Pitch,
To think about it.
How do you get a 100% rejection rate of SCA homeowner grievances if there is a level playing field?
Are you aligned with your mission statement?

are you "keeping the peace" by enabling an abusive culture?
I invite you to consider the possibility that you have an institutional blind spot that creates a consistent bias against SCA homeowners – and maybe, against all Nevada HOA homeowners, that's like putting a thumb on the scales in favor of HOA vendors or a powerful few.
One way to do it
The Jim Crow Southern Sheriff restored his personal, and a still popular, version of law and order by pistol-whipping Sophia as she faced the bigoted, bloodthirsty mob alone, begging fruitlessly for protection from the man sworn to provide it.
What are you doing?