A point for transparent Nevada
The R-J just won a victory for transparency when the District Attorney was required to release information about how much the DA's office was compensating witnesses in criminal trials.
Public interest
Using taxpayer cash to fight the taxpayer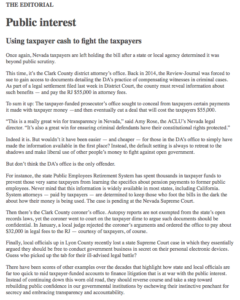 "To sum it up, the taxpayer-funded prosecutor's office sought to conceal from taxpayers certain payments it made with taxpayer money – and then eventually cut a deal that will cost taxpayers $55,000 (in attorney fees)."
"Wouldn't it have been easier – and cheaper – for those in the DA's office to simply have made the information available in the first place? Instead, the default setting is always to retreat into the shadows and make liberal use of other people's money to fight against open government."
Sound familiar, Mr. Clarkson?
It should.  Sun City Anthem Board and GM are misusing the SCA attorney to hide their sins, and he is laughing all the way to the bank.
SCA's leaders are wasting owners' money to hide information which should be easily accessible to us at virtually no cost on the website.
SCA's brand of mean-spirited opacity- hiding actions and expenditures from owners and making the owners pay the attorney fees for hiding what could even be unlawful or fraudulent – has more elements of sleaziness than I saw in the government's efforts to avoid transparency.
SCA has gone beyond the practice of merely blocking freedom of information requests as described in the R-J editorial to being outright abusive to owners who just ask for information they have a legal right to receive and distribute as they wish.
For example, the claim on the new SCA Records Request Form that SCA records that might be requested, such as employee compensation, are "private and confidential records of the private entity that is the association" is simply false.
Those records can't be confidential by Nevada law in Sun City Anthem and not confidential by that same Nevada law in Sun City Summerlin.
Threats of litigation?
I don't see that the Public Employees Retirement System threatened the R-J with punitive sanctions for just submitting a Freedom of Information Request like our mean-spirited leaders are doing to SCA owners, threatening litigation for even asking for information the GM or individual Board members want to be publicly known.
GM's "privacy rights" bigger than owners' rights
?
I also don't see that the government officials ever claim that freedom of information requests violated some imaginary and legally-unsupported "personal privacy rights" as SCA's attorney has done on behalf of the GM.
Only withhold records from certain parties?
I don't see that the District Attorney claimed the requested information could be withheld from the R-J, but that it could be released to the R-J's competitor? SCA has done this very thing repeatedly by providing information to OSCAR (recall opponents) that was withheld from others who were not in that camp.
Making up laws?
I also don't see that the District Attorney just made up some bogus legal  requirement that the R-J acknowledge that the information can't be used in ways the DA would consider harassment or even just embarrassing. The new SCA information request form contains multiple ridiculous "acknowledgements" which have no basis in law.
The SCA attorney is lying to owners about what owners'  rights are. Fines and other sanctions are threatened against  SCA owners for requesting and disseminating information, both of which are within fully within owners' legal rights.
For example, the claim that SCA CC&R 3.6(h) and SCA Rules & Regs 9.4 would be violated and an owner subjected to penalties for violating any of the totally fabricated "duty, restriction and/or obligation provided herein" is a double whammy of threatening an owner for violating restrictions the attorney just made up out of thin air. 
Magically creating privilege?
I also don't see any egregious claim by Clark County that documents, actions or conversations become privileged just because the secretive official wishes that they were legally protected from public view as the Clarkson Law Group, the GM and individual members of the Board ludicrously and repeatedly do to unlawfully attack owners for exercising our legal rights.
 Ask any Discovery Commissioner
The burden of proof that documents, conversations or actions are legally privileged falls squarely on the party who is seeking protection from disclosure.
Not the other way around.