Election Recommendations
The SCA View Newsletter by Ron Johnson
Vote for Coleman, Karrow, Lee and Wigen
It's that time of year again and your vote is needed to determine who will best represent the interests of our community. On the heels of the results of a very divisive recall petition, where a substantial number of members voted to throw Bob Burch and Aletta Waterhouse off of the board, your vote is more important than ever. While that petition failed to meet the very high threshold needed for a director's removal from the board, this election campaign has provided voters with another opportunity to demonstrate their concern.
It's my position that the community would be far better served by electing three new members to the board rather than returning any of the old directors who had been previously elected. Let's say goodbye to Bob Burch and Aleta Waterhouse and vote for JAMES COLEMAN, CANDACE KARROW, GARY LEE AND CLIFF WIGEN. Director James Coleman was not elected but was appointed to the board last year.
My concerns about Burch and Waterhouse stem from the board's questionable and potentially illegal actions in approving if not directing management to adopt certain accounting gimmicks. Those accounting gimmicks have resulted in the deferral of almost a million dollars annually in scheduled repairs to the following year(s).
Such unreported deferrals amount to self-serving efforts by the board to avoid increasing assessments, thereby helping those directors who are running for reelection.
While one prominent blogger has been eager to pass along management's assessment that the Association's finances are in "excellent" shape, that assessment is grossly misleading. That assessment failed to reflect what's been really going on behind the scenes in what I view as an unorthodox effort to provide millions of dollars over time for unanticipated and unfunded repair projects at Liberty and Anthem Centers.
One method management adopted was to defer almost a million dollars in previously scheduled repairs from one year to the next year. Such deferrals have a cumulative effect on subsequent scheduled repairs in the following years, which is exacerbated when there are recurring unplanned events in the following years, like the Anthem Locker Rooms, forcing management to annually push scheduled repairs forward year after year. As reserve funds are expended for such unplanned repairs, the reserve fund keeps going down by that amount. At some unknown future date, that reserve deficit will have to be replenished.
Meanwhile, the board will continue to rely on members not paying close attention to what's going on behind the scenes in the accounting room as your money get "created" and spent for unbudgeted purposes.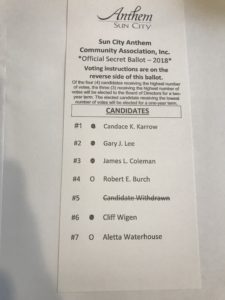 Restaurant Rumors
Did the board or management influence G2G (Denny's) to drop gaming in order to assure their likely selection as a tenant?
Club Rumors
Some residents are looking forward to the possible creation of the NEW YORK CLUB.
Administrative matters
My new Email address is: rljohnson32@coxÆnet
My new phone number is: 702-413-6026
Copyright © 2018 The SCA View-Journal, Inc., All rights reserved. The SCA View Newsletter
Published by Ron Johnson, Email: rljohnson32@coxÆnet, Phone: (702) 413-6026