Self-management Status Report
Tom Nissen described the management company's (FSR) deficiencies that motivated the Board in 2015 to decide to go to self-management. He said the decision was not primarily to save money, it was to "get better information to manage the business more effectively".
True, FSR dropped the ball on maintenance projects and bungled the reserve study. True, FSR allowed IT, the phone system, and financial reporting to become obsolete. These were all good reasons for converting to self-management everyone agrees on. Tom also gave a detailed report on his personal study of how SCA compares to other highly-rated HOAs. He came to the obvious conclusion that the transition to self-management was the right decision for SCA.
No argument here.
True, FSR had to go and SCA should be self-managed. Good points and totally true, but his praise was like Nancy Pelosi praising Senator John Conyers as an icon of the Senate before she said he had to go amid sexual harassment allegations.  
Tom described the research he did, as an individual Board member, and it was great. What he didn't mention was that when another Board member tried to review the transition plans, the Board unlawfully held an unnoticed, "emergency executive session" to order her to cease & desist and paid the attorney to block all of her document requests.
However, Tom didn't mention any of the things that are areas of disagreement, like excessive compensation for the GM and several top managers, or how the GM conceals association records or how the GM has not developed written transition plans or timetables since she got here in 2015, and does not have adequate personnel management systems needed to protect SCA from "employer liability". 
Below is an excerpt from one of the many "legal letters" Clarkson graced me with (and you paid for) to explain why they would not let a Board member examine any SCA records. This one says SCA doesn't have to produce the transition plans because SCA doesn't have any. Then, to fake the Ombudsman out, they submitted 184 pages of powerpoint slides done by Tom Nissen in 2015 before the GM was hired.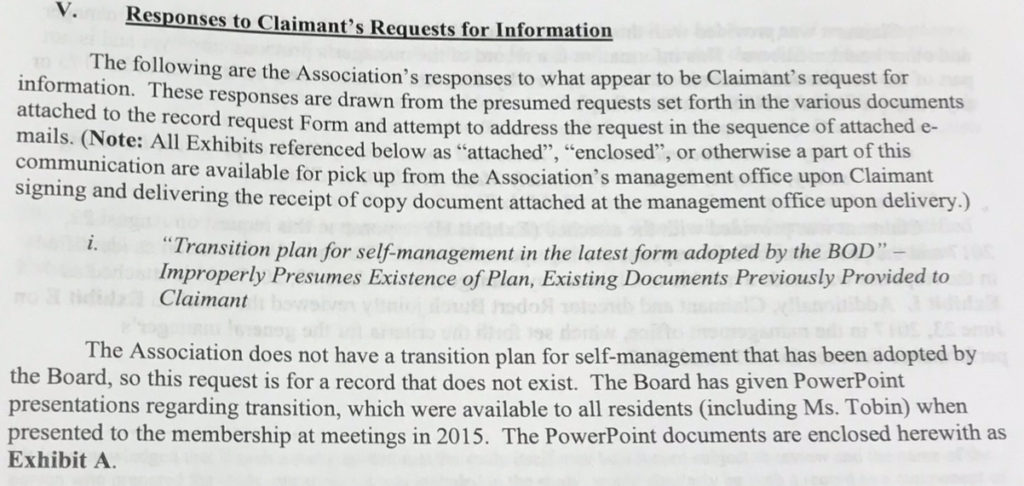 It is simply wrong for certain individual Board members to "get better information to manage the business more effectively" and at the same time, tolerate the GM concealing that same management information from other Board members and the unit owners.
GM's Performance Appraisal
(as reported in President's report)
Rex stated simply that the GM's performance appraisal was completed and will be put in her personnel file. The end.
Seriously. Not another word about it.
Unless you uncharitably interpret the self-management status report Tom gave later in the meeting as a surreptitious justification for giving her a raise/bonus without telling owners.
Here's why I say the Board is not protecting owners if they don't hold the GM accountable for customer satisfaction as much as for facilities maintenance:
Board refused to put the petitions for vote of no confidence in her file as requested. Petitions signed by 836 owners called for a vote of no confidence in the GM were turned in during this performance rating period. This is more than 10% of ALL owners (and probably more than 50% of the owners who even knew there was a petition or how to sign it) who gave the GM a customer service rating of "F". That is extraordinary, and yet the Board vehemently refused to honor the simple request to put the petitions in the GM's personnel file. Board members, notably Bob Burch, expressed outrage and castigated the owners for even signing the petition.

The Board did not respect owners' right to express their dissatisfaction with the GM's performance. Instead, a lot of time at meetings is spent with them droning on and on about how much they love her because she answers all the Board's questions and she is way better at not deferring maintenance than the prior managing agent (that we fired).  It is the Board's job to treat customer service concerns as legitimate and attempt to address them even if they don't agree or even if they think that any owner who doesn't agree with them is a worthless malcontent.

 

Rex didn't say what the Board did about her bonus. Is she getting a bonus when she didn't meet any objectives (No restaurant or even a recommendation about whether to have one. Poor job dealing with the Foundation. Springing surprise changes on Clubs. Lots of unhappy owners) If not, her pay should drop by $20,000. The 2016 bonus cannot be considered a part of her base compensation. I wish somebody other than me would make an information request to find out if they are letting her keep the $20,000. I can do it, but the GM slow-walks my requests and uses the attorney to write me "legal letters" manufacturing bogus reasons why information legally available to any unit owner should be withheld from me.

Rex didn't say what the Board going to do to fix the significant problem of the GM's excessive salary.
No Recommendation on the Restaurant
"The SCA Board earlier this year directed the GM to make a restaurant space recommendation to the Board."
Actually, when the restaurant was discussed at various Board meetings, Rex reported that in her last year performance evaluation, the Board instructed her to have the recommendation completed by this December. A rejected 6/22/17 information request was fulfilled by the attorney through the Ombudsman on 9/13/17, in which was the actual  wording of the performance expectation about the restaurant:
"2017 GM Criteria for Bonus Consideration
Prepare a recommendation for the use of the restaurant space. The recommendation should result from a detailed analysis of the possible uses of the space. If not used as a restaurant, the analysis will include costs for each option to include those costs associated with the modification of the space."
I have argued for the past six months that allowing the GM a year to come up with just a recommendation is an extremely low standard, particularly since the CC&Rs require the continuous operation of the restaurant without the written authorization of 75% of the owners to close it. Is it too much to hope that the Board will hold her accountable for not having accomplished ANY "detailed analysis of the possible uses of the space". After she refused to consider any analysis I submitted or let me see anything she was working on, I certainly don't want to see her getting a bonus if Tom Nissen or Forrest Quinn whip something up for her.
Most recently the Board asked that I send RFPs to restaurant consultants to produce an opinion on the restaurant option. Some directors were reluctant to proceed without a definitive expert opinion on the viability of another restaurant at our location. And if viable, in what likely format.
Really? When did the Board ask her to get a consultant? I remember objecting to her reporting that she was going to do it because a) there was no money budgeted for that purpose, and b) she is costing homeowners over $300,000/year in salary and benefits, she ought to have the skills to  put together a competent analysis. Also, why is she holding back because "some directors were reluctant to proceed"? Why isn't she dealing with the Board as a whole and treating all directors equally?
On January 25, the GM will recommend to the Board whether SCAshould have a restaurant or repurpose the space.
"That recommendation only awaits one clarifying legal point connected with repurposing the space."
SCA already has a legal opinion about owners getting an opportunity to vote if they don't like what the Board wants to change it to, IF 10% petition for it. I'm mystified about why the attorney has to be brought in over and over. I'm also surprised that this important sentence is on the audio, but was left out of the written version of the GM's report that David Berman posted.
In the interim, I will also prepare an RFP for possible restaurant tenant response. Then the Board will have all the information needed to concur or disagree with whichever recommendation I make.
I don't know if you noticed, but the recommendation I made six months to have a local commercial broker specializing in restaurants, bars and gaming handle the process was ignored even though the GM's approach is doomed to be a repeat of past failures. There needs to be an independent expert to develop a lease that is fair to, and protects, both parties, allows a vendor to deliver a product the residents want, and keeps the GM's and the Board's fingers out of the pie.